New websites need to be designed, structured and populated, and this means that SEO is often relegated to the end of a business's to-do list.
SEO is often ignored because webmasters are unsure about what optimising a website involves, so we have created a 23-point checklist to help you to give new businesses a head start.
Work your way down the list so that, when your site launches, your brand will already be on the right track for search engine success.
Behind the Scenes
Before you do anything else, always make sure you set up the following. These three tools are the foundation to optimising any website.
1. Setup Google Webmaster Tools
Google Webmaster Tools is a free toolkit that provides site owners with a wealth of information about how Google sees a website.
If a site has errors, unnatural links or broken code, Webmaster Tools will identify problems and offer suggestions on how to fix these issues.
Take a more in-depth look at Webmaster Tools with our beginner's guide.
2. Set up Google Analytics
Another free tool, Google Analytics offers in-depth data on what visitors do when they come to your website.
From tracking visitors' clicks to showing which webpage has the highest conversion rate, Analytics is an invaluable tool for website owners, although it can also be a little intimidating at first glance.
For more information, check out our beginners guide to Google Analytics.
3. Create robots.txt and sitemap.xml files
Robots.txt and sitemap.xml are files that search engines can access to help them make sense of a website. The data the search engines glean from robots.txt and sitemap.xml files is then used to index a website in the search engines.
If you have a WordPress website, there are plugins that make easy work of creating these files; I like Yoast WordPress SEO plugin.
James's post explains robots.txt files and sitemap.xml files in more detail.
On-page SEO
Search engine optimisation can be classified into two main areas: onsite optimisation and offsite optimisation. In this section, we'll delve into the importance of on-page SEO, and as the name suggests, this kind of search engine optimisation involves tasks that can be carried out on your own website, so this means you have no excuses for not getting stuck in!
The on-page SEO matters hugely because it helps the web crawlers of Google, Bing and other search engines read your content and understand exactly what your website is about. 
As search engines have evolved and become more geared towards semantics, HOW we put words on pages has become hugely important, where before it mattered more what words we put on the pages. Now search engines differentiate between well written, useful content and content put on a page simply to repeat keywords and search phrases as many times as possible. 
Writing content with your on-page SEO in mind is okay, of course, you must just always consider readability, keyword focus, image optimisation, and internal and linking structure. 
4. Use meta tags
Meta tags are embedded in a website's code and offer information to search engine spiders about a website. Meta tags also influence important factors such as the words that show up in the search results to describe your site. Use words that are useful, descriptive and appealing to maximise your chances of success.
Get started with our meta tags guide.

Meta tags as shown on the Google search results page
5. Internal links
Internal links connect one page of your website to another.
Link to other pages on your website to direct search engine spiders and bots to new content and let site visitors know that you have more to offer.
6. Use descriptive text links
Use text links to navigate around the site and make sure your site structure is logical.
Make sure both human visitors and search bots can easily get around your site.
7. Optimise for mobile
With Google now displaying mobile-friendly tags in search results, you will lose custom if your website doesn't deliver a satisfactory experience for smartphone and tablet users.
8. ALT tags for images
Use ALT tags to describe the contents of images you publish.
This makes your website accessible to visitors using screen readers and can also lead to website traffic from image searches.
9. Get up to speed
Speed is of the essence; web surfers report abandoning websites that are too slow to load.
Use Google PageSpeed Insights to identify any tools or code that slow down your website load time.
Google PageSpeed Insights tool
10. Eliminate broken links from your website
Visitors find it immensely frustrating to click a link, only to find that it leads to a 404 error.
Use a WordPress Broken Link Checker plugin, Google WebMaster Tools or the Online Broken Link Checker to automate this task.
For a full look at onsite SEO, you can find our beginners guide here.
Offsite Optimisation
Offsite optimisation is a little harder to manage than onsite tasks because, in part, it is based on the actions of other webmasters.
If a high-profile website loves your latest blog post and links to you, this will do wonders for your search engine presence.
But if 30,000 spammy blog comments link to your site, which could be considered a violation of Google's webmaster guidelines, Google can make your site vanish from the results altogether.
Even though webmasters cannot fully control what other site owners do, there are positive steps that can be taken to improve offsite optimisation:
11. Be link-worthy
Make your content worth linking to.
If you want to attract natural, high-quality backlinks from other websites, make your content so amazing that your readers can't help but spread the word.
12. Never ever ever ever buy a link
Ignore 'get backlinks quick' schemes. Most 'black hat' tactics will do considerable damage to your search engine rankings.
13. Be social
Promote your content on social media. Although opinions are divided about how influential social signals are in SEO, sharing your content on Twitter, Facebook, Google+ and Pinterest do – at the very least – increase brand visibility.
14. Network
Engage with people in your industry who have influence.
If you build a solid relationship with an influencer, they may go on to share your content and promote your work to a highly targeted group of fans.
15. Study your competitors
Use competitor analysis tools and techniques to identify keywords to target and influencers to approach.
See our guide to competitive SEO research.
16. Clean up your backlink profile
Google Webmaster Tools will tell you if poor-quality sites are linking to you. If so, contact these websites and ask them to remove the backlink.
If approaching the websites fails, use WebMaster Tools' 'Disavow' tool.
Optimise your content
Make the most of the words, phrases, pictures and videos on your website by taking the following steps:
17. Stay fresh
Google search algorithms favour websites that are updated frequently so that searchers are not served out-of-date information.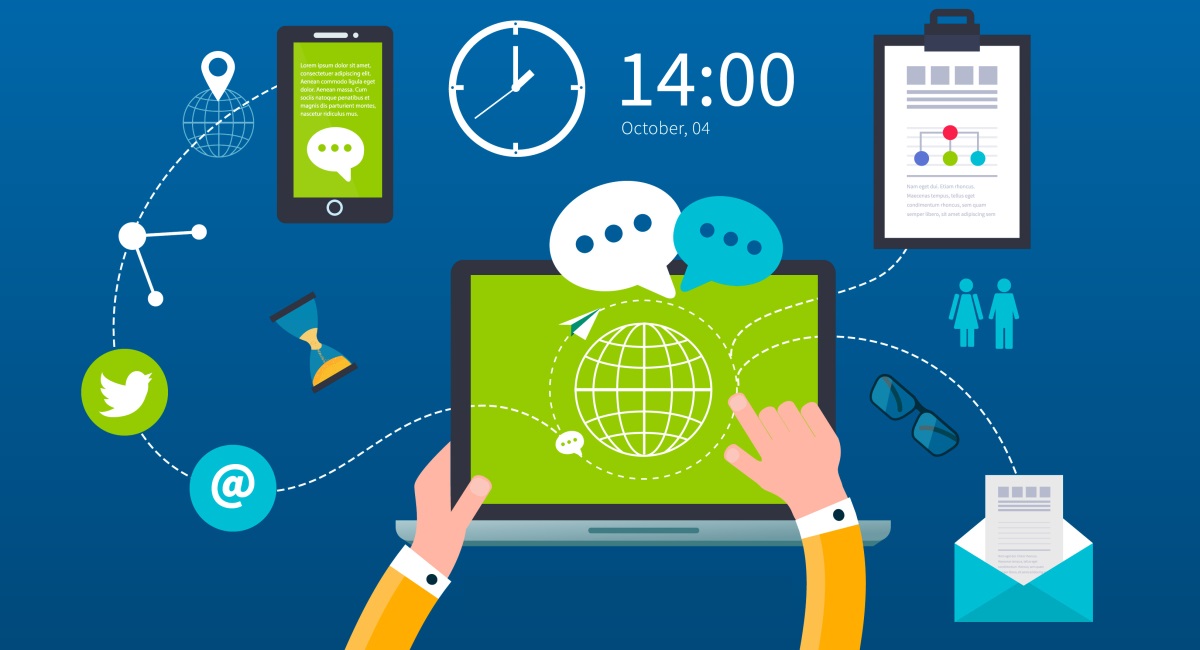 Update your website regularly if possible. A blog is a great way to curate fresh content
18. Deliver quality content
Google can tell when content is shoddy and, more importantly, so can your customers. If you want site visitors to return, to engage with your brand and to make a purchase, don't skimp on quality content.
19. Be unique
While there is some information that needs to be repeated across your website (such as your contact details), make the rest of your content as unique as possible.
If you have an e-commerce site, for example, take your own product photographs and write your own, unique descriptions.
20. Word count matters
Make sure web pages are at least 250 words long, preferably longer.
Keywords
Good SEO practices initially help your website to show up in search engine results when somebody searches for your business.
With continued optimisation, your site will eventually start to appear in search results when somebody searches for a keyword or phrase that is related to your business.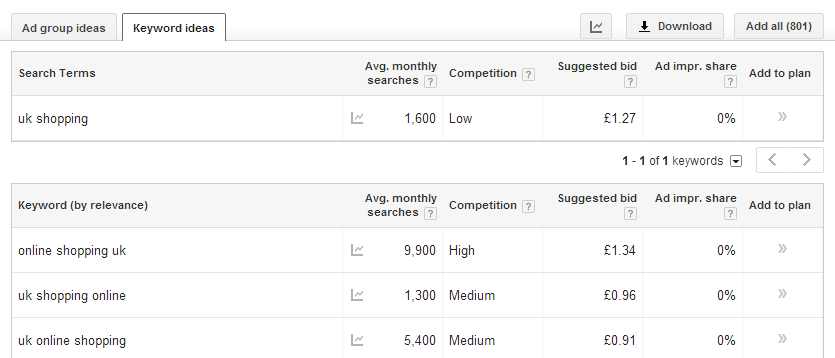 Google AdWords Keyword Planner
For instance, a small business called Joe's Plumbing might initially be searchable only by name but, if good SEO is carried out, Joe's website will eventually start to appear when potential customers search for "radiator repair [city]" or "emergency plumber [postcode]".
Business owners can facilitate this process by identifying the keywords they would like their website to rank highly for and using the keywords on the site, in a natural way.
The following steps will help you to identify keywords to target. Find words and phrases that have a decent search volume and low competition, to start with.
21. Think about your business
Get a large piece of paper and brainstorm every word and phrase you can think of that relate to the products or services you offer. 
Consider the phrases that your existing customers use to describe what you do.~
22. Use keyword tools
Use tools like Ubersuggest and Wordtracker to give you more keyword ideas.
23. Use Google Keyword Planner
Use the Google Keyword Planner to find out how many people search for each word or phrase every month. This planner also provides an indication of how competitive each search term is.
Don't miss our extensive guide on finding the right keywords for your website.
Conclusion
SEO practices need to be ongoing if they are to achieve lasting success.
When a business is launching a website, however, the steps suggested above will provide a solid foundation to build upon as the site grows in popularity and rises through the search engine results to that coveted top spot.
Your Say!
Have we missed anything? We'd love to hear from you. Please leave your thoughts and suggestions in the comments section below.