Keywords are a major part of any search engine optimisation (SEO) campaign, and choosing the best keywords to target is crucial for the success of your website.
In order to get search engine robots to more accurately detect the subject matter of your website, you should target relevant keywords by placing them into various website elements such as headings, descriptions and the content itself.
[Tweet "It's important to not over-optimise your website through excessive keyword usage"]
However, it is also particularly important to ensure that you do not over-optimise your website through excessive keyword usage.
Your chosen keywords should be used sparingly in such a way that they are almost unnoticeable and natural to your readers, lest your SEO can end up being completely counter-productive.
One of the most popular tools to use for keyword research is the Google AdWords Keyword Planner. It's a free tool (Google Adwords account required) that provides you with keyword suggestions along with important information such as approximate value in pay-per-click advertising programs, competitiveness and monthly global and local searches.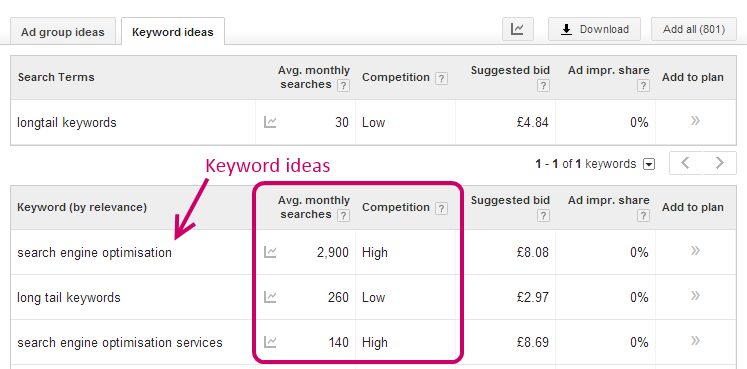 When doing your research into on-site SEO, you'll come across the terms short-tail keywords and long-tail keywords.

Short-tail keywords are much more general search queries consisting of one or two words, while long-tail keywords consist of three to five or even more words.
When searching for more specific results, web users tend to type a longer query (i.e.: a long-tail keyword) into Google or another search engine in order to get more relevant results.
By contrast, if they are only searching for a general topic, then they're more likely to enter a short-tail query of one or two words.
When looking for keyword suggestions, novice online marketers can be tempted to go solely for short-tail keywords, since these terms often hold the most traffic. However, it's important to remember that short-tail keywords are extremely competitive in spite of the large number of hits the keywords receive.

For example, typing 'SEO' into Google will yield many millions of results, and the term has hundreds of thousands of monthly global searches. Needless to say, getting your website listed in the first search engine results page (SERP) for that term will be almost impossible.
By comparison, targeting a long-tail keyword that is more specific to your particular business will be far less competitive, and the traffic generated is more likely to lead to conversions. For example, targeting 'Beginners guide to on-page SEO' is far more specific. 

Not only is it easier to rank highly with long-tail keywords, but users who visit your website via long-tail terms are also more likely to buy!
This is because long-tail keyword searches are highly specific, so users mostly know exactly what they are looking for when searching- as opposed to short-tail keywords, which are often used in the early stage for looking for a product or service, perhaps when researching before buying.
In conclusion, long-tail keywords typically offer a vastly higher return on investment (ROI) than trying to compete with a huge number of large businesses which have somewhat of a monopoly over them.
Short-tail keyword opportunities are still very much worth looking into. but you'll have to play the long game. The quickest returns can often be found in the form of long-tail terms which drive the most valuable traffic to your website.
How to Find the Best Long-Tail Keywords
Now that you know how long-tail keywords can benefit your search engine marketing campaign, you'll need to find the best ones to suit your online marketing campaign.
While Google Adwords Keyword Planner is a great place to start, it is certainly not the only resource that you should be using to conduct your keyword research.
In fact, a great place to start looking is your own website. Because your website is likely to contain lots of copy highly relevant to your business, you can get excellent keyword ideas just from reviewing your content and coming up with a list of short phrases of around three to five words.
[Tweet "Another great way to generate long-tail keywords is simply to ask friends and family."]
Create a scenario, such as finding a service or product relevant to your business, and ask your friends what search terms they would use. Try it, you'll get some surprising and worthwhile results!
Should You Still Target Short-Tail Keywords?
While short-tail keywords are usually extremely competitive, this does not mean that you shouldn't target them as well.
After all, it is still likely that most the traffic to your website coming from the search engines will come from short queries.

Although the most valuable traffic (i.e.: visitors who ultimately become customers) is usually more likely to come from long-tail keyword searches, short-tail keywords are still important for driving traffic to your website and raising brand awareness.
Your Say!
Let us know your experiences with short-tail vs long-tail keywords.
How do you come up with long-tail keywords for your website? Have you had great success with targeting the short-tail instead? We'd love to know!