For many, registering a domain name is the start of an exciting business venture, or at the very least an early step to getting a website online.
There's a tonne of stuff to plan and consider during the early stages of getting a site and/or business off the ground, so much so it can be a bit bewildering.
So if you're thinking "I have a domain, now what?" you'll find this guide handy. We've written a checklist of the ten most vital things you'll need to get done after your registration is complete.
We're assuming you've already registered a domain name, but if not, we'd (naturally) recommend giving us a try and don't hesitate to drop us a message if you have any questions.
Secure your business name at companies house
If your newly registered domain name isn't being used for business purposes, or you've already registered your company name, you can skip this step.
You'd think this would be the very first thing any SME does before getting started with a new company, however, during the excitement of coming up with a genius idea that could make you an overnight millionaire, it's easy to forget these things.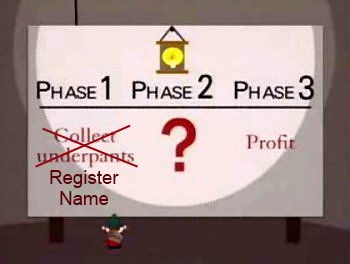 Registering your business name is the very first step to success
You can search for existing company names using this tool, and when you have your business name finalised you can start the registration process gov.uk/register-a-company-online
Now that's out the way, it's time to get that domain name working for you…
Set up an email address
Does any business run day-to-day without email anymore? There might be a few people holding out, but for the most part, using email is an integral aspect of running a website / company.
Not only is email the most common form of business communication, it's also a hugely effective way to inform customers of new products and offers. We'll get further into email marketing later on, but first, let's set up a professional email address for your domain.
For this, we're going to already assume you have a hosting package that comes with email.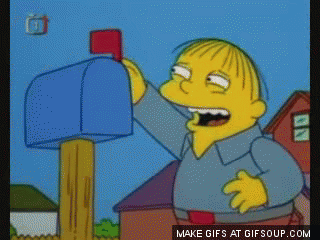 Receive mail and be as happy as Ralph
First, you'll need to think about what your email address is going to be; we'd recommend keeping it personal, something like yourname@yourdomain.com – or something simple such as info@yourdomain.com.
[Tweet "Avoid using Gmail or Hotmail email addresses for your business – it doesn't look professional"]
The shorter the better, as misspelling an address is a common reason for emails not reaching their intended recipient.
Getting an email address set up via your host should be the easy part. Here at LCN it couldn't be simpler: Just log in to your LCN account and look for the "Email addresses" icon on the "my account" page.

From here you can easily set a new email address with your chosen password in seconds.
Wondering why you should get email working on your own domain instead of using a free service like Gmail or Hotmail? Having an address like john66rockstar@googlemail.com plastered over a company van doesn't really scream professionalism.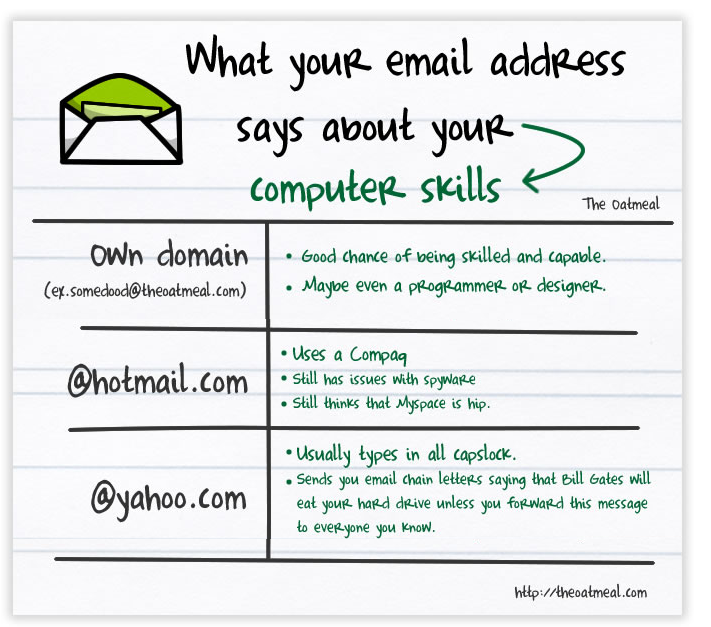 What might your email address say about you? – The Oatmeal
Considering it costs so little, there are few excuses for a modern business to be without a custom domain and email address.
Secure your social media accounts
Before you get too involved with one particular social media network it makes sense to secure all the relevant social media accounts for your website/business.
In the short term you may only plan to use Twitter or Facebook, but who's to say later down the line you might not look to use other platforms such as LinkedIn and Instagram as you expand your social media footprint?
For branding purposes it's wise to ensure your social media accounts all have the same username/handle. There's nothing more frustrating than going to sign up to a social network only to find someone else has beaten you to the punch.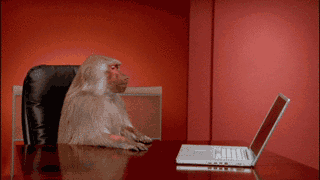 When you find out all the best usernames are taken…
For instance, at LCN.com we use the handle "lcndotcom" for all our social networks…
com/lcndotcom
com/lcndotcom
com/user/lcndotcom
… you get the idea
While this sounds like a terribly laborious task, it's actually pretty easy to check the availability of your preferred name without signing up to each network individually.
Check out a tool called namechk (others are available), then just pop in your desired username/handle and hit enter. All of the social networks that are available will show in green.

This kind of preparation at the beginning of a website and/or business launch is vital for your long-term branding prospects. Get it right from the get-go.
Get started with email marketing (Mailchimp)
With the rise of social networks, the term "Email is dead" has become an age old adage, but it couldn't be further from the truth.
A well-maintained customer mailing list is an absolutely vital asset for any business/website owner. And why wouldn't it be? The people on your mailing list are familiar with your brand, products and services, and in many cases are ready to buy!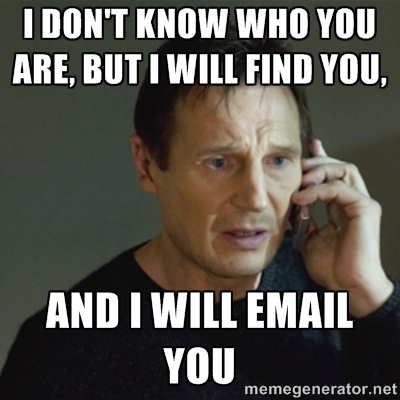 Growing and understanding your email list will result in more sales
Launching a new product? Offering a big discount? Got big news to spread? Your ever-so-valuable email list should be the first place you turn to.
Still not convinced? Here's some numbers…
And to top it all off; it's super-easy to do yourself… without the need for any techy marketing knowledge or design skills.
However, you can't just "do email marketing" using your regular email address/setup.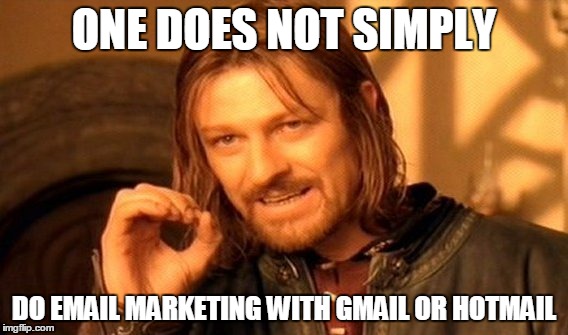 Day-to-day email services are not geared up with mass email marketing in mind. It's not practical and you could end up getting your email address blocked by providers such as Gmail, Hotmail, BT, etc. pretty quickly.
Thankfully there are dedicated email marketing solutions out there which will handle this for you, and for this guide we're going to recommend our favourite email marketing provider; MailChimp.
MailChimp offers a pretty generous free plan to get you started. You can create a list of up to 2,000 subscribers and send up to 12,000 emails to them (in total) a month.  The only, very minor, catch is; you have to have the MailChimp logo in the footer of your emails.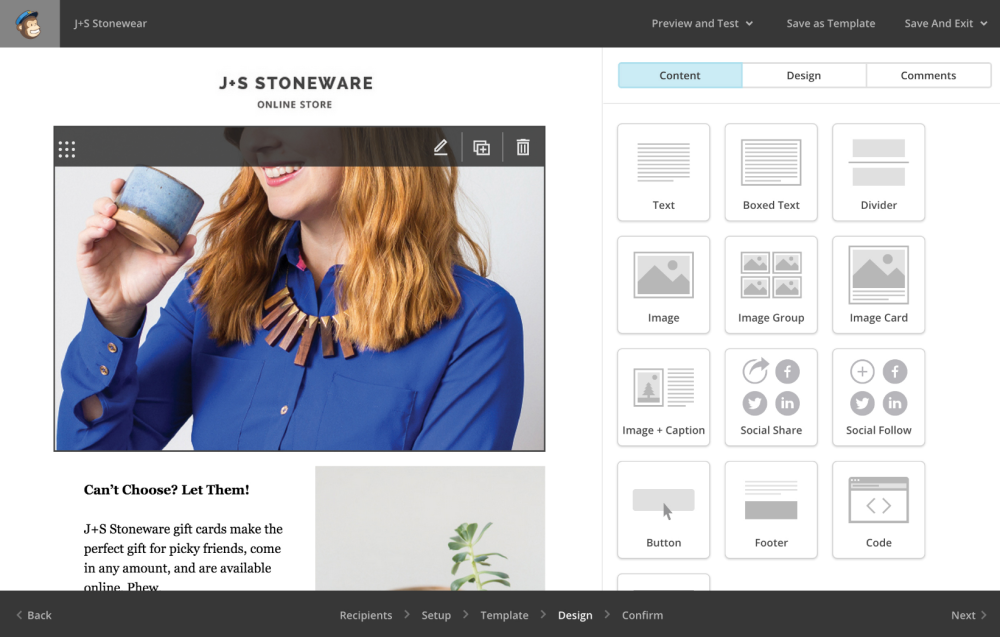 If you want to send more, or remove that logo, you can easily move onto one of their flexible paid-plans.
Taking you through an email marketing campaign from top to bottom would be a huge separate guide in itself, so check out this "getting started with MailChimp" guide which covers the basics such as…
Creating a list
Making sure your list is compliant
Creating templates and designs
Sending your first campaign
Avoiding spam filters
Understanding MailChimp reports.
Once you're up and running you'll want to expand your mailing list with new subscribers at every opportunity.
Create a holding / under construction page
With the excitement of a new business or website launch comes the urge (and the need) to tell the world of your future plans.
If you do this before you have any kind of web page present it's an opportunity missed. This is why it's a good idea to get a holding page for your website online.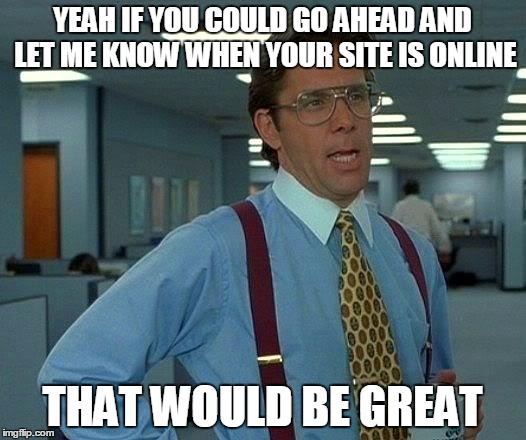 A holding page is useful for a few reasons…
Firstly, it proves you have an active presence
You can give a website launch date (or include count-down timer)
Build your mailing list nice and early by including an email form
Encourage social network shares
Include a contact form / contact details so interested parties can get in touch
When building your website we'd recommend trying out WordPress – in fact, we use it for this very blog. It's extremely flexible and since it is so incredibly popular, there's loads of fantastic support guides available online.
A major benefit of WordPress is that by using "plugins" (found online, mostly free) you can pretty much get any functionality you could dream of – all at your fingertips, often without the need for any coding skills.
Check out excellent list of "coming soon" themes and plugins for WordPress and find the right one for your site.
Add SSL to your domain name
Look up at your web browser address bar right now. You see that little green padlock to the left of our web address? That's SSL in action. You'll also notice that our address starts with "https" instead of "http".

SSL stands for Secure Socket Layer and is the industry standard method of encrypting data sent between web browsers (your computer) and servers (web hosts).
This means any data sent between you and a website is secured, which is particularly important when dealing with sensitive information such as credit/debit cards.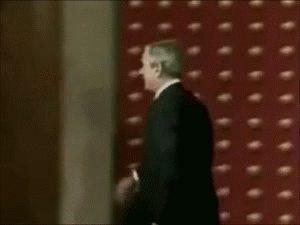 Keep your site locked to unwanted guests
This encryption isn't the only reason it's worth getting your site SSL secured from the off. ..
SSL is now a Google ranking factor: Confirmed by Google in 2014, SSL now plays a role in how Google ranks your website. Find out more in our guide to SSL and SEO.
SSL can increase ecommerce conversion rates: SSL and HTTPS gives your visitors and customers peace of mind to both browse and make purchases from your website.
SSL proves you are who you say you are: SSL can help safeguard against phishing scams that involve emails that link to fake versions of legitimate websites.
Warranty protection: If for some reason a customer incurs a loss from an online transaction on your site for security reasons, an SSL certificate will usually include warranty protection to cover your costs.
These are just a few reasons why SSL is a must for every site online today. Find out more and get an SSL certificate to match your needs over at our SSL cert page.
Set up the blank / naked version of your domain
When we think of the web, we tend to assume all websites start with the "www" prefix. However, the chances are you probably visit websites on a regular basis without using "www" at all.
For example, you can visit LCN by either using www.lcn.com or simply lcn.com – the latter address without the "www" is often called a "naked domain".
What is actually happening here is lcn.com is merely redirecting to our proper www.lcn.com address. However, without setting this up, users will just get an error page when visiting your site's naked domain variant – and this isn't a good experience for anyone.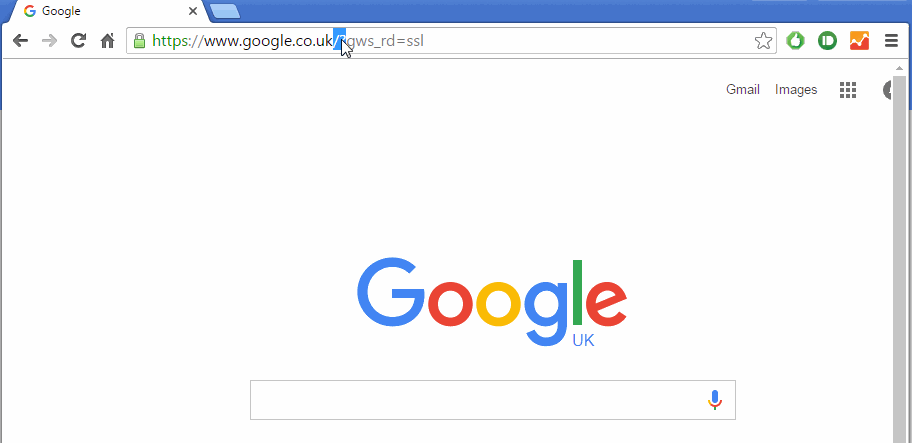 lcn.com naked domain redirecting to "www.lcn.com"
You should be able to do this easily enough at most domain providers. Naturally, here at LCN it's super straight-forward.
Simply find your domain name from the "Domains" section of your account, look for "DNS settings", and from here select"Add an A record".

When adding your new "A record", ensure you leave the "hostname" field blank, and add the IP address for your server (this will usually be same IP address as you use for the "www" hostname).
As with everything at LCN, if you get stuck, just give us a call or get us on LiveChat and we'll have the problem fixed in minutes.
Verify your site with Google Search Console / Webmaster Tools
Google, as you may know, isn't actually "the internet", nor does Google actually search the entire World Wide Web.
What Google actually does is search their index of the internet. This index is created by relentlessly scanning the web for new sites, pages and content. This is how Google can provide search results so quickly.
This makes Search Console (formerly Webmaster Tools) an absolute necessity for any website looking to get found online via search.
Not only does it help Google find your site in the first place (and index it), but it also helps them keep track of changes and updates to your site, such as new pages and content.
Since Search Console spots any errors Googlebot may find with your web pages, you can easily identify and fix common problems including…
404 pages
Server error (server down / offline)
DNS errors
Duplicate content
Thin content
Penalty notices
You don't need to use Search Console in order to be included in Google search results, but you get a heck of a lot more control over how Google processes and views your site and its content – so why wouldn't you use it?
Setting up Search Console is pretty straight-forward, and it won't take you long to get to grips with the basics either.
Add Google Analytics
What would be the point of getting a website online if you never knew how many people are using it? Not only that, wouldn't you like to know how these users find your site? What pages they like? What pages they don't like?
I could go on but you get the idea…
Google Analytics is a professional-level analytics tool for your website and can give you the answers to all these questions and much, much more.
Using this information allows you to make an informed decision as to what changes you can make to your site that will help make a real difference. For example:
What websites are referring traffic to you and why?
Find out what pages are confusing your customers
Find out many visitors to your site are viewing via a mobile device. Does this mean your site should be mobile-friendly?
How many visitors immediately bounce from your pages and why?
What percentage of traffic comes from Google Search, Facebook, or Twitter?
Google Analytics is completely free to use, and it's fairly easy to learn and get to grips with the basics. It's easy to pick up and learn the key stats about your web traffic, but dig a little deeper and there is a whole world of data to be used and exploited.
Low bounce rates = increased happiness
Getting started with Google Analytics is very similar to how you'd setup Search Console. Just log into your Google account and visit analytics.google.com.
If you're using WordPress, there are several different plugins available to make the verification process a breeze – without ever having to get your hands dirty coding.
We recommend Google Analytics by MonsterInsights or Yoast SEO.
Don't let your domain expire
While this might seem like an obvious one, you'd be surprised by the amount of people who let their domains expire without even realising it has happened – and we don't just mean hobbyists and small business owners either.
Back in 2003 software giant Microsoft forgot to renew its "Hotmail.co.uk" domain name. Luckily for Microsoft the guy that re-registered it after expiry was kind enough hand it back. Disaster averted… just.
The chances are, whatever happened, a huge company like Microsoft would have got their domain name back eventually anyway, but for hobbyists and small business owners this could prove a lot more difficult and stressful – especially if you haven't gone through the proper copyright and trademark procedures.
The easy way to avoid all this is to just remember you need to renew your domain, and do it nice and early. Most domain registrars, like us at LCN, give you 90 days' notice prior to expiry.
Not only that, but in most cases you can register or renew your domain name for up to 10 years, usually whilst making some big savings for renewing over a longer period.
As well as setting up auto-renewal, you can make sure your contact details are always up to date, this way we can always reach you to notify you of any services close to expiry.
Visit the "Account details" section of your LCN account, and ensure that the correct email address is listed, and that you have also included a backup email address – we'll contact you here if we can't reach you on your primary email address.
Add "mailer@lcn.com" to your email address book (Outlook, Gmail, Hotmail etc). This should go some way to preventing our renewal emails from ever going into your spam box.
Get text message (SMS) notifications for renewals. Find the "SMS and Newsletters" section of your LCN account, and enter your mobile phone number, and ensure "enabled" is ticked.
When it comes to domain renewals, it's definitely a case of being safe rather than sorry.
Conclusion
Here's that top 10 list again to recap…
Secure your business name
Secure your social media accounts
Get started with email marketing (Mailchimp)
Create a holding / under construction page
Add SSL to your domain name
Set up the blank / naked version of your domain
Verify your site with Google Search Console / Webmaster Tools
Don't let your domain expire
With over 350,000 domains registered with us, we think we know a thing or two about getting the most out of your domain name. But if you think we've missed a vital tip, or just want to ask us a question, we'd love to hear from you!
Leave us a comment below and we'll get back to you ASAP.