Please note: All the email addresses chosen to illustrate this article are fictional.
Imagine you're looking for a wedding photographer online. You want to find a reputable professional who you can rely on and, after scrolling through numerous websites you finally decide on the one you want to contact. It all looks perfect until you read "Email me at sarah.babe.xoxo@hotmail.com"*.
Next, consider meeting somebody at a business networking meeting. You want to hire a PR professional, for example, and the person you are talking to ticks all the right boxes.
Then, he hands you his business card and tells you to get in touch at footballFREAK1987@yahoo.com.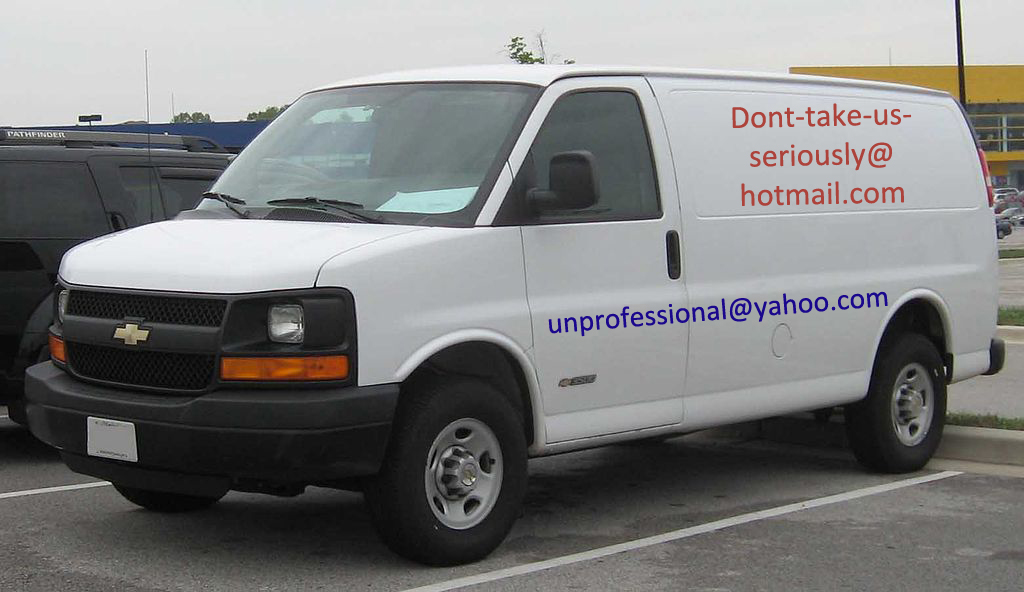 Next time you're on the road, keep an eye out for unprofessional email addresses. You're sure to find one!
Unprofessional email addresses ruin the credibility of a business. You wouldn't wear Bermuda shorts for a meeting with your bank manager or tell the Board of Directors the suggestive nickname you earned in Ibiza.
So, with professionalism in mind, don't let your brand make a terrible impression with an inappropriate email address.
A custom email address helps your SME to be taken seriously. Assuming your business already has a website, use the same URL to create your company's professional email addresses. This will have five key benefits:
Professional Email Address Benefits
Branding
The email address steve.kelly@car-valeting.org incorporates the business's brand name; people who see your contact details can even make an educated guess about the URL of your website.
Giving out your email address becomes an indirect way of promoting a company's web address, whereas using car-valeting@gmail.com gives potential customers no indication of where they can find you online.
Authenticity
A professional email address creates an air of authenticity. Using SEOspecialist147@yahoo.com, on the other hand, simply does not convey trustworthiness.
Consumers look for indications that an online business is legitimate before handing over their cash or sharing a web link with their friends so, if you have a well-presented website with authoritative information and an appropriate domain name, don't let yourself down with a questionable free email address on your contact page.
Find the right domain name for your email address LCNs Domain name checker.
Simplicity
So many people use free email services that finding a username can be difficult. This means that people often have to add a string of numbers or an extra word to their name or nickname to find an available option.
So, while clothesshop@gmail.com looks unprofessional, clothesshop1989@gmail.com is even worse!
The lack of new username options means that getting an email address with one of the popular, free email platforms now requires creative thinking and compromises.
In contrast, emails set up with your own domain can be simple and streamlined. Some options include:
[firstname]@domain.com
[firstname.surname]@domain.com
sales@domain.com, support@domain.com, admin@domain.com etc.
Scalability
If you founded your business as a solopreneur and have grown to house a staff of ten, using custom email addresses based on your domain name is the only realistic way to manage this growth.
When you already have saira@greatdogfood.co.uk and yasmin@greatdogfood.co.uk, creating new professional email addresses when Mark and Alex join the company is no big deal.
If you use free email addresses, however, new staff or departments will cause a headache.
Creating a series of addresses like greatdogfood-saira@hotmail.com and greatdogfood-alex@yahoo.com is unwieldy and looks, frankly, ridiculous.
Ownership
If your free email address is suspended, there is very little you can do about it because the email account never truly belonged to you. Could you cope if Gmail or Hotmail cancelled your account and lost all your messages?
If, for whatever reason, your free email account is cancelled, your customers will not be able to get in touch with you and your business cards and other promotional materials will be instantly obsolete.
Avoid this catastrophe by using email addresses owned by your business and take full control of your communications.
Professional email addresses are easy!
The benefits of using professional email addresses are immense and it is easy to set up custom email accounts when you purchase a domain or manage your web hosting account.
Email accounts can then be easily managed on the web, using software like Thunderbird and Outlook, or on gadgets like iPhones and Android devices. Alternatively, emails can be auto-forwarded to a service of your choice.
Get your business email address online with LCN – take a look at their range of business-ready email hosting options and save 10% with promo code LCNBLOG10.
Conclusion
Email addresses are not something any brand should compromise on. Create a great impression and make your contact details memorable and appropriate, not embarrassing and unprofessional.
Your Say!
If you have any questions at all about getting a professional get in touch with us in the comments below, or drop us an email.