Many business owners see Google as just a search engine and spend a lot of time trying to achieve higher rankings in its search results pages, but today Google has many other tools and applications to help businesses achieve more.
From promotional tools that build brand awareness to research and productivity tools, Google's free and paid business services can help turn a struggling start-up into a thriving business.
Here are eleven smart Google applications you can use to help your business succeed.
1. Promotional Tools
Setting up a Google My Business listing is a simple process that will increase your local search visibility online and connect you with more potential customers.
A huge part of this service is creating a Google+ business page, which means you can then be found on Google Search, Maps, and Google+ Local.
Having a Google+ page is good for building audience engagement and it will also improve your search engine rankings.
Find out more about Google My Business here.
This arm of Google My Business makes it easier for potential customers to find your business via directions, contact information, and profile information, whether they're using a desktop or mobile device.
Users can also post reviews, so it's a great way to build brand awareness and credibility.
Take a look at Google+ Local here.
This is Google's pay-per-click (PPC) advertising platform, enabling businesses to advertise in search engine results pages.
Whenever someone performs a Google search using certain key phrases, your ad will show up at the top or on the right-hand side of search results.

You then pay a small fee each time someone clicks on your link. You can also use Google's Display Network to display ads on sites outside of Google's search results (such as YouTube or any sites that show Google Ads).
Learn more here at Google's AdWords Help Centre.
2. Research Tools
While Google's keyword research tool is primarily used to research keywords for PPC (as a part of AdWords) campaigns, it can also be used for SEO research.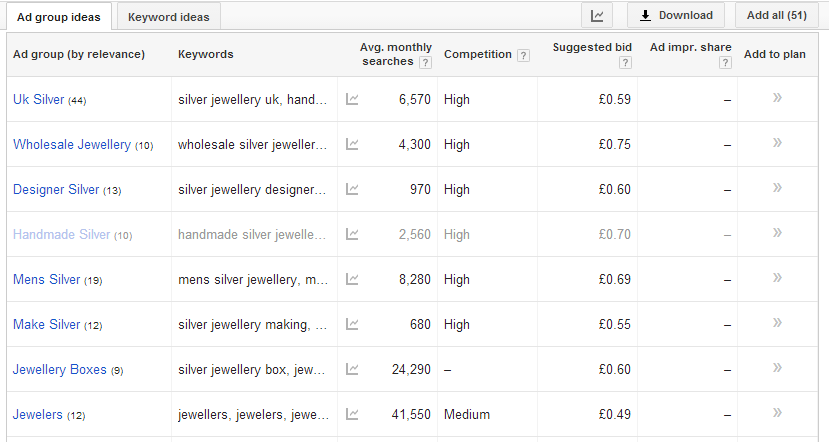 With access to data about the popularity and competition of key phrases used in Google Search, you can identify potential key phrases to use in your content.
Learn more about keyword research tools with this guide, and harness the power of longtail keywords.
It's simple to set up an account linked to your business website, and when it's done you have access to a wealth of information about the performance of your website in Google search results.
If there are any issues with your site's structure or problems with indexing your site, you'll be notified.
There are many resources for webmasters and marketers, so it's worth returning to frequently if you're serious about improving your online visibility.
Learn more about Webmaster Tools with this simple lesson.
This powerful tool is used by many webmasters and marketers to analyse the performance of websites.
It gives you powerful monitoring tools so you can see where your website traffic is coming from and what your visitors do after they arrive on your site.
Find out valuable information such as how many visitors return to your website, how long people stay on your site, what action they take, and so much more.
Take a look at our in-depth beginner's guide to Google Analytics.
If you're ever struggling to find new content ideas, or you just want to find out about the latest news and trends in your industry, Google News is a really useful resource for business owners and anyone who wants to keep abreast of local and international news and current affairs.
Another useful way to identify hot topics within your industry is Google Trends, which offers a more analytical platform for anyone researching content topics or popular Google search terms.
Using simple graphs and other visual data, you can even compare multiple keywords to see their relative popularity over time.
This is a useful tool for monitoring the Internet for specific content, so it's helpful for managing your online reputation.
Whenever Google finds new web pages, articles, or blogs that match your search term, you are sent an email with the details.
You could use it to find out what is being said about your company or products, follow a news story, or even for monitoring your competition.
3. Productivity Tools
If you're a smaller business, you don't need to purchase expensive software to support your operations.
Google Apps is a web-based suite of programs that can support your business with cloud storage and collaborative features.
Here are a few of its most useful tools:
Manage your schedules with meeting reminders and share events with colleagues. You can attach documents to calendar events and also use it in conjunction with Gmail.
With a free 15 GB of storage, Google Drive lets you store, share, and edit files in real time using Cloud storage.
It includes Docs (word processing), Sheets (spreadsheet editor), Slides (presentation software), and Hangouts (video conferencing).
You also get desktop and mobile access and offline support.
Conclusion
The tools listed here are not the only ones Google has to offer, but they are the most commonly used across many different business sectors.
From building brand awareness, to market research and improving efficiency, there are many ways Google can help modern businesses maximise their future growth potential.
Your Say
Did we miss out on any Google tools? Let us know, and tell us what one of these tools you find most useful.