The domain name you choose for your website is important for your company's branding, it helps people to find your business online and it can help with search engine optimisation.
You will want your domain name to be memorable, relevant to your business and easy to spell, so follow our 'Seven Top Tips for Domain Name Success' below to make sure you get it right.
1. Keep it short
A short web address will be for customers to remember. What's more, the shorter the URL is, the less likely your site visitors will be to make spelling mistakes or add errant hyphens.
www.thelongestdomainnameintheworldandthensome.com may be fun but your customers would have trouble remembering it, not to mention typing it correctly!
2. Make it easy to spell
Is your business name difficult to spell? If so, take care when choosing your domain name.
You want people to be able to access your website easily, so avoid choosing a domain name with several alternative spellings that will lead your potential customers to the wrong place.
My name is difficult to spell, which is something I failed to think about when setting up my own website.
This means I spend a disproportionate amount of time telling people how many Ls and Ps there are in my name so that they can find me online. 
Numbers can also cause problems. If your business is called A2B Taxis, potential customers may be unsure about whether to type A2B or AtoB in your domain name.
One option is to buy all the domain names that incorporate the common misspellings of your business name.
Next, you can set up an automatic redirect so that these alternative URLs still take visitors to the correct website. For instance, if you enter www.02.co.uk into a web browser, it redirects to www.o2.co.uk.
3. Avoid too many hyphens
If www.sheffieldgym.com isn't available, you could opt for www.sheffield-gym.com instead.
Using hyphens in this way can work if the domain name you would prefer is not available, but you should do it with care.
Ask yourself whether people are likely to remember to include the hyphens. If the equivalent domain name – the one without hyphens – is already in use by another business, and if your customers forget to add the hyphens, you could inadvertently be directing your prospects to your competitor's website!
Hyphens in a domain name aren't an absolute no-no. However, if the unhyphenated alternative belongs to another company, think your options through carefully.
4. Think keywords
Using keywords in your domain name can be a useful way to sidestep the fact that the URLs for many common business names are already taken.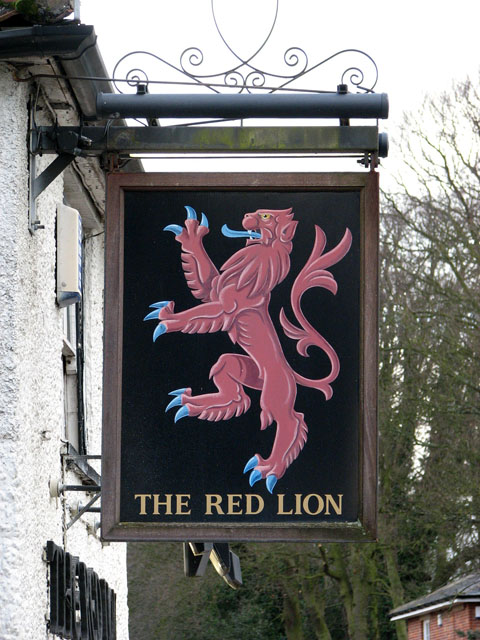 For instance, there are 518 pubs in the UK called the Red Lion, but only one of them can own www.redlion.com.
Even when the alternatives (such as www.red-lion.com, www.redlion.co.uk, www.red-lion.london and so on) have been registered, there will still be many Red Lion pubs without their own web address.
A good way to get around the problem of your preferred domain name not being available is to combine the pub's name with some information about the business. Domain names like www.redlionpub.co.uk or www.redlionalehouse.com could be suitable. 
Using keywords in a domain name used to be a useful tool for SEO, too, but Google now places less importance on this aspect of a URL. The use of keywords within domain names can still play a part in helping a website to rank in search engine results for relevant terms, it is just less powerful than it used to be.
*Red Lion pub photo by Evelyn Simak, Creative Commons Licence
5. Think local
If you are a brick-and-mortar business, or if your location is crucial to your identity, consider using your town or city in your domain name. www.plumbingsupplies.co.uk was snapped up long ago, but www.plumbingsupplies[yourtown].co.uk may well still be available.
6. Check availability
You might have a brainwave when trying to think of a suitable domain name for your website, only to discover that someone has already had the same idea and the URL is not available, so find out what's available before getting a logo designed!
Search for your preferred domain name, and we'll show you which domain extensions are available.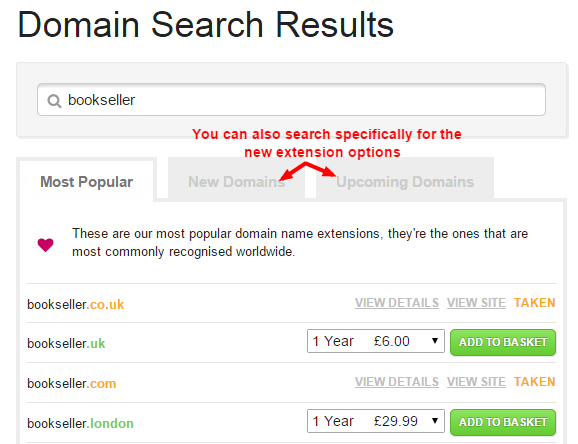 The advent of new domain extensions gives you a much better chance of finding something you want. URLs ending with .co.uk and .com are extremely popular, but new extensions such as .buzz, .land and even .florist are now available.
There were hundreds of new domains launched this year, so the potential for creative thinking will be virtually endless.
I'm sure I'm not the first person to consider the potential of URLs (domain hacks) like www.th.ink or www.eng.land, so the new URL options open up a lot of new opportunities.
7. Don't embarrass yourself!
Notice anything slightly odd (and rude!) about these domain names?
www.beaconman.com
www.americanscrapmetal.com
www.penisland.net
I'm not sure those interpretations were what Beacon Management, American Scrap Metal, or Pen Island Pens had in mind when they set up their websites.

Real online shop or parody? Either way, www.penisland.net perfectly illustrates how a domain name can be misinterpreted.
However, by failing to check whether their chosen URLs could be misinterpreted, these businesses attract attention for all the wrong reasons.
Until recently, the availability of domain names was becoming very limited because the vast majority of short or brandable URLs had already been purchased.
The introduction of new domain extensions is now opening up the domain name market once again, and dozens of new extension variations are on offer.
This is a great opportunity for businesses – new and old alike – to get their hands on the domain name and branding they really need for a successful web presence.
Your Say!
Do you have a domain name for your business website and email? How did you go about choosing your domain? Is it easily remembered? Or have you even changed domain names?
We'd love to hear from you in the comments section.