When I started my first, personal blog in 2004, few people even knew what a blog was. I opted to host it with Blogger because it seemed straightforward and it was free. It did everything for me, and once I'd explored the settings, all I had to do was type.
It was simple, and it suited my purposes.
Fast forward a few years, however, and I was starting my own business. I knew that a businessname.blogspot.com web address didn't look professional, so I took a leap into the world of self-hosted WordPress websites.
I can't deny that I was terrified.
It seemed like there were so many things to sort out – hosting, choosing a domain name, installing WordPress – but I was pleasantly surprised by how easy the whole process turned out to be.
[Tweet "Self hosting vs free hosting blogs: What's right for you?"]
I've built numerous websites since then, each time going straight for WordPress and bypassing the freebies without a thought.
If you are thinking about starting a blog, you need to consider where you will host it. There are a range of options available and, in this post, we will go through some of the most popular ones, along with their pros and cons.
Free website hosting with Blogger, WordPress.com, Weebly or Tumblr
Many people look to free options when they are starting their first blog. They offer ease of use, even for people with no technological background, and they can usually be set up within minutes.
Blogger, WordPress.com (as opposed to WordPress.org, the self-hosted option), and Tumblr are all commonly used to host free websites and blogs, and they are popular for many personal bloggers.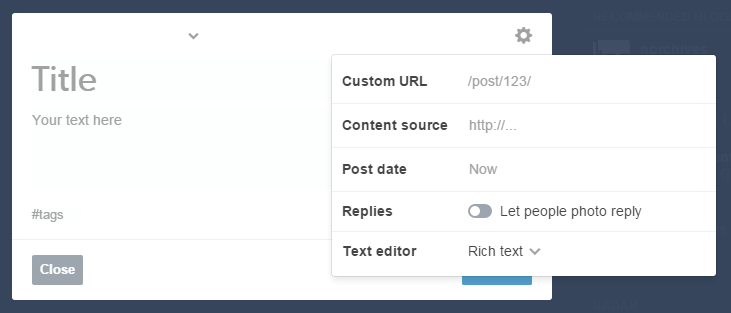 Whilst sites like Tumblr are easy to set up, you have very limited control over what you can do with your site / blog
While this sounds tempting, the reality is that you do not own your hosted blog, and you do not have ultimate control over what happens to it.
Google announced, earlier this year, that all Blogger blogs with adult content were going to be deleted, and, although they later backtracked on this decision, the furore clearly demonstrated that people who blog on hosted platforms are merely 'renting' the space; they don't own it.
Pros of free, hosted blogs
These blogs are free and are easy to set up, usually offering guided tours and intuitive interfaces
If you are retweeted by Harry Styles and get a sudden influx of millions of visitors, you don't need to worry quite so much about whether your hosting will hold up
Some customisation options are available, depending on the service you choose, such as the ability to pay to use your own web address
When updates are made to software, people with free blogs don't need to worry about installing the latest version; this is all done for you.
Cons of free, hosted blogs
You have no control, ultimately, over what happens to your blog. In the worst case scenario, you may use a blog host that disappears entirely: Posterous, a once-popular blogging platform, was withdrawn, deleting all blogs and blog archives; its users could not appeal this decision
You cannot control whether ads are placed on your blog that profit the hosting company
Your web address looks unprofessional, especially for a business blog
With WordPress.com, you are not allowed to place your own ads to monetise your blog
Your customisation options are very limited
With some 'free' services, there are fees incurred for optional extras, e.g. removing WordPress.com ads or using your own domain name
Your email address won't automatically match your web address, which looks unprofessional and can get confusing.
Self-hosted blogging with WordPress.org
If you decide to host your own blog, I would heartily recommend using WordPress.org. There are some other self-hosted options, such as Movable Type or Joomla, but WordPress is so filled with features and functionality that it is the obvious choice for any new or existing website owner.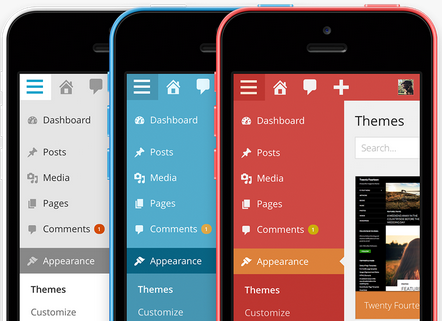 WordPress makes it easy to publish from desktop, tablet or mobile
It's true that self-hosting is a little more complex to set up than free hosting but, once the preparation is done, you have many more options for customisation and much more control over the content and appearance of your website.
Pros of self-hosting a blog with WordPress.org
WordPress.org is free to use and there are many free plugins and themes available to customise your blog
Most web hosting companies offer simple WordPress installation in a few clicks
(LCN offer WordPress hosting with a simple one-click-installer)
You have full control over your website. Nobody else owns your content and you can use the website how you choose (as long as you don't break the law!
Your blog will look professional, with no ads from your host getting in the way of your website
You can monetise your blog with ads and affiliate links without worrying about breaking any rules
WordPress is open source, so developers around the world can create plugins and added extras for anybody to use
Techies will be glad to know that WordPress.org-hosted blogs allow users to add any code they wish
Nobody else is profiting from your content.
Cons of self-hosting a blog
You need to choose a domain name and pay for web hosting on an ongoing basis. However, this gives you complete control and ownership of your website and content!
Setting up a self-hosted blog requires more initial work than choosing a free, hosted option
Sites are not usually automatically updated to the latest version of WordPress, which can lead to security vulnerabilities.
Summary
When setting up a blog, ideally you want to get it right first time, rather than set up with one service and face exporting your content and design elsewhere when you want to expand or scale your business.
Take a good look at the pros and cons above and try to make your decision based not only on the ease of set up, but also the long-term implications of being able to personalise and manage your website over time.
Ultimately, using a self hosting platform such as WordPress, with your own domain name and hosting, is a more customisable, scalable and professional looking way to get a site online.
Check out our range of excellent WordPress ready web hosting packages! Have a question? Just get in touch with our UK-based support team.
Your Say!
Which option do you prefer? Tell us in the comments!