Every minute, 300 hours of video gets uploaded to YouTube. Adding to this all the competing sites, it becomes hard to ignore the demand for online video content.
But if you thought producing a video, uploading it to some free video sites, and sharing them on social media would do be sufficient, you are only following the same path as millions of others.
Unfortunately, it is very difficult to gain traction for your videos in such a competitive landscape.
While YouTube reports that thousands of users are earning thousands per year, there are countless others making next to nothing.
With video marketing becoming more affordable because of cheaper cameras, free uploading, and basic editing and animating software, more companies and individuals are engaging in the practice, resulting in far more quantity over quality.
However, there is so much video consumption taking place – one billion users on YouTube alone – that creativity, optimisation, and a smart plan can lead to a huge number of views and subscribers.
Related: 4 tools for mobile video marketing
The following 5 tips can help you stand out from the competition.
Relevant Uniqueness
First, understand the concept of relevant uniqueness. It applies to all kinds of online marketing, whether it is an article or a video.
A video must be relevant to your target audience and it must be unique. Relevance is important as it allows you to cultivate an audience who will come back for each new video.
If you try to appeal to everyone, it is hard to keep an audience interested. Uniqueness makes you stand out, but you don't need to ignore every popular concept or trend.
Your uniqueness can come from a presentation style, an alternative approach, or a different tone from the norm.
Correct Labels
Do not forget the importance of a title, description, subtitles, keyword optimisation, backlinks, sharing, and textual illustration.
Videos cannot get ranked by the virtue of their frames, visuals, or audio.
Getting ranked is still the domain of the text. You need textual descriptions and optimisation to rank a video, whether on a site like YouTube or a search engine like Google.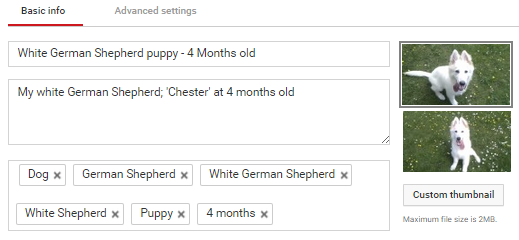 Include relevant and descriptive titles, descriptions and tags for your videos
Avoid keyword stuffing and over-optimisation, but make sure your videos are correctly labeled.
Find Influencers
Capitalise on the power of influencers. If you don't have a huge following, then it is unlikely that your post about a video will gain any substantial traction.
But finding an influencer to share that very same video could generate hundreds or thousands of instant views.
Connect with influencers through social media, complimenting their work or finding a way to help them.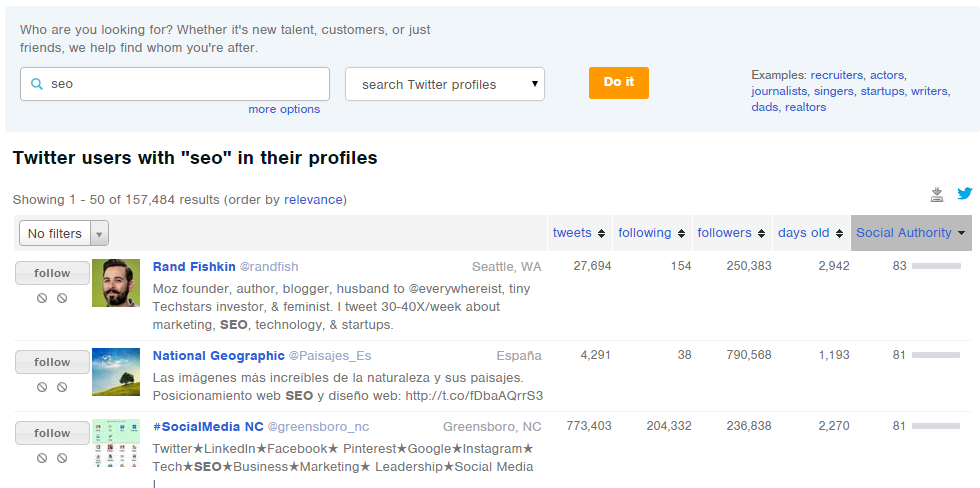 Research tools such as Followerwonk make finding social influencers a breeze
Direct competitors might be difficult to reach, but people who have a fairly similar audience will be more likely to share your video.
You might imagine it would be difficult to reach established content creators, but if you can provide some value to them they will usually want to help.
Engagement
Be sure to engage with your viewers. Comments are an important factor on all the biggest video sites.
On every popular video, you will find an active comment section, but you probably won't get to this level overnight.
Initially, make sure you are active in your comments, responding to any questions or points raised.
Posing a question in the video or description can be a way to encourage conversation, but ensure it is related to the video they have just viewed.

For help measuring engagement metrics on YouTube, check out our guide to YouTube Analytics.
Call to Action
Create a strong call to action. A quality video that people watch to the end is your first goal, but you shouldn't stop there.
Watching videos is a passive activity, so you need to ask viewers to become active in a way that is most appropriate to you.
As mentioned above, contributing to the comment section is one way, but you might also direct people to your website, ask them to subscribe or encourage social sharing.
Conclusion
Online video has experienced a huge growth over the last few years and shows no sign of slowing down.
Whether you want to build a business around video creation or use it as one of your marketing tools, there is plenty of opportunities to build a large audience.
Most people take the easy approach to their content, which includes lazy editing, rehashed ideas, poor labelling, and little promotion.
If you can put in the additional work, both in terms of creativity and practical application, there is no reason you can't master video marketing.
Related: 10 video ideas for buzzworthy content
Your Say!
We'd love to hear your tips on video marketing, whether you use YouTube, Vimeo, or any other platform.