Given the widespread accessibility of information afforded by the digital age, it shouldn't come as any surprise that the majority of consumers seek out reviews online before deciding whether to make a purchase.
People invariably turn to the Internet before trying out a new restaurant for the first time, buying a new computer or mobile phone or just about anything else.
[Tweet "Positive reviews are vital to inspire customer confidence in your business…"]
Local businesses, in particular, must pay attention to reviews since what others are saying about them online serves as an important ranking signal in Google and other search engines.
There's no doubt that online reviews are extremely important, and you need to do everything you can to encourage people to leave feedback without being too pushy.
Customer feedback in the form of reviews is essential both for your reputation and for perfecting your product or service based on consumer insights.
The following findings come from the Local Consumer Review Survey 2014 by Bright Local.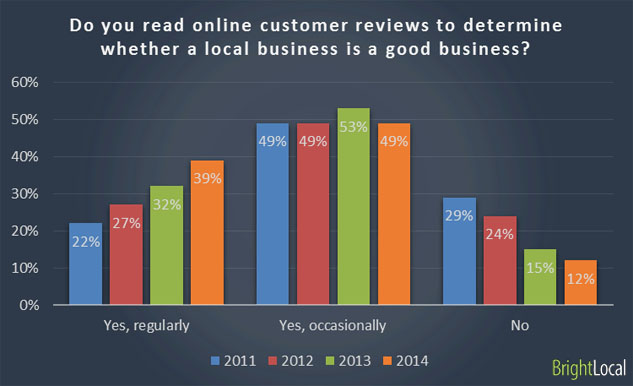 Source – brightlocal.com
Of course, the main way to encourage positive reviews is to deliver an excellent product or service as well as great customer support, but people will quickly start seeing through any manipulative tactics like shill reviews.
Any company will get negative reviews on occasion, but consumers also place a lot of weight into how companies handle negative feedback when it comes to deciding whether to deal with them or not.
Related: How reviews help local SEO
Asking for Reviews
The easiest way to encourage reviews is simply to ask. In the case of e-commerce stores, you may even want to have a review system based on your website that allows customers to view the most popular and successful products.
Most of the larger e-commerce sites provide such a facility, not least because it also displays transparency and honesty.
For small local businesses, things are a bit different, and there are many websites that provide user-generated content in the form of reviews.
For example, tipadvisor.com is one of the most popular websites in the world for seeking out reviews for restaurants, hotels and other venues, although there are different websites for different industries.
You'll want to encourage people to leave positive feedback on such websites, since they present a great deal of visibility.

At LCN.com we ask customers, via email, if they would like to review us after a purchase
However, since review websites work completely independently from businesses themselves, you have no direct control over what consumers write about you.
For this very reason, the pressure is on to provide a product or service that people will actually want to recommend to others.
When it comes to asking for reviews, it is essential not to be too pushy, and you should never start begging for reviews by flooding your website with intrusive calls to action.
After all, a lot of people simply don't have the time or patience to leave a review, and attempting to pressurise them into doing so will likely end up having a negative effect.
Others will leave nothing more than a rating, and while this isn't as useful as an actual written review, it is still something worthwhile.
Note that Google Reviews for small businesses will only display ratings accompanying the search results once at least five ratings have been given.
Related: How to outrank bad reviews of your business
However, the search engine also displays reviews and ratings from other websites, such as TrustPilot.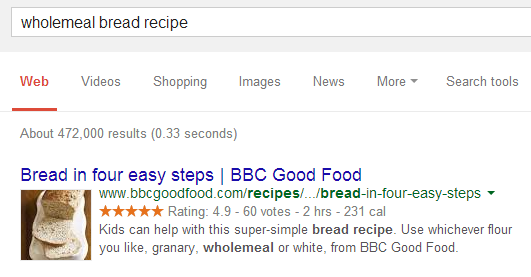 Review stars showing in search results
You can learn more about how Google uses Rich Snippets for reviews and ratings at the Google Developers portal.
Share Reviews
Sharing positive reviews, particularly when they are embedded from third-party websites, is a great way to get people talking about your business in a positive light.
For example, TripAdvisor provides a widget that businesses can place on their website to show off their latest reviews.

TrustPilot review snippet on the LCN.com domains page
Good reviews are something to be proud of, and they act as far more valuable endorsements than testimonials posted directly on your website which, as far as consumers are concerned, could be completely fake.
You should also not be afraid of bad reviews, and although it may seem like a good idea to filter them out as much as possible, people will soon start to notice.
After all, how a company deals with negative feedback tends to hold even more weight than positive reviews when it comes to consumer decision making.
Related: Beginners guide to SEO
Conclusion
By delivering an impeccable product or service, many of your customers will be more than happy to leave positive reviews of your company.
You can also incentivise the process, provided that you don't undermine it, by way of things like monthly competitions or gamification for people who leave reviews.
Don't forget about social media either, since it is your social media communities that should provide the majority of your feedback.
Your Say!
As a customer, do you look for reviews online before purchasing? And as a business, do you offer your customers an easy way to review your services? Drop us a message below.