For any business with an online presence, social media is crucial for building brand awareness, audience engagement, and links. But many businesses are still ignoring Google Plus.
It has over 150 million active monthly users, and 39 percent of the UK online population has a Google Plus account (Statista.com) – partly due to the fact that many Google services such as Android and YouTube require a Plus account.
Google Plus is one of the quickest ways for any business to boost its online presence and search engine rankings. After all, it's owned by Google and works hand-in-hand with Google Search.
It may not have the largest audience share, but an optimised Google Plus page can help improve the chances of people finding your business in search results thanks to integration with Google My Business and Knowledge Graph.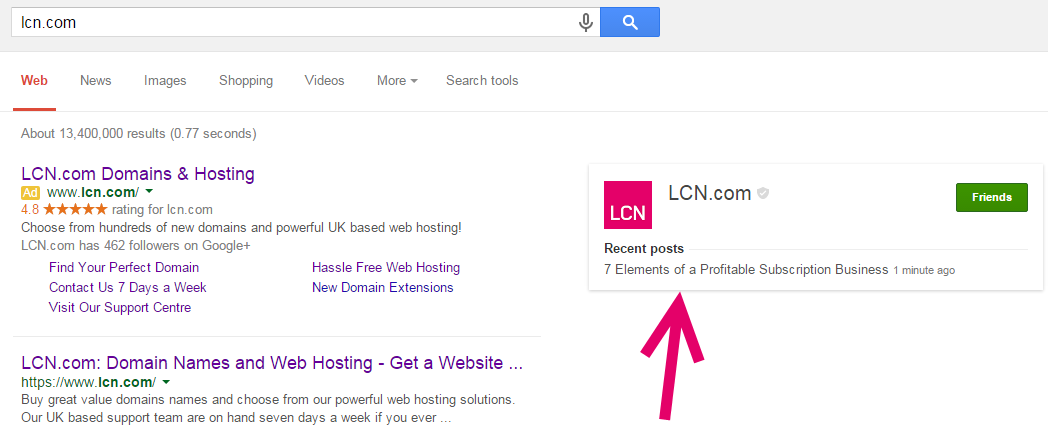 Google Knowledge Graph displays recent Google Plus posts, adding greater visibility for your brand

Use the following tips to ensure you maximise the SEO value of your Google Plus business page.
Optimise Your Profile
Fill out your Google Plus profile as completely as possible. Each section is a great opportunity to boost the relevance of your business, products and services. Tips to add SEO power to your profile:
Include hyperlinks to your other online properties in your business description
Include brand-relevant keywords in your tagline and introduction
Use the links section to point to your other online content
Optimise Every Post
Google treats every new update like a whole new page, which can rank in Google Plus and in Google Search results.
So use the first line as a title with relevant keywords that you're trying to rank for, and use asterisks before and after the first line of your post to make it appear in bold font.
To gain more visibility include hashtags within the content, as these are used by Google to determine search results.
Post Regularly
To build your following and attract natural links, you need to post share-worthy content regularly.
After all, people will only add you to their circles and share your content if you offer something of value.
Draw up a content schedule to make sure you have enough ideas to post frequently, and remember to respond to comments whenever they appear.
Regular posts will also help contribute to the inclusion of your recent posts on Google Knowledge Graph. Find out more about Google Plus and Knowledge Graph.
Use Visuals
Boost your credibility and humanise your business by posting pictures of your company, employees, and products in action.
Remember to correctly format the images with relevant alternative text to help Google understand the visuals.
Build Your Connections
Use the Google Plus search bar to find other businesses and people in your industry, and add people to your circles to build your connections.
When you reach a certain number of followers, this number will appear next to your link in Google Search results.
Also, the more followers you have in your circles, the more authority you have with Google.
Create a Google Plus Community
Communities are an often overlooked feature of Google Plus. They're similar to Facebook or LinkedIn Groups and help you connect with others in the same industry or with the same interests.
Build brand awareness when you comment, share, and +1 other posts in each Community.
Ask for Reviews
Google favours businesses with more positive reviews, so encourage people to leave reviews when appropriate.
If you do get negative reviews, be sure to address them quickly and confidently, and engage with your audience to see how you can improve your products and services.
Related: Encouraging positive reviews
Use Circles and Hangouts
With Google Plus Circles you can share and receive content with specific groups. Use Circles to segment all the people you follow into different groups.
You can then choose to publish posts to specific Circles, based on information like gender or location.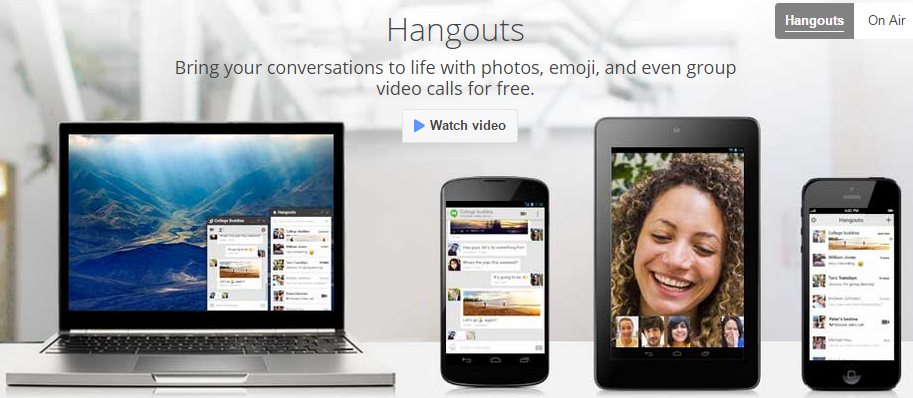 With Hangouts – Google's video chat service – you can gain exposure for your brand through live video.
Many companies use Hangouts to host webinars, workshops, customer support sessions, and even product demonstrations.
In Summary
Although Google Plus has fewer users than Facebook and Twitter, it can still have a place in the SEO and social marketing campaigns of businesses.
Don't think of it as an alternative to Facebook, but something that can be used alongside your usual marketing practices. It's worth taking advantage of every weapon at your disposal when trying  to boost your business reach and visibility.
Related: SEO essentials checklist
Your Say!
Do you still use Google Plus? Do you find it an effective part of your marketing arsenal, or have you sacrificed it in order to dedicate more time to other platforms? Let us know in the comments below.