Almost 75 million websites use WordPress as their content management system and it is available in 40 different languages. Wordpress websites are highly customisable and, because it is a free, open-source platform, developers can create WordPress themes and WordPress workflow plugins, and make them available to everyone. This allows people to build and develop their websites, even if they have no coding skills or advanced technical knowledge.
There are 29,000 WordPress workflow plugins available, each designed to enable users to make changes to their site, streamline their workflow and add functionality.
Many of these plugins are free and users can search for them within their WordPress dashboard or download them from the web.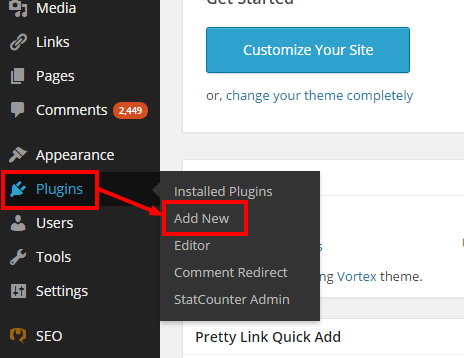 Adding a new plugin with WordPress
James recently wrote about 10 WordPress plugins to help website owners with their SEO.
In this post, I will introduce eight more WordPress plugins, each designed to help you to increase your productivity and customise your website to supercharge its performance.
Related: Find out everything you could ever need to know with our Ultimate Guide to WordPress
Never publish an article by mistake again
If you've ever hit 'publish' prematurely, you'll know how awkward it can be when your unfinished blog post is broadcast to the world via RSS feeds and automated social sharing.
The Pre-Publish Post Checklist enables bloggers to create their own list of priorities that they need to check off before a blog post is published.
This allows you to make sure you've met your own priorities (e.g. verify that SEO information is filled in, the correct category is chosen, images are embedded, etc.) before your words of wisdom are shared with the world.
Find photos in a flash with PhotoDropper
Online articles with accompanying images get 94% more views than those without but, for many webmasters, the process of finding pictures they can legally use is onerous.
PhotoDropper is a plugin that takes the pain out of sourcing appropriate images by incorporating photo search functionality into the WordPress interface.
PhotoDropper only searches images that have a Creative Commons Licence and it automatically inserts a credit to the photographer, saving a blogger valuable time and effort.
If you are confused about whether or not you are allowed to use an image, check out this post by the guys over at CoSchedule.
Promote your existing content with Yet Another Related Posts Plugin
Publishing regular new content, such as blog posts or news stories, is really beneficial to SEO and promotes social sharing.
However, this new content can mean that older posts disappear and are never seen again.
Rather than leaving old posts to languish in the archives, website owners can use Yet Another Related Posts Plugin (YARPP)  to promote their older content alongside their newer updates.

A typical related posts section on a blog
When the YARPP plugin is installed, every blog post ends with a list of other posts that contain related content. This encourages site visitors to explore your older posts, reducing bounce rates and creating a useful internal linking structure, too.
Get a mobile-optimised website with WPtouch
64% of Brits own a smartphone, and nearly 1/3 of website page views come from mobile phones and tablet devices. This means that having a website that renders correctly on phones and tablets is crucial.
The WPtouch Mobile plugin is a really simple, user-friendly way to ensure that your WordPress website displays properly on mobile devices.
Reduce the risk of hacking with Limit Login Attempts
Hackers will go to any lengths to gain access to a website and sabotage it. This is not something that only high-profile websites need to worry about; smaller sites are targeted, too.
Keeping your website and plugins updated can help to improve your security, however, with bots working night and day to break into websites it is wise to take extra precautions.
The Limit Login Attempts plugin allows website owners to prevent automated attacks. It limits the number of times a single IP address can try to log in, blocking access after a preset number of failed username and password combinations.

Limit Login Attempts plugin
You can go a step further and beef up your WordPress blog security with with iThemes Security (previously known as Better WordPress Security). One of the best features of iThemes is the ability to easily change your login area URL.
Change the default WordPress login area URL with iThemes Security
By default, all WordPress blogs have the same login area URL of "/wp-admin".
Because this is a default setting it makes it easy for hackers and malicious bots to scan websites and find your login page – at which point all they need to do is guess your password and they are in!
iThemes allows you to easily change the login URL area to something more cryptic, so hackers cannot find it. You can also change the default admin username (creatively called "admin" by default).

iThemes Security email alert
All these changes will make a big difference and make your site a lot harder to crack.
Related: Self-hosted vs free-hosted blogs
Find broken links with Broken Link Checker
When a link on your website leads to a 404 error, this results in a poor user experience.
Avoid frustrating your site visitors in this way by installing the Broken Link Checker plugin, which monitors all the links on your website and lets you know if any of them aren't working.
Looking for reliable and value-for-money WordPress hosting for your blog? Contact us today to find out more.
Your Say!
Which WordPress plugins do you use on your website? What are the key plugins you instantly install before launching your blog? Let us know in the comments!