This guide will explain how to manage DNS settings for domains hosted in cPanel.
For cloud hosting customers using the Vesta control panel, please click here for the relevant support guide. For instructions on configuring nameservers in cPanel panel click here for your support guide.
Let's get started…
To manage DNS settings for domains hosted using cPanel, you will first need to register and set up nameservers.
You can then manage DNS settings by logging in to the WHM control panel after adding a domain account:
To manage DNS settings for a domain in the WHM control panel, select 'Edit DNS Zone' under the 'DNS Functions' menu: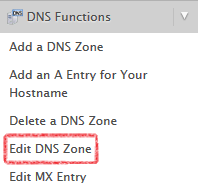 Choose a domain name's DNS zone and select the 'edit' button. You can then change any existing DNS entries for that particular domain. To add a new DNS record, enter the required details in the area below the text 'Add New Entries Below this Line'. If you need any help adding or amending DNS records you can contact the LCN support team.
Need a hand? Search over a hundred step-by-step support guides