How to backup your MYSQL database
We advise that you take regular backups of your database. Creating backups not only protects you from data loss, it can also protect you from accidental deletion and human error.
Before we start you are going to need your database Username, Password and Hostname. You would have chosen your Username and Password when you created the database, the hostname is included with these details in your LCN account under Site Summary and going to Manage Databases.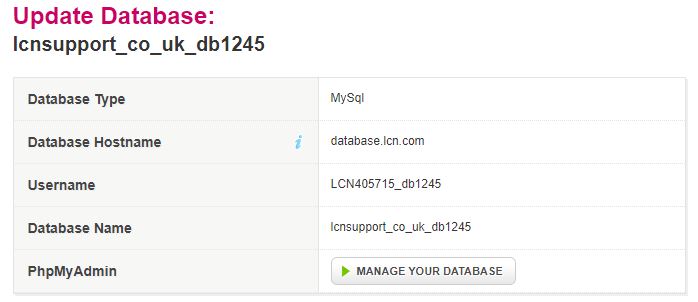 If you used one of our Web Apps such as Joomla or WordPress you can find the relevant details from your website's configuration file via FTP.
In WordPress, these can be found in the wp-config.php file
In Joomla, these can be found in the configuration.php file
In OpenCart, these can be found in the config.php file
Let's Get started…
Go to http://domain.com/phpmyadmin (replace domain.com with your actual domain name).
Log in to phpMyAdmin with your Database Username and Password, choose the correct Hostname from the Server Choice drop down.
Select Databases and choose your database e.g. domain_com_db
Click Export and click Go.
You'll be asked to Download the file and Save it to a location on your machine.
You can use your backup file to restore your MYSQL database to the state it was when the backup was taken in future if required.
That's it! You have now backed up your MYSQL database.