Most people arrive at a new website after entering a query in the search engines, and when this is the case, the first experience that people will have with your content is your titles and meta descriptions.
Additionally, when people share your content on most social networking or bookmarking websites, others will see the titles and descriptions often alongside thumbnail images representing your articles.
While the page titles are self-explanatory, a meta description is an HTML element containing a short summary of a webpage's content, typically in one to three sentences.
This description is what appears alongside the search engine results and in posts on supported social media services.

Both titles and meta descriptions are extremely important for search engine optimisation and your readers alike.
The following guide will help you to write effective and compelling titles and descriptions for your content.
Since your titles and meta descriptions will usually be the first thing that people see, before they even reach your website, you must use this opportunity to try and draw in your visitors and encourage them to click on the accompanying link.
Use action-orientated language, and avoid passive voice.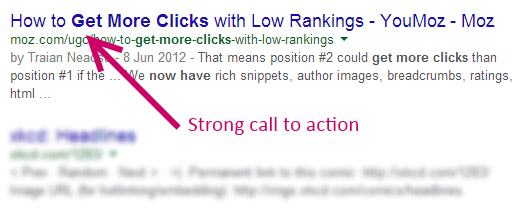 Ideally, both your titles and descriptions should begin with a verb which guides the reader towards taking the next step. At the same time, avoid coming across as too pushy, since no one wants to see a sales pitch.
2. Offer a Solution or Benefits
While a call to action and keywords are vital to your titles, you will have a little more space to work with when filling out your meta descriptions, although you should still try to keep them no more than about 150-160 characters long.
Use this space to present a solution or one or more of the most important benefits that your content has to offer people.
Tell your potential visitors what to expect when they click on a link to your website, and make sure that your content lives up to the promises you present, else your visitor will soon exit your page (and probably won't return).
3. Write for People First
Meta descriptions and titles are a crucial part of any search engine optimisation routine, but this does not mean that they should be abused with keyword-stuffing and over-optimisation.
[Tweet "Meta descriptions are not a Google
ranking factor
, but page titles very much are"]
Excessively littering your titles with keywords could raise Google's ire and do nothing to convince your readers that your content is worth looking at.
Write for your human target audience first and do not deceive potential visitors by delivering content that isn't relevant to the descriptions and titles you provide for it.
Likewise, keep your description short and to the point in order to maintain relevancy.
4. Learn What Your Competitors Are Doing
To get some inspiration for creating great titles and meta descriptions, one of the best places to start is with your competitors.
When you enter a relevant search query of the type that you are targeting, take a look at the results near the top of the page – you'll invariably find that they use effective titles and meta tags.
The Google autocomplete feature can also give you a good idea of what people are searching for, and you may integrate these key words and phrases into your titles and descriptions in order to capitalise on their popularity.
Just make sure to avoid repetition, since this will end up being counterproductive.
5. Ask Questions in Your Titles
A popular alternative to using a call to action as your title is to ask a question.
Many people enter questions in Google and other search engines, and using a question as the title of your article can be a great way to present a solution that your content, product or service has to offer.

If your title reflects a question that your potential visitors are seeking an answer to, then they will be very likely to proceed, probably without even taking an extra moment to read the description.
Questions present a highly effective way to create intrigue.
Get the right web hosting for your website! Check out our hosting plans and get online today. Have a question? Contact our friendly UK-based support team.
Your Say
What do you look for in a page title and description when searching online? Or do you have a great tip to add to our list? Join the discussion and let us know below.