There are lots of options when it comes to online advertising, and the type of marketing you choose will depend on what you sell and the audience you want to reach.
What is an advertising platform?
An advertising platform is an online resource that offers a service or interactive space to users while also monetizing the online traffic. 
When it comes to advertising online, you've got a few different options. 
[Tweet "Find the right ad platform for your business with our guide…"]
Google ads – If you want the most exposure to people that are specifically interested in what you're selling, then Google AdWords is a great place to start. They target your ads based on what the people on Google are searching for.
Facebook ads – If you've got a lifestyle or leisure product or service, then Facebook ads could be an excellent option. Over twenty percent of web page views are on Facebook, more than any other site. That means you've got a highly engaged audience, all in one place.
LinkedIn ads – If you want to reach other businesses and the professionals that work there, LinkedIn allows you to connect with entrepreneurs, managers, and employees in companies around the world.  
Twitter ads – Twitter provides a slightly different advertising experience that allows advertisers to get more followers, promote their apps and engage with others around specific topics, interests, and events. 
StumbleUpon ads – StumbleUpon works differently from any other advertiser. Rather than showing an ad, they take people directly to your website when they use StumbleUpon to discover new website content.
We'll cover each of the main networks below.
Advertising on Google
Google's advertising network is known as AdWords, and it's the largest Pay-Per-Click (PPC) advertising network in the world.
You can bid on "keywords" that are related to your business, products, or services. When someone searches Google for that keyword, there's a chance that your ad will appear above or to the right of the search results.
Your ad will be highly relevant to the search term that someone types into Google, so there's a chance that they will click on your ad and be taken to your website.
The probability of your ad appearing depends on several factors, including how relevant your ad is to the keyword, the likelihood of someone clicking on it, and the quality of the website that you're sending them to.

Google only charges you if someone clicks on your ad (that's why it's called "Pay Per Click") and PPC costs vary widely.
Your cost per click depends on the niche your advertising in, how many other advertisers there are and how much they are willing to spend. Costs could run from a few pence up to in-excess of £10/£15 a click. 
Like many advertisers Google also run a CPM (cost per impression) model which  instead of charges you per click, charges you based on how many people saw the ad
Bing runs a similar advertising search solution to Google, and click costs on Bing are often lower, because there's less competition from other advertisers.
Advertising on Facebook
As the most popular social network, Facebook is a great place to find potential customers for your products or services.
Because people tend to spend their leisure time on Facebook, it's quite often best for lifestyle and leisure advertising, but can still be effective for business and work related products or services.
Facebook allows very precise targeting for your ads, meaning that you can target potential customers by age, gender, interests, likes, location and behaviours.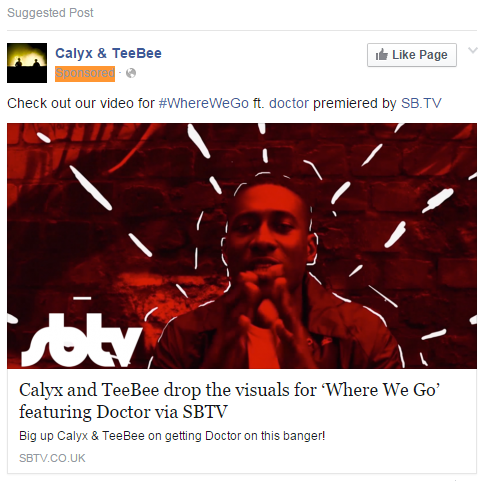 It's also very easy to target your existing customers that use Facebook by using their "Custom Audiences" feature – this allows you to upload customer email addresses or phone numbers, Facebook will then display ads to them if they are active users.
Facebook ads can work for a variety of different product and service types including travel, music, media, lifestyle, fashion, hobbies, and more. 
When you're promoting content on Facebook, you can choose to use the advertising on the right-hand side of the page (which is charged per click) or promote your content directly into other people's news feeds.
Like Google, PPC and CPM costs vary widely, depending on who you're targeting and the competition for advertising space.
Advertising on LinkedIn
LinkedIn is a business website that professionals use to connect with each other, find work, read business news and share their skills and expertise.
Because of this, LinkedIn is an excellent place to reach professionals, business people, and entrepreneurs.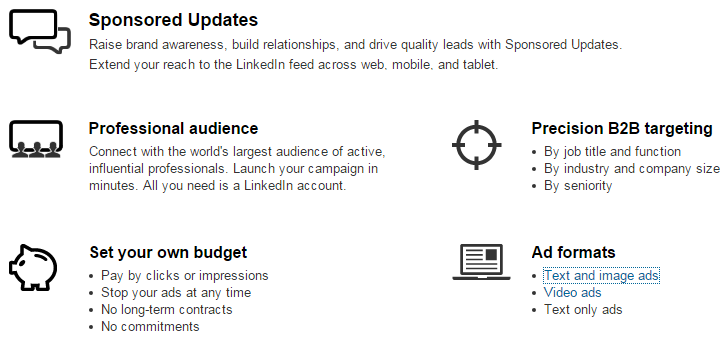 If your products and services are aimed at other businesses and the people that work in them, LinkedIn ads could be a good place to start.
You can target your ads by various criteria including business topics, business types, job titles, location, company size, industry, and more.
Advertising on Twitter
Twitter advertising allows you to promote your business, products and services on the popular social network.
Ads show up in other people's Twitter feeds as "Promoted Tweets", "Promoted Accounts" and "Promoted Trends".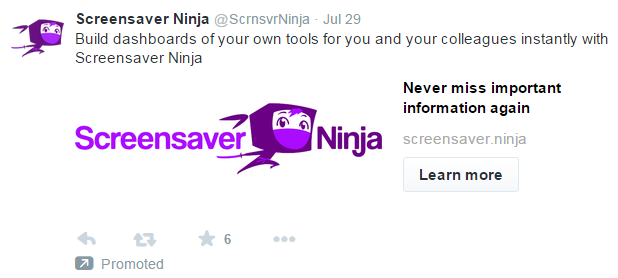 As with Facebook, Twittter allows you to choose the desired outcome of the ads you wish to display.
For example,  you could advertise for more followers, encourage people to install your app, increase engagement with your business, collect leads or drive people to your website.
Twitter allows for relatively precise targeting including keywords, interests, location, events, gender, age, language and more.
Getting a good return on investment
If you're using online advertising, it's important to spend your marketing budget in the most effective way.
This means that you should have good tracking in place that lets you see how visitors are reaching your website and if they are then buying your products or services. 
Google Analytics will allow you to track where your users are coming from, including through paid advertising.
You can then follow their behaviour on your site, including whether they make a purchase from you.
Comparing the value of your customer's purchases to the money that you spend on advertising will let you see how effective your online advertising is.
Conclusion
Choosing the right online advertising network can make a big difference to the success of your business.
Effective advertising, to the right people in the right way, can significantly increase visits to your website.
Spend some time experimenting with the various advertising networks to find out what works for your business.
Your Say!
What advertising network works best for your business? Remember to let us know what line of work / industry your company is in. Different industries can often harbour different results on different ad networks.