500 million tweets are sent per day and there are 15 million active Twitter users in the UK alone. UK businesses can use the site to engage with their customers and clients and to reach new prospects and they would be in good company, as 90% of companies in the FTSE 100 have Twitter profiles.
If you are a small-or medium-sized business and you already have a Twitter presence, you might be wondering how you can amplify your relationship building and self-promotion on the network. If so, Twitter Ads is a logical next step, because it allows companies to reach out to more people using a variety of formats and goals.
Twitter Ads is unique in the social media advertising landscape because users can interact with the ads in a variety of ways, such as retweeting and replying to promoted tweets and clicking on links.
This potential for engagement is an appealing combination for advertisers that want to move beyond ads that are display only.
Related: Twitter Social Proof
How much does Twitter Ads cost?
As a Twitter advertiser, you only pay when somebody engages with your ad. If a promoted tweet gets no attention or a promoted account gets no new followers, it does not cost the advertiser any money.
Twitter Ads can also be carefully targeted to ensure that any interactions that do take place are likely to be valuable in the long term.
As an advertiser, you can set your own budget, which avoids any unpleasant surprises when you get the bill. Twitter will provide 'suggested' amounts to bid, but you can save money by avoiding these defaults and setting your own prices.
When you start out with Twitter Ads, begin with low bids and daily budgets and build them up as necessary.
If your campaigns fail to make an impact when your budgets are low, you can increase them bit by bit until you meet your goals.
How to set up Twitter Ads
Anybody intimidated by the idea of setting up a Twitter ad campaign will be reassured by the user-friendly way that Twitter leads advertisers through the process. Twitter's user interface avoids unnecessary jargon and explains things clearly.
To start a new Twitter Ads campaign, go to https://biz.twitter.com/start-advertising and input your country and time zone. You will then be asked to choose from a range of options, depending on the goal of your ad.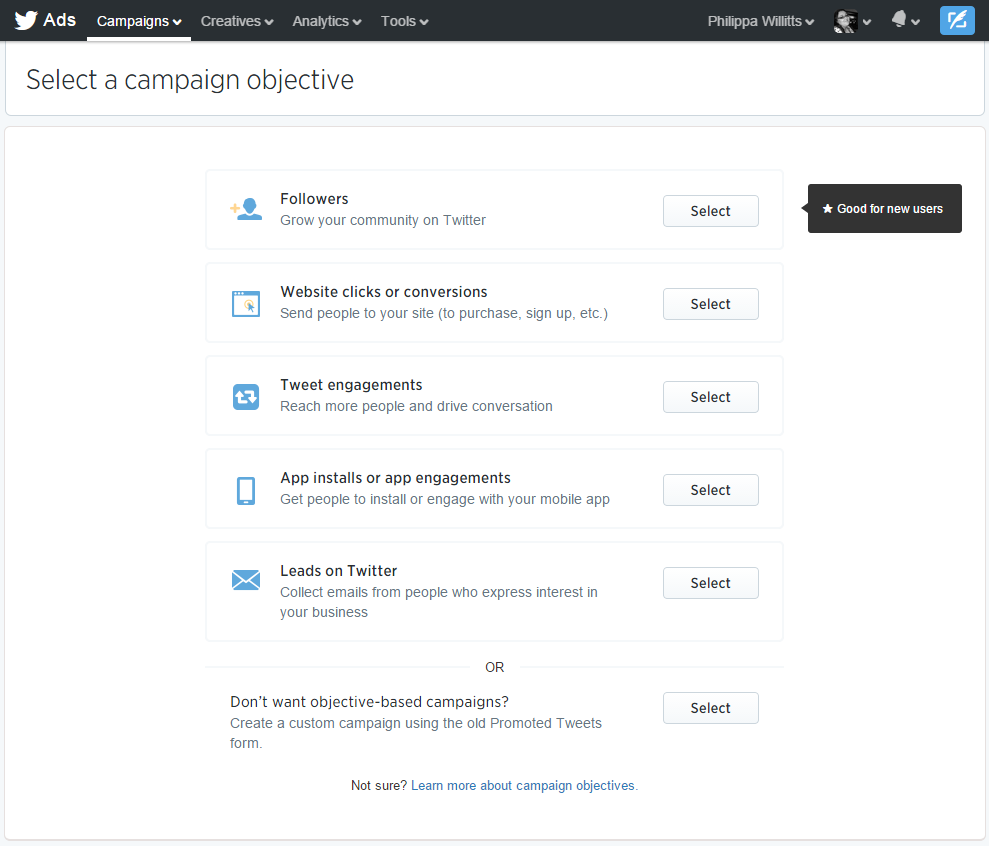 Next, you choose the goal of your ad. Twitter is introducing objective-led ad campaigns, which are designed to incorporate features that help advertisers to meet their marketing goals.
For SMEs with little experience in managing digital ad campaigns, Twitter's simplified goals and objectives make it easy to set an ad campaign up.
Let's look in more detail at each objective and what it can be used for:
New followers
New followers present businesses with an opportunity for long-term engagement. Ads aimed at attracting new Twitter followers are especially useful for businesses new to Twitter that are yet to build up a dedicated following.
Increase clicks and conversions
Many businesses use online advertising as a way to increase clicks and conversions on their websites. Twitter allows businesses to choose a highly targeted audience for their advertising. This targeting means the potential to maximise clicks and conversions is high.
Tweet engagements
Having tweet engagements as an objective allows businesses to place value on the benefit of interactions with their customers or prospects. Twitter is a social network, after all, so encouraging users to click, share, favourite and reply to tweets is an effective way for SMEs to make real connections with prospects.
App installs or engagements
80% of British Twitter users access the network on a mobile device, so advertisers that want to promote a mobile app are well served. Ads focused on app installs or app engagements can prompt users to download a smartphone app or, if they already own the app, remind them to use it.
Lead generation
Some SMEs want to take their Twitter engagements beyond Twitter itself. By using Lead Generation Cards, businesses can urge users to share their contact information and be added to an email list.
Because Twitter ads based on goals are currently being beta tested, Twitter will also offer you the opportunity to select a campaign that isn't 'objective based'.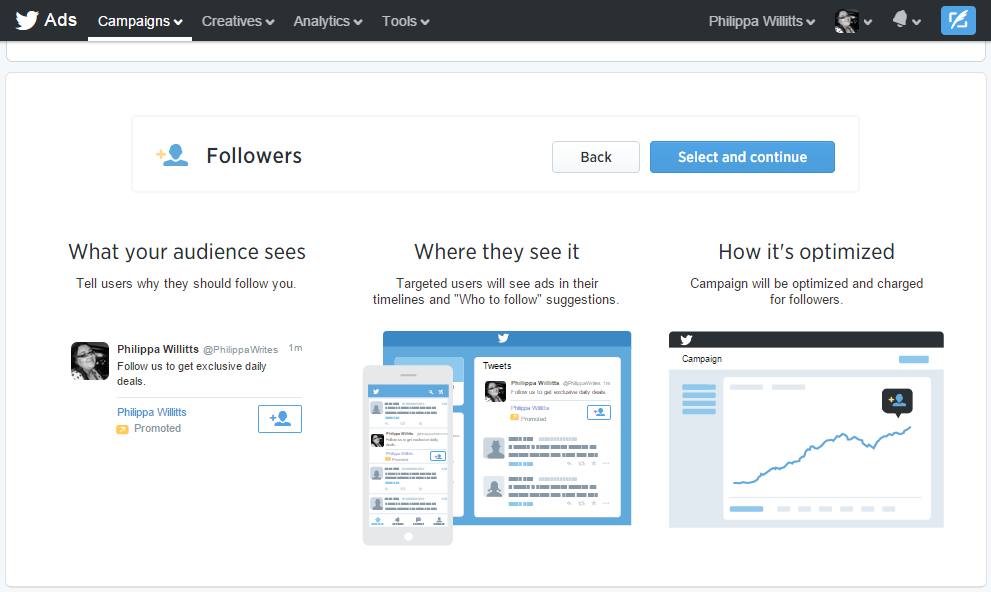 Once you have chosen the objective of your advertising, you will be taken to a page that clarifies the choice you made, followed by a page where you can start to complete the details of the campaign.
This includes naming the campaign, choosing a start and end date and a method of targeting, and creating or selecting the tweets to use in the ads.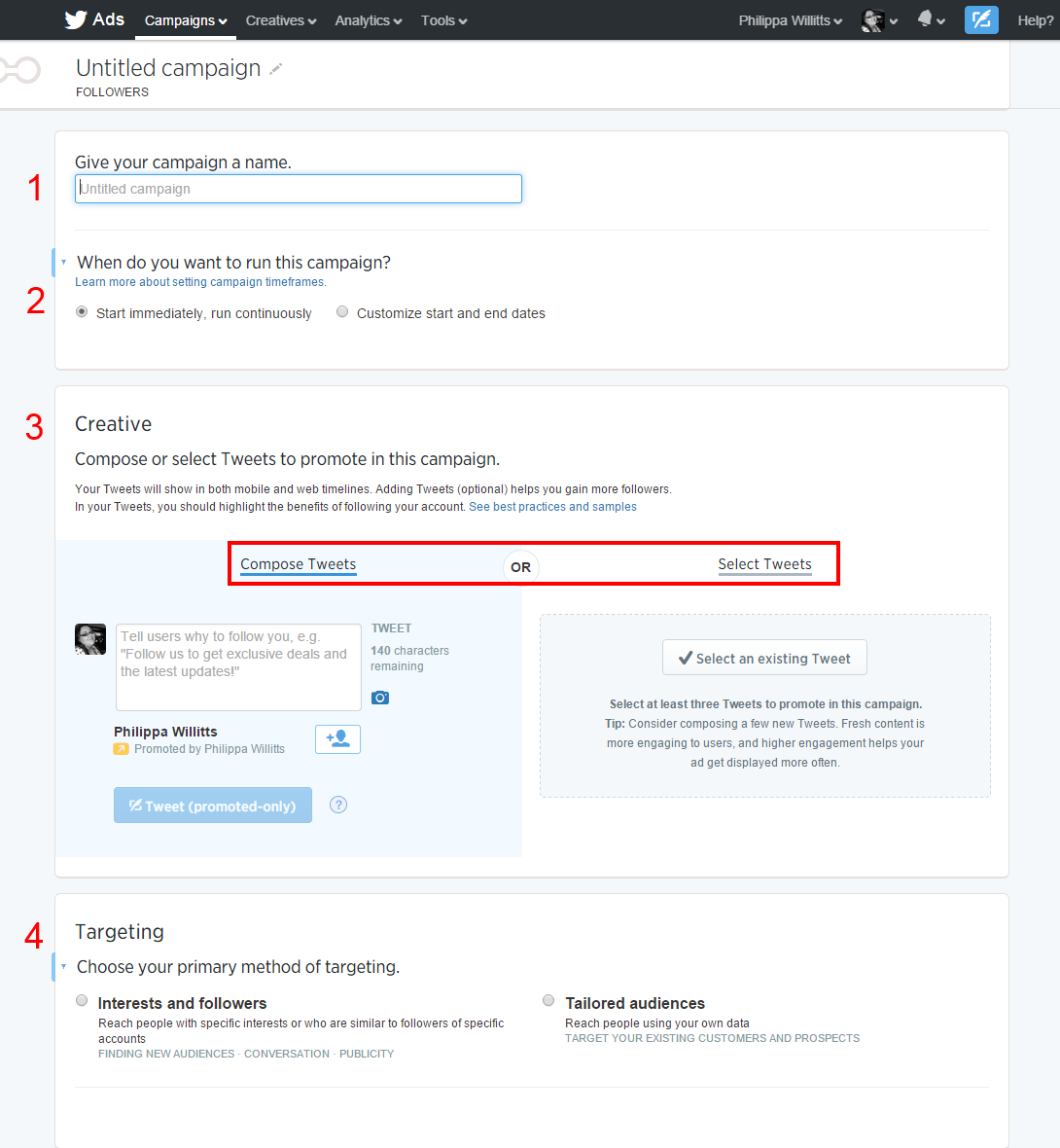 Twitter ad formats
Twitter advertising can take the form of a promoted account, a promoted tweet or a promoted trend. Whenever a Twitter ad is displayed, it is clearly marked that it is promoted.
Promoted accounts
Promoted accounts are based on the 'new follower' objective.
Twitter recommends profiles for users to follow and accounts that are promoted are displayed at the top of the list of recommended users.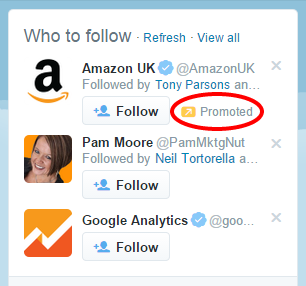 Promoted tweets
Promoted tweets appear in Twitters users' timelines alongside the tweets of the people they follow.
These ads are an effective way for brands to increase their reach, especially when the campaigns are carefully targeted.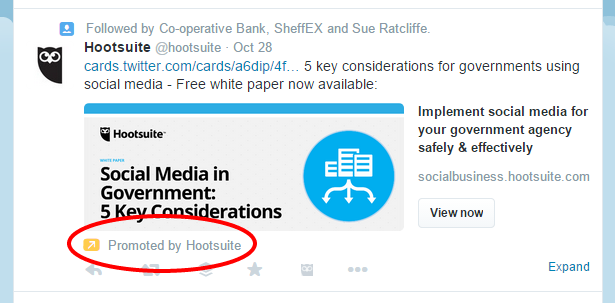 Promoted tweets can be retweeted, replied to and favourited and links within the tweet can be clicked. Users can also click on the advertiser's profile to find out more.
Advertisers only pay when somebody engages directly with the ad. If a Twitter user retweets your promoted tweet and others retweet their retweet, you only pay for the original, direct engagement.
Lead generation cards
Lead Generation Cards can be used within promoted tweets. These Cards let Twitter users sign up to an advertiser's email list by clicking a button in the tweet itself.
Users do not need to fill in their email address or other personal details; Twitter uses the information it holds about each account holder to provide contact details directly to the advertiser.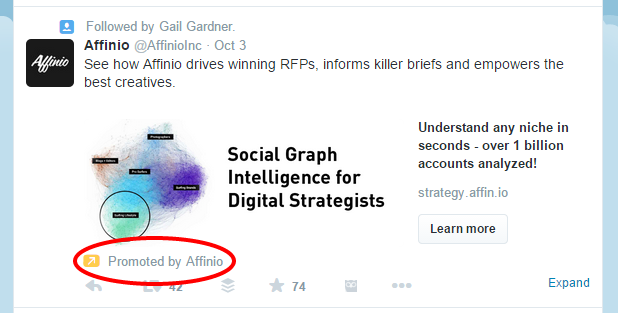 Lead Generation Cards can be integrated with services such as MailChimp and Marketo, so businesses do not need to manually export and import the contact details of people who sign up to receive updates from them.
Promoted trends
Twitter displays trending topics on its website, and these topics highlight the most popular subjects being discussed at any given time. Advertisers can choose to promote a trend, which then appears at the top of the trending topics list.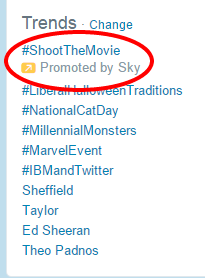 Promoted trends are visible on the Twitter website, in TweetDeck software and on Twitter's iPhone and Android apps.
They are currently being tested by a small number of advertisers so are not available to most people at this stage.
How to target Twitter ads
Twitter ads can be targeted so that they will be relevant to the people who see them. By carefully targeting a campaign, there is no need to waste money on irrelevant clicks and engagement.
Targeting can be based on the following factors:
Followers – target users who already follow your company's Twitter account. You can also target people who follow other Twitter accounts
Users like your followers – target users with similar interests to your existing followers
Keywords – target users who use, or search for, any keyword you identify
Interests – target Twitter users based on what they are passionate about
Location – ideal for businesses with local premises, location targeting allows advertisers to target people in a particular town or city
Gender – aim ads at men or women
Language – target users according to the languages they speak
Device – target people based on the device they access Twitter on.
Despite the wide range of options available for advertisers on Twitter, the procedure for setting up promoted posts or accounts is refreshingly straightforward.
Twitter Ads offers businesses of any size a unique opportunity to connect with new prospects and encourage engagement, and the variety of ad types and goals available makes Twitter ads a flexible and adaptable tool for brands to take advantage of.
When a business carefully focuses on a relevant target audience and chooses its bid and budget limits with care, Twitter Ads can be a highly affordable option, too.
Testing can be carried out in a cost-effective way and ads can be modified over time to maximise success rates.
Related: Small business guide to Twitter
Your Say!
Have you tried Twitter advertising? What are your experiences? Tell us in the comments below!