If you run a small business, you're no doubt already aware of the importance of having a great domain name, a super website, and a local SEO strategy.
When you get it right, you can increase your online visibility and compete for higher rankings in search engine results pages (SERPs).
Improving your local SEO strategy can really help to send more targeted traffic to your website and drive sales. Here's a basic checklist for a successful local SEO campaign.
Consider an SEO Audit
Not every SEO strategy will be suitable for your unique business. To find out the best way to proceed, try starting with an SEO audit.
This is a complete analysis of your website that identifies any potential issues that might be preventing it from ranking as well as it should be in search engines.
Whether you use Internet resources to perform a self-audit, or use a third party, getting it done will help you see where you're going wrong and save you money in the long run.
Take a look at our guide on conducting an audit on your website.
Use Google My Business
You may already use Google Places for Business or Google+ Pages to manage your business information, but it's now been made easier to update business information across Google Search, Maps and Google+.
Find out more about Google My Business here. Once set up, you can connect easily to customers, whether they're searching for you on Search, Maps, or Google+. Make sure your company information is updated, consistent, and correct.
Get your business listed on Google Maps easily with our guide.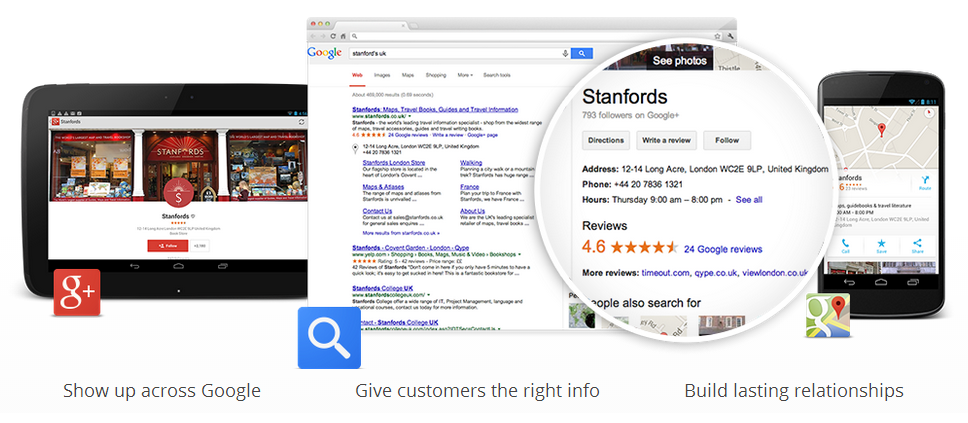 Establish a Business Blog
A blog is a great way to drive relevant traffic to your website, and Google loves fresh content which a blog can provide.
Having unique and useful content will not only help build audience engagement but also boost your authority and rankings with Google and other search engines.
For more posts on how to get the most out of your business blog, check out our archives.
Build Your Social Media Presence
The connection between social media and SEO is stronger now than ever before. Search engines use social indicators such as shares, likes, and links to determine the authority of websites and brands.
Make sure you include keywords and phrases in your content and profile information related to your location, business, products, and services.
Regularly publishing useful content and engaging with your audience will help to strengthen your SEO.
Don't miss our guides on marketing your business effectively with Facebook and Twitter.
Get Mobile
In April 2015, having a mobile-friendly website became an official ranking factor for Google mobile search results.
An increasing amount of search traffic is mobile. In fact, the share of organic visits attributed to mobile devices rose from 34 percent in early 2014 to 45 percent in the first quarter of 2015. (Source: Merkle/RKG Digital Marketing Report.)
Plus, Google has recently announced that "mobile-friendliness" is now a ranking factor.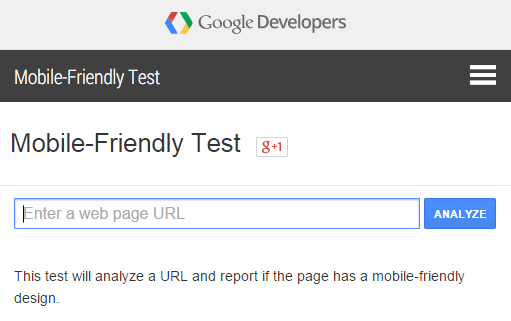 Google now offer a simple Mobile-Friendly test
If you don't yet have a website optimised for mobile devices, it's time to invest in responsive design now.
Get on Local Business Directories
It doesn't take long to set up your business profile on sites like Yelp, TripAdvisor, and Foursquare.
It will increase your chances of being found by potential customers and also boost your SEO efforts.
Just make sure your name, address, and phone number are consistent across all listings, or you could be downgraded by Google.
For more information on directories, see our guide to citations.
Publish More Local Content
It's important to create specific pages that include locally-related keywords and phrases. For example, "Roofer in Hertfordshire" or "Stevenage electricians".
These "long-tail" keywords have less competition in search engines and attract searchers that are more likely to turn into customers.
In your blog, you could talk about local events, or tell readers about a local charity you are supporting. Also, remember to label your images with location-specific data.
Don't miss our beginner's guide to on-page local SEO.
Find Local Link Opportunities
It's worth taking the time to seek out blogs and popular websites in your area to get some local links back to your website.
Do you have any local business connections you can use to your advantage?
Local bloggers are usually grateful to receive guest contributions, so offer some great content in exchange for a link back to your website.
Optimise Page Titles
Your page titles, also known as title tags, are important in the eyes of visitors and search engines.
The page title is often displayed in search engine results pages and in the browser, so make sure it clearly explains the topic of the page in question.
To learn more about optimising page titles, check out this article on title tags by Moz.
Conclusion
These nine local SEO tips are a good place to start for any small business trying to improve its online visibility and grow its business.
It takes time to see results, and there are always new techniques you can use to boost your local SEO strategy, but ultimately it comes down to applying best practices, learning from practical experience, and monitoring the results.
Related: Beginners guide to local SEO
Your Say
What local SEO tips do you have to boost your online visibility? Let us know in the comments section below.