Blogging can be an excellent way to reach a new audience and promote your brand – as well as being a key part of most businesses content marketing strategy.
Creating your magnificent content is one thing, but how can you get people to stay on your page and fully digest your content, and best of all, move on to other pages on your site?
[Tweet "Improve your "Avg. Session Duration" stats with these 4 simple tips…"]
While there are no magic tricks or shortcuts to blogging success, studies have shown that Avg. Session Duration is a significant factor.
The more time readers spend on a website, the more likely they are to make a purchase. If you expect your readers to stick around, you need to provide them with valuable information, engaging content and a vibrant community.

Avg. Session Duration as shown on Google Analytics
Here are four things your blog needs if you want to improve your Avg. Session Duration results.
Related: Conversion rate optimisation mega guide
#1. Great Content
I know you're probably thinking "that old chestnut", but it couldn't be truer. Engaging content is the most important thing.
You simply cannot have a great blog without great content.
Whether you write all your blog posts yourself or engage guest bloggers on a regular basis, the posts should be engaging, passionate and interesting to your particular niche.
Regular readers will quickly pick up on a lack of passion, and they will not be afraid to call you on it.
If you are just phoning it in or posting just to post, it will be readily apparent to even the casual reader. It is important to post regularly, but if you truly do not have anything to say there is nothing wrong with skipping a day now and then.
Take a look at our guide on what makes great blog content.
#2. A Dynamic Comments Section
A blog is a peculiar kind of web presence – part diary, part opinion page and part newsgroup. A dynamic comments section pulls it all together and makes readers feel like they are part of an exclusive community.
If your blog does not yet have a comment section,  you should seriously consider setting one up.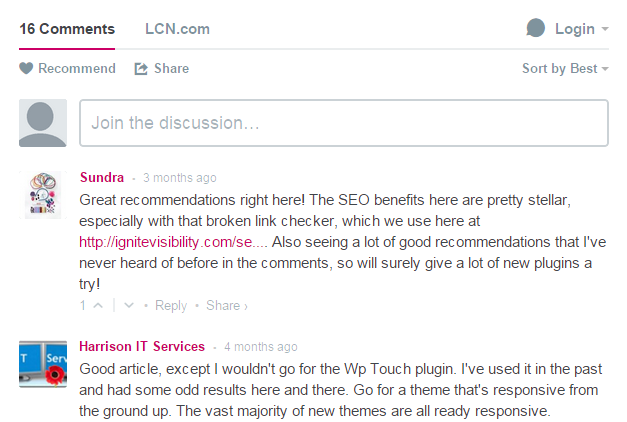 Disqus is a popular way to manage blog comments
Having a comments section on your blog is not always easy. Even the smallest blog can attract its fair share of trolls and troublemakers, and as the site grows the problem may get worse.
The good news is that there are tools you can use to keep spam, trolling and other problems at bay.
Take advantage of those tools, check the comments section regularly and have fun.
#3. Multimedia Content
A multimedia comment like slideshows and videos can make any blog more interesting and engaging.
Readers who take the time to watch a recently uploaded video are likely to stick around longer, and that is good news for your Avg. Session Duration stats.
Be sure to use the proper tools when including multimedia content on your blog.
Embedding YouTube videos into your blog is easy
You want the content to load quickly and play properly, even on slower connections.
You may want to test your videos on a number of different platforms to make sure everything looks good.
Take a look at our list of 5 videos every business blog needs.
#4. Easy Site Navigation
Make it easy for both first-time visitors and regular readers to find the posts they are looking for, leave comments if they want to and otherwise navigate through your site.
If you have a search box set up on your blog, test it regularly to make sure it is working and returning relevant results.
Also be sure to test your blog on all of the major web browsers, as well as mobile browsers found on smartphones and tablets.
Ideally, your blog should look just as good no matter where your readers are coming from.
Related: Landing page optimisation guide
Conclusion
Avg. Session Duration is an important statistic for any blogger, but the factors that influence that results play an even bigger role in overall success.
Adding a dynamic comments section, building multimedia comments and creating engaging comments will help your blog succeed, and that will encourage readers to stick around.
Related: Bounce rates explained
Your Say!
As a blog reader, what do you look at when visiting a new site? What keeps you engaged, what keeps you looking for the next link to click? And what makes you head for the exit!