In January, 2014, Google's head of Web spam Matt Cutts made his feelings on guest blogging very clear when he recommended that digital marketers stop using it as a way to get backlinks.
Once a respected strategy used to expand a brand's reach and earn more website traffic as well as increased search engine exposure, the rise and fall of guest blogging has become a classic example of how impatient marketers have ended up turning to spam.
[Tweet "How to guest blog in 2015 and stay on the right side of Google…"]
Over the last couple of years, guest blogging has become associated with content farms where quantity is everything with barely a thought being given to the quality of the writing and whether it offers any value to human readers.
Initially, many marketers misunderstood the blog post, to such an extent that it was eventually revised to make Google's position on guest blogging clearer. Matt added…
There are still many good reasons to do some guest blogging (exposure, branding, increased reach, community, etc.). Those reasons existed way before Google and they'll continue into the future. And there are absolutely some fantastic, high-quality guest bloggers out there. 

I'm also not talking about multi-author blogs. High-quality multi-author blogs like Boing Boing have been around since the beginning of the web, and they can be compelling, wonderful, and useful.

I just want to highlight that a bunch of low-quality or spam sites have latched on to "guest blogging" as their link-building strategy, and we see a lot more spammy attempts to do guest blogging. 
What Google is getting at is that guest blogging for backlinks is a bad thing, simply because there is little or no motivation to provide genuine value in the content involved.
Instead, guest blogging should be seen as a way to offer interesting and educational content to engage your readers. In other words, guest blogging should be carried out for people and not for the search engines.
Over the next couple of years, it is likely that the reputation of guest blogging will be repaired as more sophisticated marketers change their approach.
Related: Ultimate blogger's guide to WordPress
The following guide takes a look at how to go about guest blogging in 2015:
Strategising for Guest Blogging
Google has already made it very clear that guest blogging should not be used as a link-building method, but that is not to say that there aren't any benefits involved.
While your goals may vary, the following lists some of the key potential advantages of guest posting:
Increasing brand recognition and exposure
Increasing brand authority
Increased visibility for a particular product or service
Increasing website traffic by reaching out to a relevant audience
Increased social media following
In 2015 the trend is very much to view SEO holistically. Today's optimiser is not all about on-page work, link building and trying to 'beat' the search algorithm.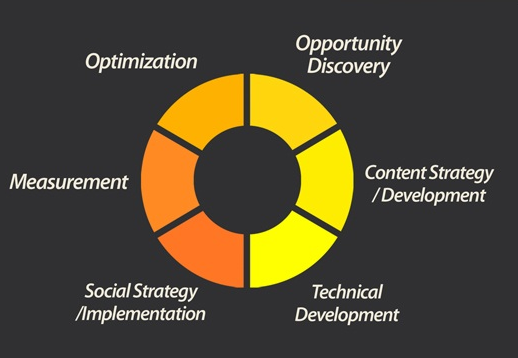 Holistic SEO focuses more on the end user, rather than keywords and search engines
Source – Business2Community
Now it makes sense to be an all-round digital marketer – the end result will be bigger than the sum of its parts.
Far more important than trying to manipulate the search engine results is knowing your audience and delivering the type of content that they want.
This makes sense in the long term as Google continue to get every increasingly more effective at combating the archaic 'blackhat' approach to SEO.
Finding the Right Blog / Blogger
While you may already have some niche blogs in mind to approach regarding guest-blogging opportunities, some planning is essential.
Choosing the right blogs requires knowing your audience and having a solid focus on the type of people that you want your posts to reach.
When it comes to identifying the best opportunities, quality and relevancy are the two key factors that you should be taking into account.

Moz Open Site Explorer is one of many great tools that can help you find influential blogs in your niche. Check out our guide on identifying and contacting influencers.
For the most part, you can forget about the generic guest-posting networks, particularly since many of these networks have been hit heavily by recent Google algorithm updates. Instead, identify quality niche sites that are related to your own in terms of subject matter.
One of the most important considerations is the level of audience engagement with the blog that you intend to approach: if the blog in question receives a lot of comments and shares, then you can safely assume that it has a large and active audience that will read your own posts. Similar, a popular author guest posting on your own blog is likely to bring across their regular reader traffic to your own site.
Before you approach the owner of the blog, you must make every effort to personalise your email to them instead of using a template, which is something that spammers tend to do.

This is a perfect example of how NOT to approach a blog owner
It is important that you can show to the blog owner that you have a genuine interest in their blog, and you should already be a regular reader.
Address your email to the name of the blogger rather than using a generic approach, and be sure to provide a little information about yourself and why you believe that your contribution would be valuable to the blog's owner.
Crafting a Great Post
Having your pitch accepted is a major first step, and it won't come easily unless you are already a well-established authority in your niche.
However, it is the quality and relevancy of the content itself that really matters, not least because you'll likely be competing with a lot of other authors on the blog.
The first thing to do is to familiarise yourself with the blogging guidelines, and if the blog you are guest posting for doesn't have any, be sure to discuss the matter with the blog owner before you start writing.
When it comes to actually craft your first post, it is imperative that you focus on providing value to the customer instead of trying to push a sales message.
Even if your main goal is to raise awareness of a particular product or service, the amount of promotional content in your post should be minimal. Instead of pushing a sales message, provide a post that is genuinely helpful or interesting to your target audience in some way.
Needless to say, your content should also be completely original, and you should never duplicate or rewrite any content from your own blog or anywhere else.
To ensure that your guest post gets accepted, write in a Web-friendly style that is consistent with the style of the blog you're posting for, and be sure to include source links and any internal links where appropriate. In other words, respect the blog and write for it as you would write for your own.
Try and work your call-to-action in naturally within the piece, else at the end of your post, as this will typically exist to encourage people to comment and provide feedback.
Your bio, which will normally appear at the end of your post, should be short and concise, and it will usually also be the only piece of promotional content.
Your bio will also include a link back to your website or a particular landing page if you are promoting a specific product or service.
Conclusion
If you approach guest blogging as a quick and easy way to get backlinks, then you're doomed to fail. And do not go blindly writing for blogs without thoroughly checking them out first – you don't want any spammy links coming your way!
Instead, remember the saying that less is more, and use guest blogging as an opportunity to approach a handful of niche blogs that have an audience that is likely to be interested in your own website and your brand.
On a final note, be sure to track your results as soon as your article has been accepted, taking into account comments, social media shares and incoming traffic from the link in your bio.
Your Say!
Do you guest blog? How do you approach blog owners, and what kind of writing style do you go for? Or perhaps you accept guest authors on your own blog? If so, what kind of writer are you looking for?
Leave your comments below!