In link building, the number one rule is that in order to get strong links, you need strong content. But for most business owners creating fresh content time and time again is either too time consuming or too costly, or both.
That is why you should consider looking at some of your previous content again.
Anything that has worked well for you in the past could work well for you again. All you have to do is reconfigure it.
Review Existing Content
Before you start using any old content again, take a careful look at what has been effective in the past.
When choosing which content you are going to repurpose, Google Analytics is an effective tool, because it enables you to compare page visits and share numbers, as well as referral traffic and referring domains.
Also, check which old posts have received the most inbound links. You can do this with tools like Moz, Open Site Explorer (by Moz), and Raven tools.

Identifying top pages with Open Site Explorer
Now make a list of your best performing past posts.
Write down the title, URL, the type of content (blog, news item, infographic), and the style of content (list, opinion, gallery). Also note down the number of shares, the number of links, and the linking URLs.
Related: How to find all your backlinks
Repurposing Content
There are many ways for you to re-use this old content. Here is how to take advantage of what you already have.
Lists into Slide Decks
Turn a bulleted list into a slide presentation using software (such as Microsoft Powerpoint) or online tools like SlideShare.
List-type posts are perfect for turning into slide decks, because they are short, they contain to-the-point information, and they are popular with online audiences.
A beautifully designed slide deck will look like a completely new piece of content. Use it on or off-site to attract new links.
A SlideShare presentation by Google
If the original post attracted a few interesting comments or Tweets, incorporate those into the slide deck, and let the people involved know that you have updated this content.
With a bit of luck, they will repost to their audience.
Check out this great blog post from Moz CEO Rand Fishkin on using slide decks for online marketing.
Internal Business Presentations into Public Content
Don't assume that internal presentations within your business about, for example, company culture aren't relevant to the outside world.
Just take a minute to think about all those businesses that are experiencing the same problems and challenges as yours.
Most businesses are constantly trying to figure out how to grow, so your internal presentations can serve as inspiration to other businesses.
By putting your internal presentations online, you could gain high-value links from business or industry-specific blogs.
Related: Backlink sources you may not be using
Update old Statistics 
Statistics and graphs are valuable for link building. This type of content is particularly good at attracting attention.
The handy thing with content like statistics is that they need updating regularly. In essence, you have ready-made content that you can re-use on a yearly or even quarterly basis.
Just like list-type posts turned into slide decks, repurposed statistical content is highly sharable and has huge link gaining potential.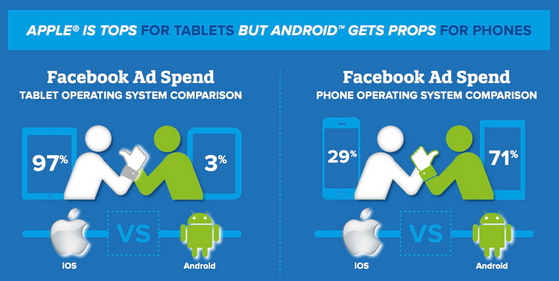 Stats communicated via Infographic – kenshoo.com
These updates also provides you with another chance to contact people who have linked to the past post and let them know you have updated the information.
Make Boring Content Fun
It is fairly easy to take already interesting content and turn it into new or updated interesting content. But what about seemingly boring information?
You know; those pages on your website that no one actually reads, like your terms and conditions or privacy policy? Can you turn those into an attention puller?
Microblogging and social networking website Tumblr has proved that you can. Several of the site's more "boring" pages contain funny elements, which, since being spotted by diligent bloggers, have attracted many comments and links from all over the Internet.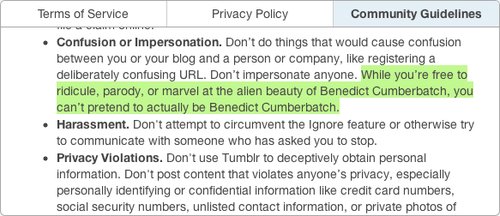 Tumblr do not approve of Benedict Cumberbatch impersonators
Earlier this year, the site attracted links from sites like Business Insider and The Daily Dot. The lesson to be learned from this: take the usual, and make it unusual.
Related: What makes a good backlink?
Think Ahead
Finally, when you do make new content from scratch, ask yourself: "Will I be able to use this again in six months, or a year's time?" When you have the time or funds to make fresh content, put some of your new work in a format that can be repurposed easily.
You won't be able to repurpose everything. You will have to strike a balance between fresh content and re-used content. But when you keep repurposing in mind, it can lead to better choices when you create new content.
In the meantime, dig up some successful past posts, and have a go at putting them into a shiny new format.
Your Say
Do you repurpose your old content? Do you revisit your old pages at all? Let us know your thoughts in the comments.