Do you ever run out of ideas for your blog? Or skip planned posts entirely because you can't decide what to write about? If so, it's time to look at creating a content calendar. Also known as an editorial calendar, a content calendar is a tool that enables you to strategically plan your content marketing to ensure that it is relevant, varied, and consistent.
Whether you have a personal blog or you create content for a business or commercial website, the principle is the same: you want your content to be engaging and appealing to your readers.
[Tweet "A content calendar is vital to be able to plan your blog posts weeks or even months in advance"]
Writing blog posts whenever a topic occurs to you can work for a while. However, if you really want to build your readership and be viewed as an authority in your field, better planning is essential.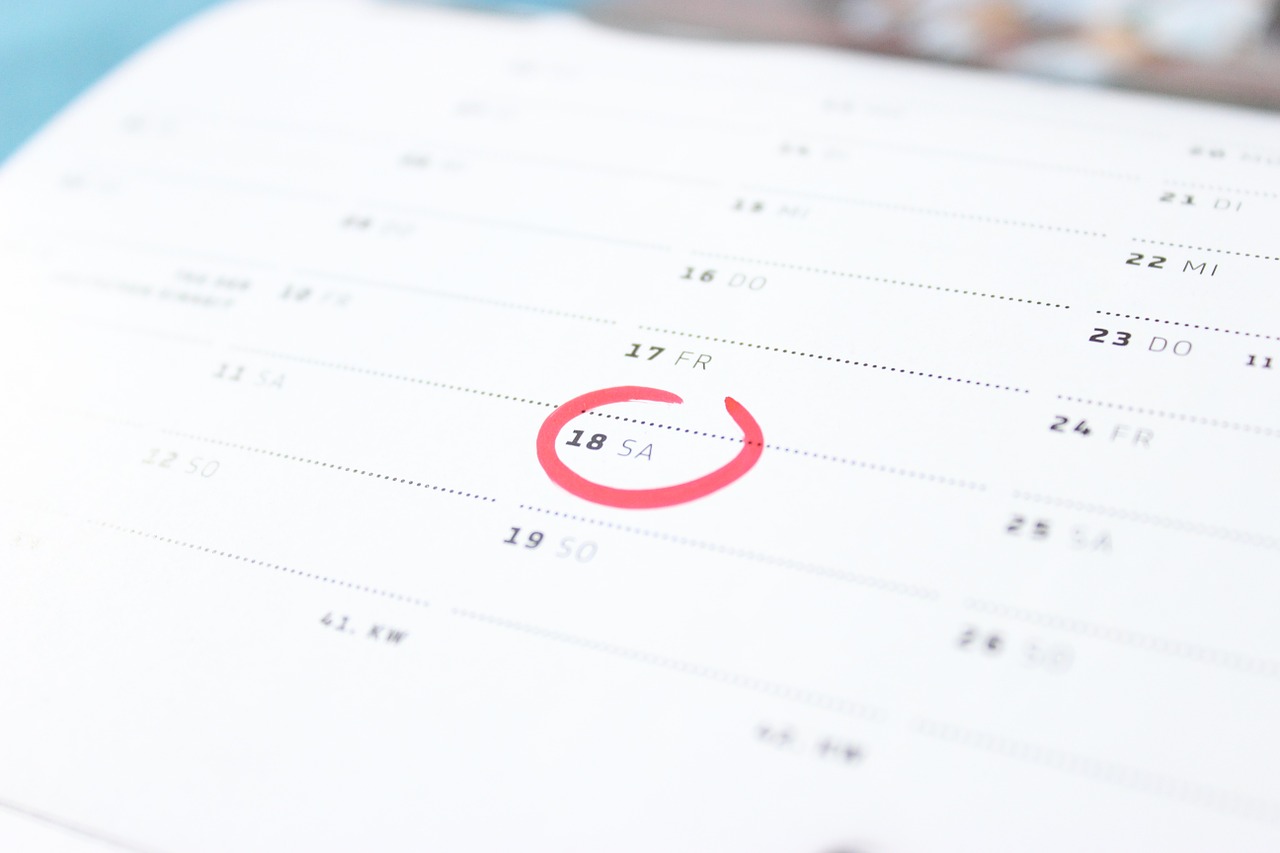 Content planning is also an ideal opportunity to get multiple members of a team together to define the purpose and aims of a blog or website. Content planning meetings ensure that everybody is on the same page, with a shared focus and common goal. These meetings are also a great opportunity for fruitful brainstorming exercises.
Related: Using Quora as part of a content marketing strategy
What is a content calendar?
Blog posts and other online content are planned out in a content calendar. The calendar itself is a document that can be accessed by all members of the blogging team and consists of a visual display that shows, at a glance, the topics and posts that are due to be covered.
Within a content calendar, tasks can also be assigned to different members of a team. This means that, as well as displaying which topics will be covered on the blog, the calendar also shows who is responsible for each aspect of the content including researching it, writing it, editing it, optimising it for search engines, and promoting it once it has been published.
Related: 9 content marketing mistakes to avoid
Benefits of an editorial calendar
Having a meticulously planned blog means that there will be no more awkward gaps on your website when you run out of topic ideas.
Planning in advance also encourages more varied content because, when you can look at an overview of your upcoming posts, you can ensure that the blog is going to cover a wide range of subjects and ideas.
Content calendars also mean that commercial blogs can keep track of how well they are meeting their business goals. Tying the content calendar in with the company's overall marketing, sales and social media campaigns create a unique opportunity to involve a wide range of people in planning a website's all-important content strategy.
This degree of collaboration keeps every member of the team informed and engaged in every stage of a company's promotional plans.
Related: 10 tips for effective content marketing
Blogs with editorial calendars tend to be:
Consistent: new content is published regularly and the message is consistently 'on brand'
Targeted: when content is carefully planned, it can meet the website's overall goals. The calendar allows everybody to gain a holistic view of how the blog will look over the coming months
Well organised: a variety of content is published on a regular schedule, so there are no missing or repetitive posts
Well promoted: when the promotion is planned alongside publication, nothing gets overlooked
Accountable: every team member knows which tasks she is responsible for, and which deadlines she must meet
High on productivity: there are no time-wasting, last-minute decisions to make.
How to create a content calendar
Content calendars come in many forms, so you may need to experiment a little to find the approach that best suits your blog.
For some people, a large piece of paper, a pile of sticky notes, a team meeting and an array of marker pens do the trick. For others, a more high-tech solution is required.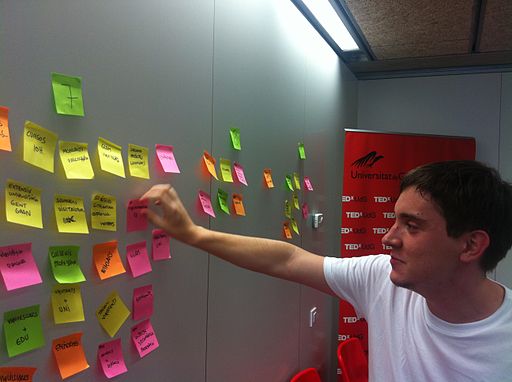 No solution will suit every organisation, so it is important to choose one that meets your needs. Some of the options available include:
Spreadsheet-based content calendars
Content calendars can be custom-built from scratch in Microsoft Excel, Open Office or Google Drive. HubSpot provides detailed instructions on how to build your own content calendar in Google Drive here.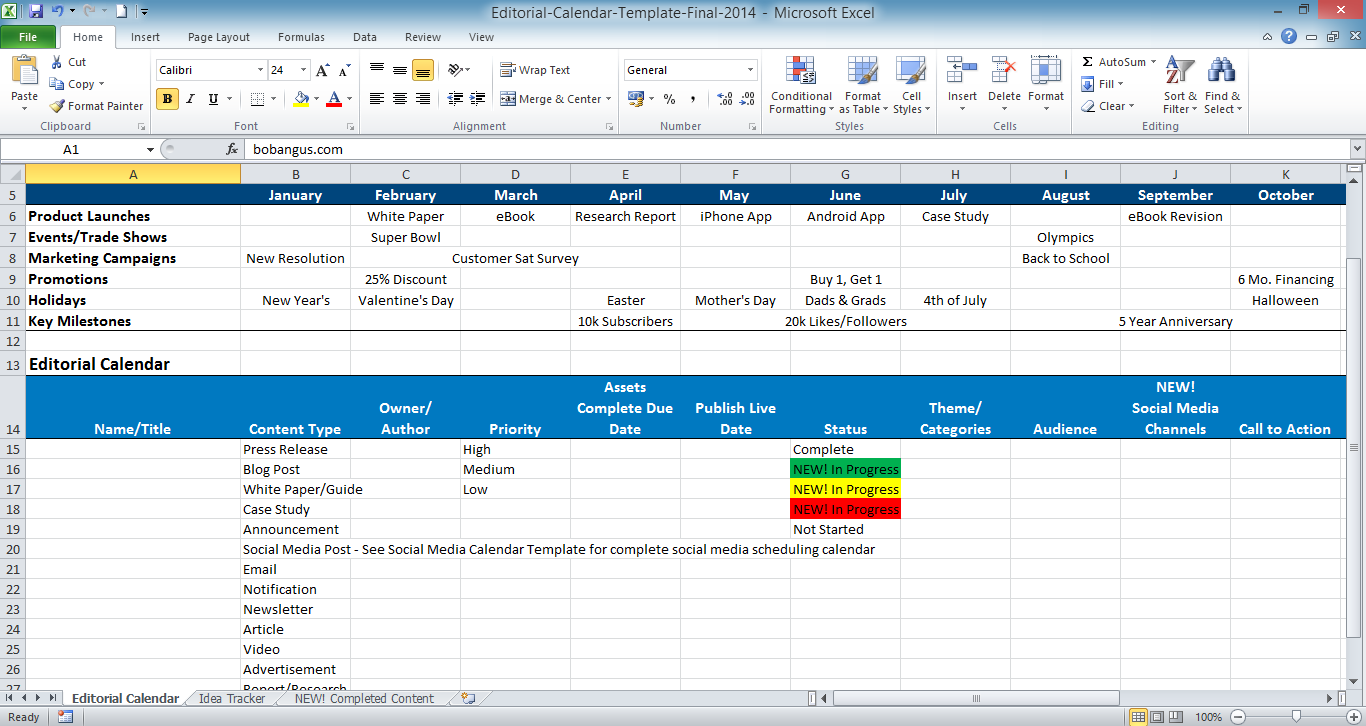 Alternatively, free or paid-for templates can be downloaded and used for the task. Some examples of these are this Google spreadsheet, which has a calendar plan and a sheet dedicated to overall content strategy.
Meanwhile, Bob Angus's slightly more complex Excel spreadsheet allows users to plan for a wider range of marketing activities.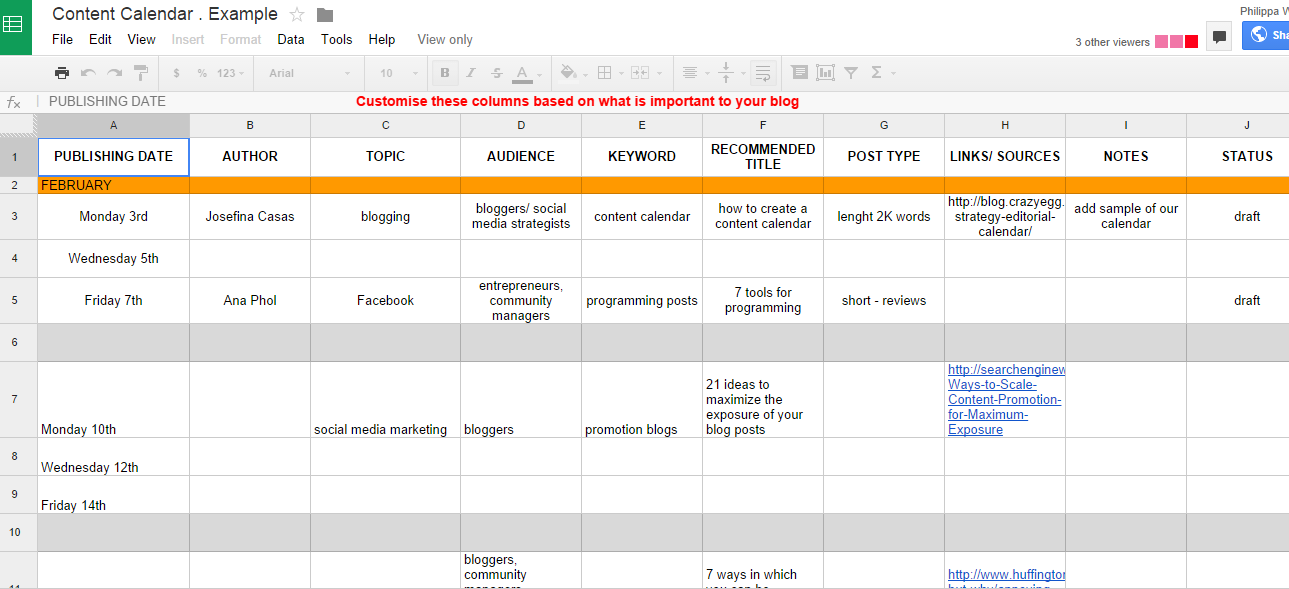 WordPress editorial calendars
75 million websites use WordPress as a content management system and anybody can build themes, widgets and plugins for other users to adopt. Over 29,000 plugins are available for users to download, several of which can be used to plan and manage an editorial calendar.
The real benefit of using plugin-based editorial calendars is that the plugin is integrated with your website, which can simplify the process of planning and managing a blog.
One example of a WordPress plugin with editorial calendar functionality is called, appropriately, Editorial Calendar; Editorial Calendar offers a drag-and-drop interface, allowing for easy post planning.
A more complex alternative, ideal for multi-author blogs, is Edit Flow, a plugin with metadata, budget and notification features.
If you have included room in your budget for a content calendar, it's also worth looking at CoSchedule*.
As you would expect from a paid app, you'll benefit from extra features like a great looking drag & drop calendar, the ability to organise social media posts for each article, and priority support; all to the tune of $10.00 a month. 
*Editor note, we use CoSchedule for this very blog!
Information to include in a content calendar
The details you include in your own editorial calendar will vary depending on your priorities, your overall content marketing plan and the key performance indicators you want to achieve. Some metrics that you will want to consider are:
The topics you want to cover

What form the content will take (text, video, podcast etc.)

Where the content will be published (if you have a multi-platform presence)
The goal of each piece of content

Who will be responsible for each part of the content process

How, when and where blog posts will be promoted

Dates relevant to your industry or niche, such as Christmas for e-commerce stores, Valentine's Day for dating websites, etc.
Related: 9 content marketing tips you can learn from Buzzfeed
Your Say!
The use of an editorial calendar can help to streamline blog posts, as well as ensure that they fit into a company's overall content marketing and sales strategy.
Experiment with a range of the available options to make sure that you choose the solution that best suits your needs, and let us know how you get on!