Social media has become an everyday part of life for hundreds of millions of people around the world, and with Facebook already having almost 1.3 billion unique user accounts, it shouldn't be hard to see why the world of social media offers a great deal of potential to online marketers everywhere.
Once you have set up social media profiles for your business, the next step is to start reaching out to customers and building up communities.
However, another essential thing that you'll need to start doing from the very outset is tracking your success to determine which networks and strategies are working best for you and which ones are taking up more time and effort than they're worth.
There's no precisely right way to conduct a social marketing campaign, since different strategies suit businesses of different types, but tracking the six following essential metrics (Key Performance Indicators) will help to determine your performance.
1 – Number of Followers
Tracking the number of fans or followers of your various social media profiles will allow you to determine the reach of your social marketing campaign. Whether you're using Facebook, Twitter, Google+ or any other social networks, it is essential to know how many people are engaging with your profiles and the content that you post on them.
Obviously, you'll want to maintain a steadily growing reach across all of the social networks that you use, but it is also important to track them separately as well the overall performance.
If people start to leave your social media profiles, you'll know soon enough by constantly keeping track of this key metric so that you can adapt and tweak your efforts as necessary.
Related: Small business guide to Twitter
2 – Follower Demographics and Location
Social media marketing is also an invaluable resource for conducting market research as well as reaching out to potential leads and customers. By finding out more about the demographics and locations of your current audience members, you'll be able to garner many useful insights into your customer base.
Most of the major social media services provide useful analytics tools, such as Facebook's Page Insights tool and Twitter Analytics, to help you find out more information about your follower base, such as the ratio of male to female followers, their geographical locations, age groups and much more.

Follower growth – Twitter Analytics
With the demographical information at hand, you'll be able to more effectively tailor your marketing campaign for audience.
3 – Number of Shares
A social media marketing strategy by which the marketer spends all of the time publishing sales pitches and other content which offers little of value to the reader is not at all likely to become a successful one.
Among the most important metrics to look out for are those which show how your followers are engaging you; the number of likes and shares (or retweets on Twitter) will show you just how useful or interesting your content is.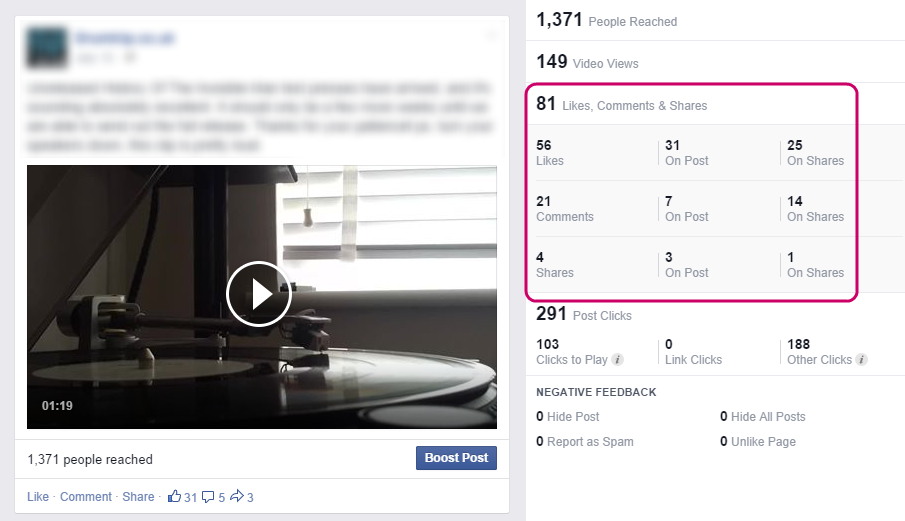 Engagement stats – Facebook Insights
A large volume of likes and shares indicates that your content is engaging and interesting enough to your audience that they want to spread the word.
Related: Small business guide to Facebook
4 – Number of Comments
Followers who find what you have to say particularly interesting or entertaining in some way are likely to take engagement a step further by commenting on your posts as well.
Unlike traditional advertising platforms, social media is a place for companies and marketers to conduct two-way conversations with their intended audiences, while marketers who only talk but never listen can be sure to fail with social marketing.
Comments are a great way to start up a conversation, and the more people are commenting on your posts, the greater their reach is likely to be (see Facebook EdgeRank).
However, don't just track the number of comments that your posts receive; make sure that your social marketing team is on the scene as well, responding to comments as they come in. Never, ever ignore a legitimate social media comment!
5 – Website Traffic Data
The biggest and most important KPI of all to track is the same as that with any other area of your online marketing campaign; the traffic data itself. The most popular way measure and analyse this data is with Google Analytics.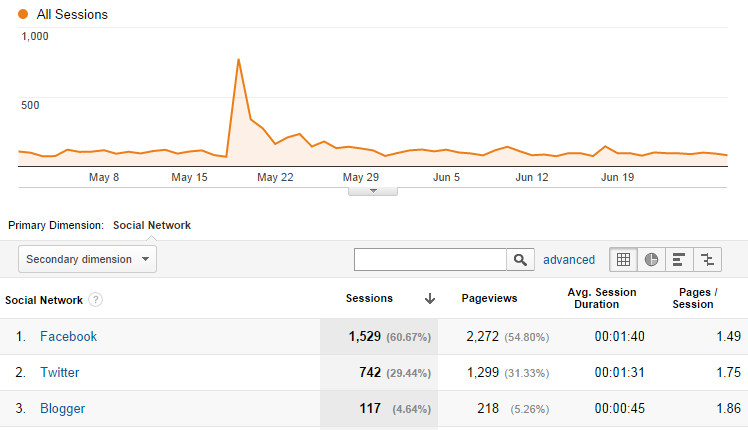 Social referrals – Google Analytics
You need to know at all times how much traffic is coming from the social networks to your website, but it's not quite as simple as tracking this statistic alone.
The following are the key considerations when tracking traffic data from the social networks:
The number of visitors coming from each social network (Facebook, Twitter, Google+ etc.). Determine which social networks are bringing you the most traffic.

The number of visitors coming from links on your own social media profiles versus the number coming from other profiles. A higher percentage of the latter may indicate that your content is starting to market itself, even to the extent of going viral.

The amount of time that visitors from the social networks spend on your website. If your bounce rate is high, it is likely that people are leaving your website because they didn't get what they were looking for having viewed one of your social media profiles or clicked on another link to your website.
Conclusion
The easiest and most efficient ways to track the above metrics and many more is to use the built-in tools provided by the social networks that you use.
There are also a variety of third-party tools which can consolidate the gathered data into a single user-friendly interface.
Additionally, you can make use of the free Google Analytics tool to track all areas of your online marketing campaign as well as more specific details pertaining to each area of your social marketing strategy.
With Google Analytics, you can also set up custom reports, filter social media traffic, view social engagement statistics and much more. To get started with Google Analytics, check out our beginners guide!
Your Say!
What do you look for from your social campaigns? How do you measure and ensure you are reaching the right people with your efforts? Drop a message in the comments section below, we'd love to hear from you.