Tracking the performance of your website and your online marketing campaign is critical for your success, and establishing realistic goals is the first step towards planning for success.
Google Analytics, a free yet highly sophisticated tool that all webmasters should use, allows you to set goals of various types to help measure your conversion rates and much more.
The goals that you create are measured by the actions taken by your visitors, such as the downloading a file, subscribing to a newsletter, or signing up to an account.
In this guide, we'll take a look at creating goals and familiarising yourself with essential metrics, such as lead generation, trial signups, newsletter signups and more.
How Goals Work in Google Analytics
Goals represent completed conversions that contribute to the success of your business. For example, you may want to define a goal for the number of email newsletter signups or a goal for purchases.
You can set up and monitor as many goals as you like. By setting up goals, Google Analytics will be able to provide a whole wealth of data on crucial metrics, such as the number of conversions and the conversion rate among your visitors.
It will also allow you to compare various areas of your online marketing campaigns in order to determine which ones, such as email or social media, are generating the most conversions for your business.
Most businesses should define at least two or three main goals, though it is wise to define many more in order to get more detailed insights into the performance of your website.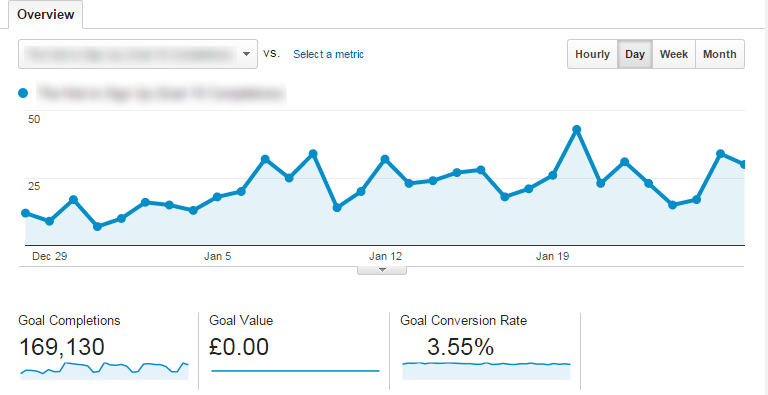 Goals report in Google Analytics
Your goals will be divided into macro and micro goals, with macro goals corresponding to the primary objectives of your website, while micro goals correspond to secondary objectives, such as the individual steps that visitors take before they make a purchase.
For example, an e-commerce website will define its macro goal as the number of purchases made, while micro goals will refer to customer relationship-building activities and steps made towards purchase, such as newsletter signups or wish lists.
Google Analytics also displays multi-channel funnels to tell you more about the paths that your visitors take to fulfilling your macro goals.
Another useful feature is the goal-flow display that helps to expose any problems that visitors may be having as they complete the buyer cycle.
How to Set Up Goals
Log in to your Google Analytics account, and view the standard reports page. Click on "admin" in the top-right, and click on Goals. Click "+ Goal" from one of the goal sets to create a new goal.
Under the "General Information" field, enter a name for the goal and choose the type of goal you want to create from any of the four options listed.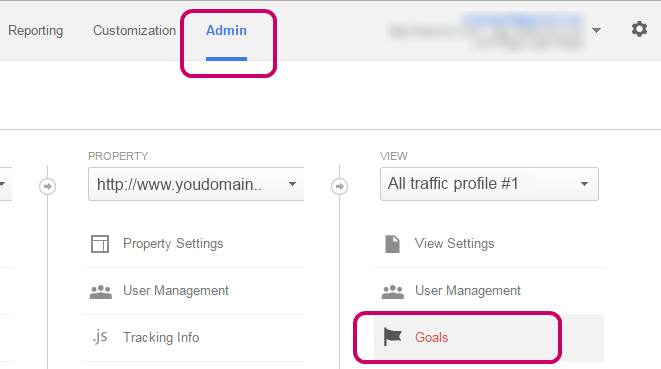 Additionally, be sure to mark the goal as active so that the relevant data will start being collected.
Note that you cannot delete goals later on, but you can make them inactive so that the associated data does not show in your reports.
In the following, we'll take a look at the four types of goals and how they work:
URL Destination Goal
URL destination goals allow you to track the performance of specific URLs on your website. These goals are ideal for things like signup confirmation pages, download pages or any other important pages on your website.
You'll need to provide the URL and choose whether or not you want it to be an exact match or a head match. Be sure to choose the latter for any pages that make extensive use of session IDs or query parameters.
Finally, you'll want to define the steps taken in the goal funnels section in order to learn more about the steps that your visitors take to reach the URL specified in the goal.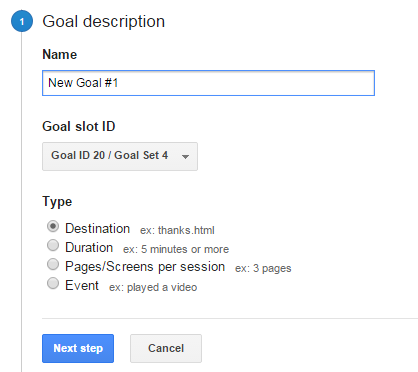 Goal types available when creating a new goal
Duration Goal
Duration goals allow you to track the number of people who stay on your site for a certain amount of time, either per page or the entire session. To set up such a goal, simply choose a condition and then enter the number of hours, minutes and seconds.
Pages/Visit Goal
Pages/Visit goals allow you to tell Google Analytics to track visitors who view a certain number of pages on your website. As with duration goals, choose a condition, followed by the number of pages required to activate the event.
Event Goal
Finally, you can create Event goals to have Google Analytics inform you whenever specific activity occurs on your website, such as a download, time spent viewing video content or usage of on-site widgets.
Conclusion
In conclusion, make sure that the goals that you create are as closely related as possible to activities that generate leads or sales, whether this includes newsletter signups, account creations, trial signups or downloads.
Keep measuring and keep looking for ways to increase your goal conversion rate!
Your Say!
What goals do you measure on your website? Have you found measuring goals a useful way to improve the overall effectiveness of your website? Let us know, and ask any questions in the comments section below.