You've tried all the traditional methods of coming up with post ideas for your business blog.
You've created helpful content based on feedback received in the comments section of your site.
Your sales team has offered you insights on common questions from customers. You've even dug through your Google Analytics data for nuggets of wisdom you can turn into powerful posts on your site.
If your creative juices are at an all-time low and you're stumped for content ideas for your blog, it's time to turn to Twitter for blogging inspiration.
[Tweet "Running low on inspiration for blog posts? Use Twitter to find excellent blog post ideas!"]
Twitter is a gold mine of data for business bloggers. While you can scroll through your tweet stream in the hopes of discovering topics relevant to your audience, the real bounty is found when you dig into Twitter's advanced search tool.
Here is where the truly fruitful digging begins. But mining Twitter for blog post ideas is not for the faint of heart.
You could end up feeling overwhelmed at the enormity of the glittering bits of information laid out before you.
If you're prepared to face the possibility of your mind exploding with creative opportunities, the following are seven ingenious ways you can mind Twitter data for content creation inspiration:
"Mentioning These Accounts" Search
If you want to hunt for blogging ideas while conducting competition research at the same time, use the 'mentioning these accounts' function of Twitter's advanced search.
Discover what the Twitterverse is saying about your competitors, what types of questions they're asking of your competitor's customer support team, or even feature requests they're mentioning in their tweets.
You can put your creative sleuthing skills to work to uncover useful data about industry leaders in your sector, up-and-coming startups attempting to disrupt market behemoths, or even marketing agencies working for your competition.
Once you discover the power of data discovery via the 'mentioning these accounts' of Twitter's advanced search, you'll wonder why you ever settled for standard search in the first place.
"Near This Place" Search
To connect with communities in your local area, but Twitter's 'near this place' to work for your content calendar.
Whether you want to expand your brand's reach to a new city or hunt for conversations closer to home, you can mine for inspiration based upon geo-tagged tweets.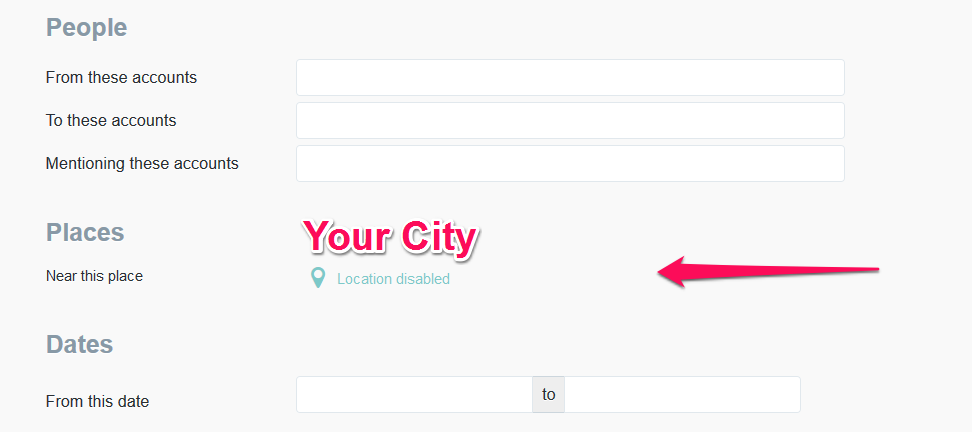 Find out what topics individuals and companies are tweeting about, the questions they're asking of their followers, and the types of images and videos they're sharing.
By paying attention to geo-tagged tweets, you can uncover a host of creative options to cover on your blog.
"Anyone Know" or "Where Can I Find" Search's
A great way to come up with blogging ideas is to use the phrase 'anyone know' or 'where can I find' on Twitter's advanced search interface.
In the 'all of these words' search box enter the term 'anyone knows' or 'where can I find' and a word related to your market sector.
You'll be surprised at the number of questions relevant to your business that are being asked on Twitter once you start using these two questions to dig for data.

Uncover the types of products users are looking for, questions they have about usability issues, or recommendations they're hunting for from their social media tweeps.
Use their questions to power your content creation efforts. Not only will you be answering their questions in your blog posts, you're also creating an opportunity to engage with them on Twitter.
When you combine those engagement opportunities with the fact that Google is now indexing tweets, you realise that the SEO potential of digging on Twitter just might be enough to make you go weak in the knees.
Digging by Date
An often overlooked function of Twitter's advanced search is the ability to search for tweets by date.
Hunt for tweets from five or more years ago and create flashback posts for your blog based upon your find.
Uncover topics that were trending in the past, questions that were being asked that need updated answers, or events that were happening in your industry that are worth reminiscing on.
Be creative with your approach to historical tweets; create infographics, make memes, or offer quote images featuring tweets from the past.
The number of ways you can integrate Twitter data from the past is only limited by your marketer's imagination.
Mining Images and Videos
Even scrolling through media shared on Twitter can be classified as content research.
From Vine and Instagram to YouTube and Facebook links, the number of media files shared on Twitter is exploding.
Just try searching for terms like Periscope or Meerkat, and you'll be lost for hours in the engaging video content at your disposal.

Digging through the multi-media content being shared on Twitter can give you enough blog post ideas to fill your content calendar for months to come.
Notice patterns in what people are sharing, the topics they're addressing with their uploads, and the feedback and retweets they're enjoying.
When you start mining photography and video files on Twitter, you may not resurface for hours. Infographics, GIFs, and memes can lead to a treasure trove of blogging ideas.
Translate Tweets
Another unorthodox way to dig for content ideas is to translate tweets. Use tools like Microsoft's Translate and Twitter Search's 'written in any language' to translate tweets into your native language.

Using this method helps you uncover ideas from potential customers around the globe and gives you an opportunity to think differently about your business and a possible international expansion.
Conclusion
Once you've gone down the rabbit hole of Twitter mining, you'll never again complain you have nothing to blog about.
Your mind will be bursting with topics to cover for your audience. Whether you're creating video blog posts, text-based content, or micro-content like Vines or Meerkat embeds, the amount of inspiration you can draw from Twitter is darn near orgasmic.
Related: Small business guide to Twitter
Your Say!
Do you use Twitter for blog post inspiration? How else would you mine for ideas? Drop us a message below.