When it comes to online marketing, getting visitors to your website is only half the battle.
To generate more sales, it's essential to optimise the design and content of your website to ensure your visitors complete the sales process and convert into paying customers.
Ultimately, it all comes down to the experience the user has with your website.
If people have a good time using your site, they're more likely to stay there and make a purchase. But how do you create a better user experience?
While the strategies may vary from one company to the next, there are some principles that are key to conversion success.
Simple and Clear Navigation
Consumers today won't waste too much time searching a site for answers, so make sure they know where to click as soon as they arrive on your page.
It's important to consider how you are helping your visitors achieve what they want to achieve.
Can they quickly find the information they're looking for? Simple, clear navigation is key, but many businesses still create pages that are too busy.
Studies have shown that visitors respond best to clean and simple designs.
Sell the Benefits
It's tempting to focus on product specifications or service details, but selling the benefits of your products and services is initially more important, especially for online businesses.
You may know all there is to know about your products, but you should not to get too obsessed with the technical features and forget about the actual benefit this could have to your customer.
Make it a priority to explain the benefits in language visitors can understand. You can always go into more details later in the sales process.
At first, focus on creating compelling content that tells visitors what's in it for them.
Don't bamboozle visitors with stats and metrics that might not mean much to them – let customers know how this product can benefit them, or solve a common problem.
Keep Design Consistent
When it comes to conversions, the overall design of a website is more important than many people realise.
To persuade more visitors to stay on your site, the design needs to be consistent.
The fonts, colour scheme, and graphics should all come together to create a user-friendly experience.
Make sure the page layouts are straightforward and consistent so users can easily navigate from one section of your site to another.
Take a look at these 7 simple tips to make your website look more professional.
Include Clear Calls to Action
Call-to-action buttons are one of the main weapons you have to drive conversions. Whether it's a "Sign-Up Here," "Read More," or "View Product" button, each one can be monitored over time to measure its effectiveness.
Green and orange are popular colours for buttons, as they've been shown to drive conversions, but this doesn't necessarily mean it will work for your business.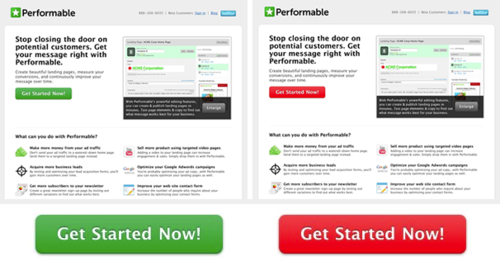 HubSpot split tested the same two pages, but with different colour CTAs – Image Source
Words on buttons also need to be tested. Whether it's "Buy Now", "Pay Now", or "Find Out More", you need to test what works for your target audience.
Finally, make sure there's enough white space around buttons so they stand out on the page.
Read into the impact of CTAs on your website.
Minimise Customer Obstructions
Do not get in the way of the customer journey, and remove any distractions that cause confusion.
Does each page clearly answer potential customer questions or point them in the right direction?
Many websites lose visitors because they don't provide the necessary information to visitors.
For this reason, as well as for clear navigation, include an FAQ section and provide contact details in the header and footer of every page.
Include Trust Elements
A simple way to build credibility and brand loyalty is to display a combination of any of the following.
.   Your business awards
.   Your suppliers
.   Famous brands you sell
.   Your previous clients
.   Trust seals, such as Verisign, McAfee, and Better Business Bureau
.   Recognisable icons, such as PayPal, Visa, and MasterCard
.   Testimonials and reviews from customers
All of these items can help instill trust and confidence in your brand, which could be the final factor in a customer deciding whether or not to make that all-important purchase.

TrustPilot review snippet on the LCN.com domains page
Read our blog posts on the importance of social proof and customer reviews.
Create a Consistent Cross-Platform Experience
A significant proportion of consumers use tablets or smartphones to make purchases, so if your website isn't optimised for mobile devices and responsive to different browsers and screen sizes, you could be losing many potential sales.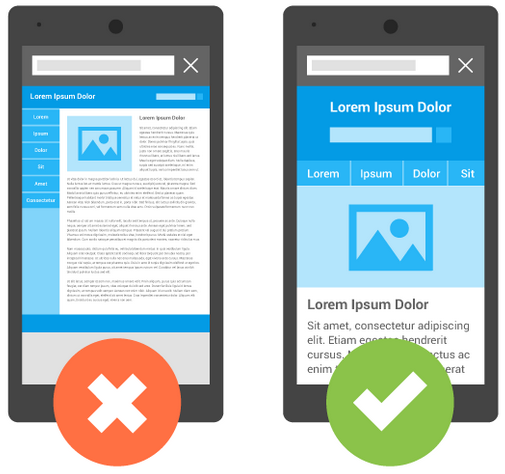 Is your site optimised for mobile devices?
Visit Google's Webmaster Guidelines to make sure your website is fully optimised – and remember, this is more important than ever now that mobile-friendliness is a Google ranking factor.
Conclusion
By following these seven tips, monitoring the results, and implementing the necessary changes, any business can turn more website visitors into customers. In summary:
.   Clear navigation helps visitors quickly find what they're looking for
.   Test the colour, size, wording, and placement of call-to-action buttons
.   Sell the benefits of your products and services before the features
.   A consistent design improves the user experience and reduces bounce rates
.   Provide all the information potential customers may need
.   Build credibility by displaying trust elements
.   Customise your site so that it's optimised for mobile devices
Every business has slightly different goals, so it's important to test various elements of your website design and content to see what works for you.
With the right mix of clean design and compelling content, you can keep visitors on your site for longer and ultimately increase your sales.
Related:
Your Say!
What do you think makes the biggest difference when trying to convert visitors in to customers? Let us know in the comments section below.