What are WordPress plugins?
In the WordPress world, plugin is a piece of software/code that can be used to extend the functionality of WordPress beyond the standard install.
They allow you to add different features and functionality to your site – things like email sign-up forms, galleries and back-up tools?
Why does WordPress need this you might ask?
A standard WordPress install has been designed to be lightweight and bloat-free, meaning it doesn't come bundled with lots of functionality you might not need. WordPress leaves it up to you to choose the type of plugins your website needs.
---
A plugin can perform almost any function you could imagine. Popular plugins include…
SEO plugins – to help optimise your content and pages to rank well in the Google search results.
Security plugins – to stop hackers from gaining access to your website.
Contact forms – so visitors can email you via a form on your site.
Gallery plugin – to help you effortlessly create a stylish gallery for your site.
Back up plugins – an automated plugin to perform backups for your site in case you ever need to restore a previous version of your website.
That's just a few examples – there are literally thousands of plugins available via the official WordPress Plugin Directory.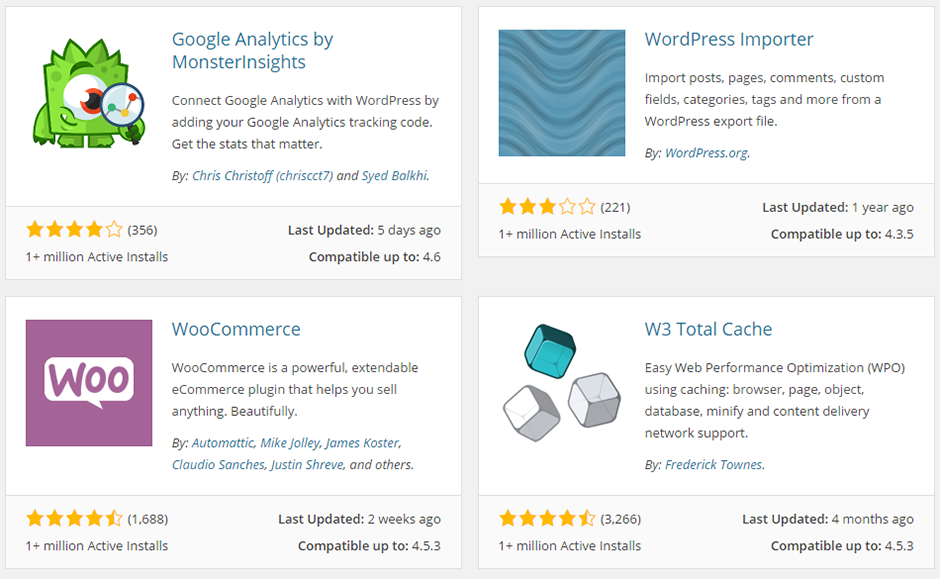 A selection of plugins as shown in the "Plugins" area of the WordPress dashboard
If you can think of something you want, chances are there's a plugin that does it for you.
Like themes, there are free plugins and premium plugins.
The pros and cons of each are the same as free vs premium themes.
Free plugins cost nothing to try out, and if downloaded from the official WordPress Plugin Directory, they would've been vetted by WordPress.
Premium plugins will nearly always offer an excellent level of support and tend to be more consistently updated.
The best course of action to take when looking for a plugin is to check when it was last updated, and find some recent reviews and ratings for it.
A plugin with thousands of downloads, but a poor rating is not likely to be worth your time, so look for an alternative that does the same thing.
Plugins sound great, are there any negatives?
They are great, and they are a big reason as to why WordPress is so universally popular. But with everything popular and well-used, there are some draw backs too.
Here are a few things you need to know when installing plugins…
---
Does the plugin work with my version of WordPress?
When downloading a plugin from the WordPress Plugin Directory you can check to see if it works with your version of WordPress.
Just click on the plugin within the directory and you'll see the "Compatible up to" information on the right hand side.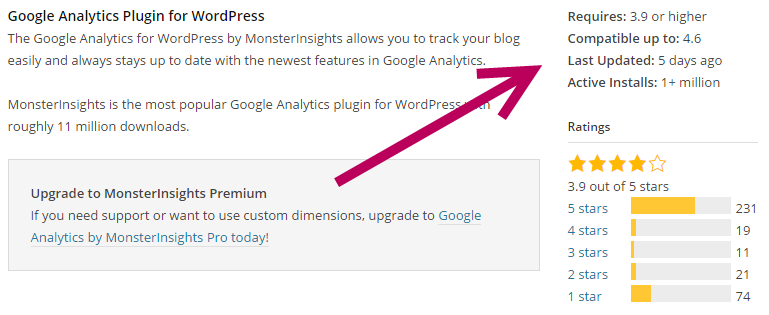 You can also see when the plugin was last updated and how many active installs it currently has. This will give you some insight as to how popular and well-supported the plugin is.
---
Keep your plugins up to date!
Out-of-date plugins is a very common reason why WordPress websites get targeted by hackers so frequently.
Plugins are not perfect, and very often (like any software), may contain flaws that malicious hackers can exploit. Regular updates often fix these security holes.
Not only that, but updates also contain many improvements to plugins, such as feature and performance enhancements.
So, make sure to keep your plugins updated to keep your site protected and make the best of all the functionality they offer.
---
Plugins may clash with each other
Plugins are designed to work with WordPress – but not necessarily to work with each other.
It's fairly rare, but two plugins can cause a conflict which can sometimes cause problems. Issues as simple as one plugin not working since you installed another, right up to breaking your entire site!
The good news is these issues are usually quite easy to detect and avoid by simply deactivating all of your plugins until you work out which one is the culprit.
Want to know more about WordPress?
Our FREE WordPress for Beginners e-Book will take you through the process of creating a website, installing plugins and optimising for SEO. You'll learn about the WordPress framework and functions, as well as discover a host of useful tips and tricks that will make your WordPress adventure much easier!