The Sitemaps protocol is one of the most important elements of search engine optimisation. Written in the XML markup language, a Sitemap is a list of all of the pages on your website, and they exist to assist the search engines when they crawl and index your content.
What is a Sitemap?
A sitemap, or an XML file as it is also known, is a file placed on your website that lists and links to all content, not in a pretty or functional way, but rather in list-form. 
Webmasters can use Sitemaps to tell Google and other search engines more about your site and its content, and creating one helps the search engines to discover every page on your website, including content that might otherwise end up getting missed and not indexed as a result.
Sitemaps also give you the opportunity to provide additional information about each page of your website, such as the time it was last updated, how frequently the content is updated and how important the page is.
What does an XML Sitemap look like?
Sitemaps can include important metadata about specific types of content, such as video, images and mobile-friendly content. Below is a section of our sitemap: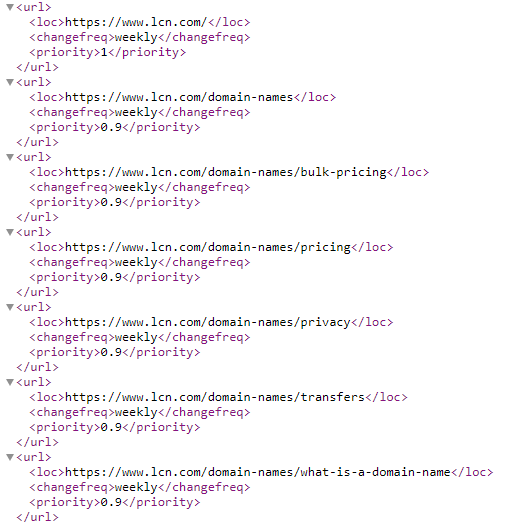 An XML sitemap is useful for any website, and creating one is usually one of the first things you should do when optimising your website for the search engines.
Using Google's Webmaster Tools, you can also submit your sitemap directly to the search engine rather than wait for its robots to find your site and index your content.
Sitemaps are most valuable for websites with dynamic rather than static content or any website which contains content that is otherwise hard for the search engines to crawl, such as images and videos.
[Tweet "An XML Sitemap is a must-have for any newly launched website"]
Sitemaps help to overcome the disadvantage of having a website that does not have a lot of internal linking to help the search engine robots navigate through your web pages.
You can view technical information about the Sitemaps protocol at sitemaps.org.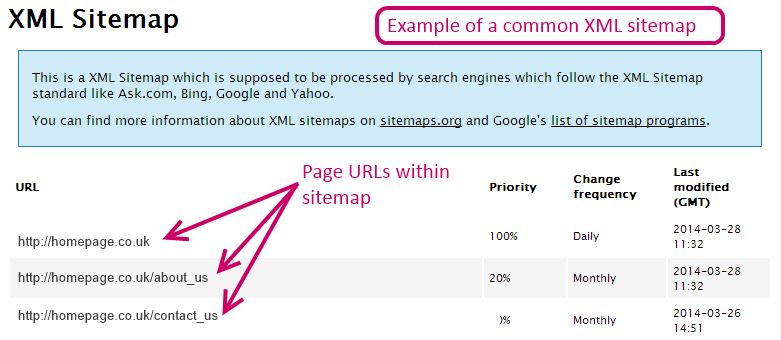 How to Create an XML Sitemap
Although there are a number of Sitemap formats available, many of which Google and other search engines can recognise, the standard format to use is XML using commands from the official Sitemaps protocol.
While you can create a Sitemap manually, it will take a long time, particularly for larger websites, and it requires a solid working knowledge of the XML markup language and the Sitemaps protocol.
Fortunately, there are numerous third-party tools available, including plug-ins for popular content management systems such as WordPress, which can generate an XML sitemap automatically in a matter of seconds. A couple of examples…
To generate an XML Sitemap automatically, all you need is a suitable tool for the job such as the aforementioned xml-sitemaps.com.
These automated tools simply require you to enter your website address so that the program can crawl your website and create a Sitemap.
You will then be able to submit your new sitemap to Google after you have uploaded it to the root directory of your website. It is wise to update your Sitemap whenever you add or modify content on your website.
How to Upload Your XML Sitemap to Google
You can submit your Sitemap to Google by uploading it using Google Webmaster Tools. Doing so will enable Google to crawl your content and update its indexes quickly while providing you with useful statistical information.

Before you begin, you will need to have a Google Webmaster Tools account along with a verified listing of your website. To submit your completed Sitemap, follow the steps below:
Upload your Sitemap to the root directory of your website using an FTP client such as Filezilla.

Log in to your Google Webmaster Tools account and click on the website you want to upload the Sitemap for in the homepage.

From the left-side menu bar, click 'Crawl' followed by 'Sitemaps'.

Click 'Add/Test Sitemap' and enter the full URL of the Sitemap location. It should look something like this: http://www.yourwebsite.com/sitemap.xml.

Click "Submit Sitemap".

To resubmit an updated Sitemap, return to this page and click 'Resubmit' 

Alternatively, you can edit the robots.txt file in the root directory of your website to include a reference to your sitemap.
To add your Sitemap to robots.txt, simply enter the following line:
Sitemap: http://www.yourwebsite.com/sitemap.xml
It's one of  the most simple, but most important, tasks you can perform when launching a new website.
Your Say
What's the quickest and easiest way you have found to create and submit a sitemap? And as always, feel free to ask us anything in the comments below!