An increasing number of businesses are using multiple social media channels, which means it can be difficult to find the time to complete all the necessary tasks and measure the results across three, four or even more networks.
Thankfully, a number of tools are now available to help businesses with productivity and analysis, but with so many to choose from it can be overwhelming – even for experts. Here's a list of ten to get you started!
For those new to social media marketing and management, Hootsuite is a good all-round tool for managing your accounts and tracking your activity. From the Hootsuite dashboard, you can schedule posts from multiple social media channels such a Twitter an Facebook, and create many different reports to help you keep track of your efforts.
It may not offer some of the in-depth tools of it's competitors, but for beginners it's ideal.

Sprout Social is one of the best applications when it comes to social media account management and analytics. You can analyse data and monitor messages across a host different platforms, schedule posts, and reply to messages directly to Facebook and Twitter.
You have to pay more for more functionality, but it could be a great investment for businesses that spend a lot of time on social networks (less so for your average, individual user).
If you publish a lot of content online, Everypost is one of the easiest ways to manage your content strategy across Facebook, Twitter, Google+, LinkedIn, and other channels across multiple applications.
Perhaps the most useful aspect of Everypost is the mobile app (Android and iOS) which allows you to send updates to all your social profiles in one hit.
You can also tailor each message to different platforms and then post content directly or schedule it for specific delivery times.
Another social media management tool, and perhaps one of the most well known.
With Buffer, you can schedule posts to be published at different times of the day and week so your social media feeds have regular updates. For a small monthly fee, you can schedule as many posts as you want.
Like most social media tools, it also has various useful metrics (shown below) about social media engagement across all your accounts. Its simplicity however, is what makes Buffer so great to use.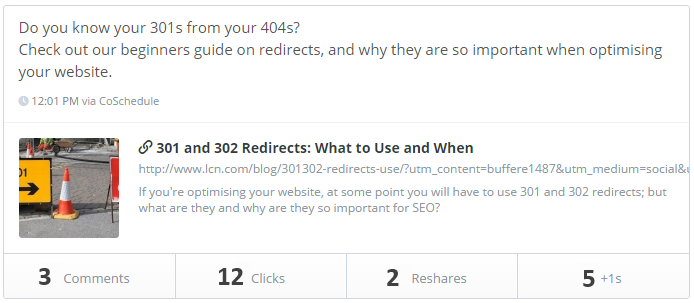 For fans of Twitter, Tweepi is great for analysing who your followers are and monitoring their behaviour on the platform.
Its "Flush" option lets you see the users you follow who are not following you back. You can unfollow as many people as you like with its "Cleanup" option, and follow other users based on who they're following.
With Tweepi's simple interface, you can view names, bios, locations, and other statistics about every follower.
Facebook's own analytics tool gives you huge amounts of useful data about your account activity. Find out which is the best day of the week to post, where your 'likes' are coming from, or find out which days your fans are online the most.
Once you have a better understanding of your audience, you can schedule posts accordingly. You can even track certain statistics about the Facebook activity of your competitors.
Check out our beginner's guide to Facebook Insights here.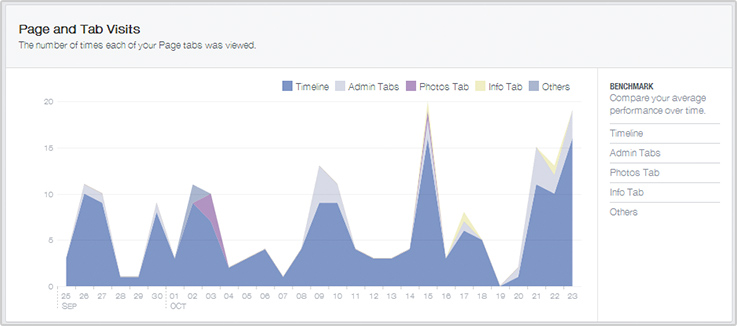 Bitly allows you to save and share your favorite links from around the web. It converts long URLs you have into short "bitlinks" to make them more accessible and clickable to readers, whilst saving you precious space when keeping to Twitter's 140 character limit.
You can also use Bitly to track the statistics for any Bitly link, offering data such as how many times a link has been clicked, and where on the web your links were clicked.
Google Alerts, often used just to find interesting links around the web, is a great tool to help monitor your brand and business mentions online.
Simply enter your keywords in the box provided, choose your delivery method, and Google Alerts will do the rest. Basically, whenever you keywords appear online, you'll be notified. It's a simple and efficient tool for reputation management and best of all, it's free.
This tool has been around for a long time and is a popular choice for businesses and individuals. Purchased by Twitter in 2011, Tweetdeck allows you to view and manage Tweets from one central location, according to what matters to you.
You can view multiple accounts at the same time, monitor custom search fields, and schedule posts. Plus, being a Twitter owned app, it's highly unlikely you'll ever come across any API or compatibility issues.
It gets regular use at LCN HQ!

Social Mention is another online reputation tool that searches for any keyword you wish to investigate (usually you brand name).
Where Social Mention excels is the ability to get an at-a-glance view of your top keywords, the sentiment in which they were used (positive, neutral or negative), and the top social media users who mention you. All this data can be easily exported to CSV / Excel for further analysis.
Your Say!
These are just some of the best social media productivity tools available today. There are tonnes of other tools out there, so if we missed your favourite, leave a comment below.