Facebook is constantly evolving as a powerful marketing platform for businesses of all sizes.
With a vast user base that only continues to grow, the world's most popular social network already delivers some powerful tools for both paid and organic marketing. Facebook's new Lead Ads feature promises to take its potential even further.
Lead generation is an essential part of any marketing strategy, and building up a list of qualified leads is critical for the success of your business.
[Tweet "Facebook announce "Lead Ads". What does this mean for your Facebook ad campaign?"]
It helps to build up brand awareness and loyalty by increasing the number of followers you have on social media as well as your mailing list.
However, lead generation also requires people to fill out forms, and no one likes doing that.
Today, the majority of Internet traffic is mobile, particularly with regards to Facebook and social media in general.
While many people don't even have the patience to complete a signup form on a desktop, this is doubly true of those using mobile devices.
After all, most people will quickly lose interest when they have to use a fiddly touchscreen to manually enter their contact details from scratch.
Related: Small business guide to Facebook
Introducing Facebook Lead Ads
In late June, 2015, Facebook started testing its new Lead Ads feature, a completely new advertising format complementing the platform's already highly developed set of marketing tools.
Lead Ads allows subscribers to fill in forms quickly, without having to leave the website or the app.
Instead, they will only have to tap 'Subscribe', and their contact details will automatically be filled out using the information from the user's Facebook account.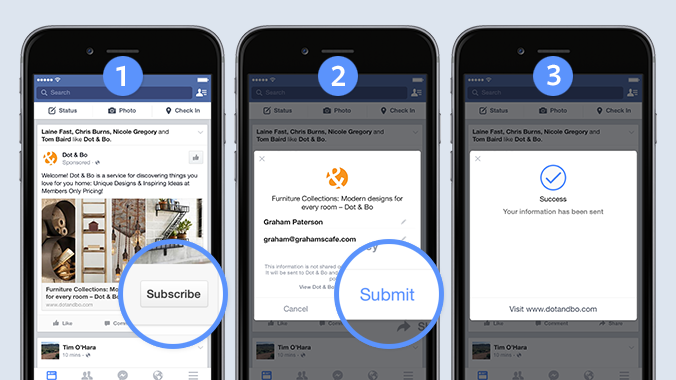 The Lead Ad process for users
While Lead Ads will undoubtedly also come with its privacy concerns, Facebook will allow users to edit the information that is automatically placed in the form before they submit it.
Related: Explaining Facebook's 20% text on ads rule
How Will Lead Ads Help My Business?
As any marketer should already know, mobile accessibility and lead generation are two critical elements of today's digital marketing process.
By making the signup process on mobile devices a lot quicker and simpler, Facebook users will be far more likely to subscribe. Following are some of the most promising possibilities:
Allow users to register their interest in an upcoming product or service. There will be a specific call to action which allows you to reach a targeted audience, such as one based near your location.

Allows users to painlessly subscribe to your email newsletter campaign without having to enter their contact details from scratch. By using a pre-populated form, users will be able to subscribe with just a few taps of the screen.

Lead Ads promises to be a useful tool for content marketers, since it will allow you to promote various digital content such as application downloads and ebooks.
Like almost every other paid advertising feature on Facebook, Lead Ads will be extensively customisable through a range of targeting options and campaign goals.
Depending on these factors, Facebook can populate forms automatically on the user's behalf with their full name, email, address, phone number, company name or job title.
For privacy reasons, users will have to click the call to action button, review the information which is automatically entered into the form and click on 'Submit' before it will be sent out.
Fewer Steps for End Users
Without Lead Ads, Facebook advertisers need to integrate a link into their content that directs them to a landing page which, in the case of mobile operations, typically means opening a browser window.
Afterwards, the user has to manually fill in a form. Being a rather longwinded process, there are plenty of opportunities for the potential subscriber to lose interest.
However, with Lead Ads enabled, you'll no longer have to rely on landing pages to gain leads and data from users on Facebook, and this will no doubt prove tremendously beneficial to both marketers and their potential subscribers.
Lead Ads will also make the signup process easier for desktop users, so marketers adopting the new platform should be able to see a significant increase in conversion rates across the board.
Conclusion
Lead Ads is currently only available for testing to a select few businesses, but availability will no doubt broaden in the coming months as the platform is improved.
It is also important to note that keeping users on Facebook through Lead Ads presents its drawbacks as well.
While the advantages will most likely end up outweighing the disadvantages, those relying solely on Lead Ads will not give their followers much of an opportunity to interact with other, off-site content.
Your Say!
How will you use Lead Ads? What data will you look to capture, and do you think it will result in more targeted leads for your business?