According to the 2014 B2C Content Marketing Benchmarks, Budgets, and Trends Report, 72% of marketers are creating more content than in previous years.
From e-books and blog posts to social media blurbs and infographics, the need for brands to generate top quality content has never been more crucial.
Gone are the days when article directories and spun content could help your brand improve search rankings.
Today's business owners know they absolutely have to provide quality, sharable content or face the prospect of diminished content marketing returns.
If your company is planning to increase your content focus in 2015, there are a few writing tools you might want to consider integrating into your inbound marketing strategy.
Related: 9 content marketing tips you can learn from Buzzfeed
Following are five terrific tools no writing team should be without:
Draft offers an incredibly helpful and simple platform for writing teams. Whether you're collaborating with telecommuting writers or marketers within your own office, Draft makes it easy to track contributions to team projects.
Features include version control, data synchronisation, analytics, simple collaboration and track changes. markdown monitoring, and transcription assistance.
As far as I can make out, it's totally free to use!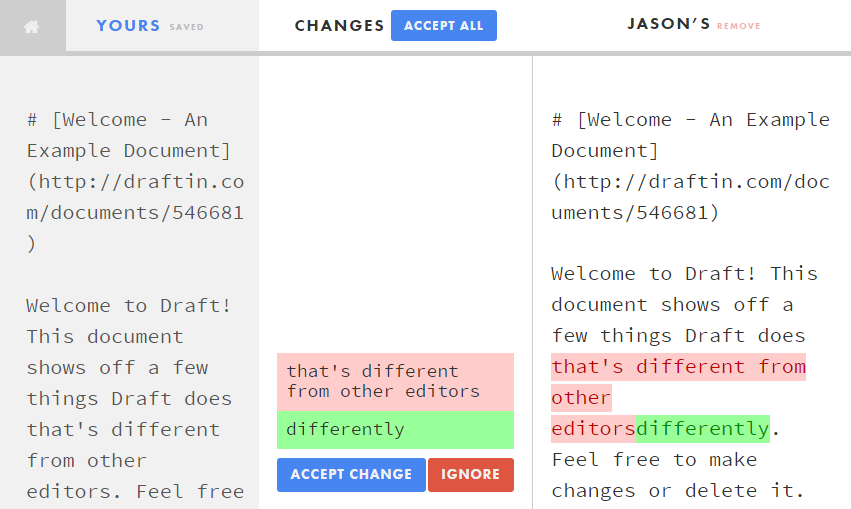 Tracking and accepting changes using Draft 
Another must-have writing tool for marketing teams is WriteFull. This nifty resource helps you do everything from perfect your sentences to choose phrases with high SEO scores.
If you are concerned a phrase you have used might not be correct, instead of rushing to Google to check, the Writefull app will check for you. It can also be used to check for alternative synonyms within the context of your writing.
The lightweight application supposedly works with any software, such as MS Word and Notepad, and in-browser mailboxes like Gmail and Hotmail.
There is no free version available unfortunately, but they are quite flexible with their pricing, allowing you to pay as little as $2.00 for 100 queries.
Take a look at the video below, it does a lot better job of explaining how it works!
Related: 9 content marketing mistakes to avoid
TypeWrite is another intriguing collaborative writing tool, similar to Draft. Your content marketing team can work together on content creation and track changes in real-time.
Each version of created content is automatically saved, making it easy to return to previous versions if updated content does not pass the edit process.
You can even sync your team's content to Dropbox for easy access regardless of location and can format your copy using Markdown.
TypeWrite is also free to use.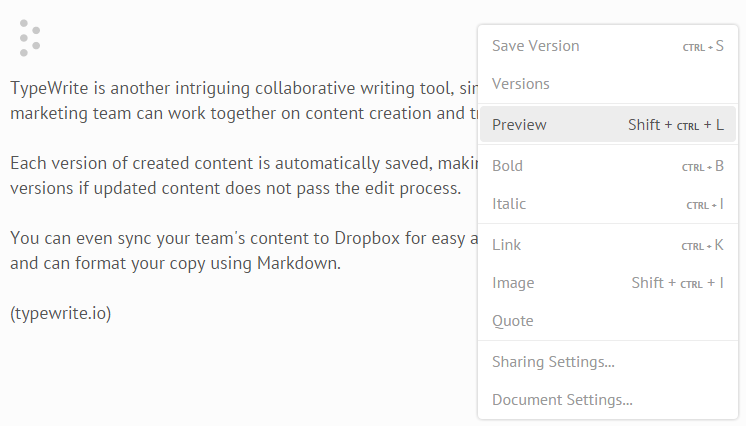 Typeface's simple interface 
Finally, we have Grammarly, a subscription automated proofreader and "the World's best grammar checker".
Check content for everything from passive voice to spelling and synonyms.
Monitor for punctuation errors, question your quantifiers and track your preposition usage.
Even if you think your team's writing is above par, you'll be impressed with the tweaks you'll discover with Grammarly.
You Say!
Do you think any of the above-listed resources will help your marketing team improve the overall value of the content you produce? And don't forget to leave us a comment if we've missed your favourite app.