Have you ever noticed how ads for companies or products you've looked at online start to appear as you visit other websites? You've been looking for the perfect domain name for your business idea, and suddenly ads for web hosting and web design pops up everywhere.
What you're experiencing is a remarketing campaign. For example, if you looked at a particular make or model of car online you might later start to see ads for that car appearing on news sites and social media.
Remarketing is also known as retargeting or behavioural targeting, and it's a very powerful way to market your business on the Internet.
[Tweet "Every felt like an ad was following you around online? That's remarketing. Find out more…"]
What is remarketing?
Remarketing allows companies to display their ads to people who have previously shown an interest in their products or services through browsing. These customers are primed and could be ready to make a purchase should they revisit your site – so this is your chance to convert!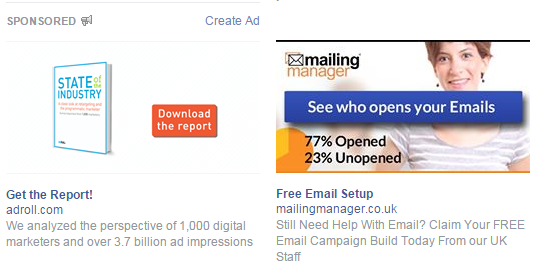 These ads appeared in my Facebook feed recently – both websites I had visited that day. This is remarketing in action
Just like in the bricks and mortar world, very few people make a purchase on their first visit to a website.
Various studies have shown that around two-thirds of people who visit a second time will end up making a purchase or taking further action towards it. Online remarketing allows you to significantly increase the chances of a visitor coming back.
A potential downside of remarketing is that it can appear a little 'Big Brother' if a company starts to appear too often.
In reality, most consumers aren't really sure what's going on behind the scenes and aren't bothered by it. No personal information is captured during the remarketing process, so there are no privacy issues or other concerns.
How Does Remarketing Work?
The remarketing process relies on cookies. If you aren't familiar with them, cookies are small files of data that are placed on a user's computer when they visit a website.
Cookies are used by website developers to make browsing a more efficient experience. For example, if a user regularly visits a site and logs into a secure area, cookies could be mean the same authentication information doesn't have to be entered every time.
To make the most of every visitor in a remarketing campaign each page of your website should be linked to a different ad.
One of the keys to successful remarketing is being able to focus ads very specifically based on what the website visitor was looking for.

Visitor lands on your web page and leaves > Is retargeted across the web > Revisits to (hopefully) complete purchase
For example, imagine that you run an online photography store and a visitor lands on the page listing Nikon lenses. It's a wasted opportunity if your remarketing ads are very generic or if they promote photographic gear from other manufacturers.
It can be very annoying for a customer if they continue to see the same ads from you after they've made a purchase. It's simple to rectify this with a line of code on the page where the customer completes his purchase.
In some cases, you may wish to continue targeting a customer with further ads, but these should have different creative content and offer something other than the original item purchased.
How Remarketing Differs From Other Online Advertising
Many marketing gurus see remarketing as a revolution in the world of online advertising. There are many other options of course, but remarketing campaigns have several distinct advantages.
Some of the myths about online advertising include that it's too expensive for small businesses, that it only works for certain industry sectors and that you can't compete against big brands on the Internet.
There are plenty of ways to market a business online without any costs, but these often take a long time to set up and it's harder to target traffic very specifically. If you're willing to invest in paid advertising you can turn your investment into traffic overnight.
One of the ways online advertisers try to grab a user's attention is by the use of pop-up ads. Pop-ups appear in a new browser window and vary in size.
They can be animated and often involve the use of bold colours and strong graphics. Pop-ups are often used to promote special offers such as a free guide or ebook.
Many users find pop-ups annoying, but the fact that so many successful online businesses use them is proof that they work. But they tend to be used less to convert sales, but other secondary goals such as signing up to a newsletter.
Text links and buttons are another popular form of advertising within web pages. They are more discreet than pop-ups, and many users prefer this more subtle style of promotion.
The advantage remarketing has over these traditional forms of online advertising is the ability to target a very specific audience.
Ad copy and content can be made highly relevant to the user, and the conversion rate from remarketing ads is generally much higher than from simple banners and buttons.
Options for Remarketing
Remarketing campaigns can involve the use of traditional websites and social media such as Facebook and Twitter.
The most appropriate platform will depend on various factors including your target audience and your company's current online presence.
Google Display Network / AdWords
Not surprisingly, Google is one of the market leaders in remarketing. Websites that are part of the so-called 'Google Display Network' display Adwords ads to their visitors.
The Display Network reaches around 90% of Internet users and includes millions of websites. Adwords advertising has always been a targeted way to reach customers, and companies are able to place ads based on keywords and the types of sites a user visits.
Adwords users can also target specific geographic locations or exclude specific countries. Using Adwords for remarketing allows a company to refine its targeting even further.
Take a look at Google's guide to remarketing.
Facebook
Facebook supports remarketing campaigns with its 'Custom Audiences' service for businesses. Creating a campaign with Custom Audiences is a simple step by step process. You start by building an audiences list of your website.
Facebook provides the code to place on your web pages, and tools are provided to help you create the ads that will appear on.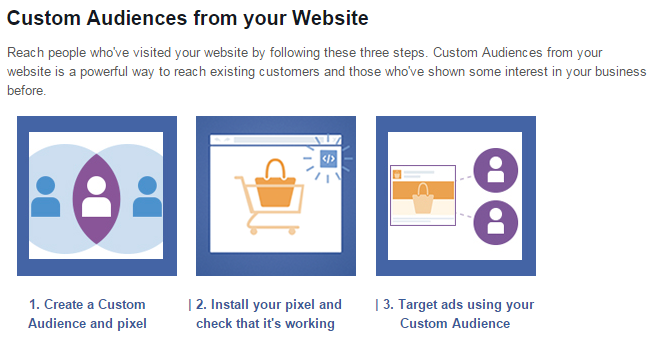 The short version of how custom audience retargeting works to target Facebook users who have visited your website.
There's also a great feature called 'Lookalike audiences' for finding more people like your current prospects and customers.
Check out this post over at Social Media Examiner for more information on Facebook retargeting and custom audiences.
Twitter
Twitter ads can also be used as part of a remarketing campaign. The process is similar to that for Facebook, with 'Twitter tags' created to connect your website to Twitter.
You can upload images to appear on Twitter cards, and these can be very powerful for marketing products with a visual appeal.
Remarketing over a range of channels allows you to test different approaches and refine the process.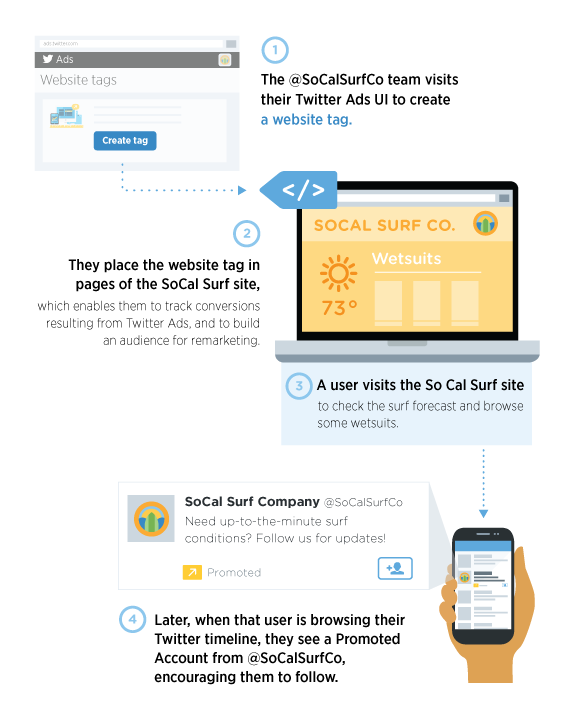 How retargeting works with Twitter
Take a look at the Twitter guide for website tag for remarketing.
Conclusion
If you're thinking of advertising your business online, a remarketing campaign can be a highly cost-effective way to increase sales.
Don't be scared to give it a try, but as with all paid ad mediums, it always makes sense to set yourself aside a budget and stick to it – a budget you could afford to lose in the first instance should you not get the results you expected.
Your Say!
Have you noticed ads like these chasing you around the internet? Have you found them useful when realising how relevant they are to you? And do you use retargeting already for your business? Drop us a comment.