Most business owners and webmasters should already be well aware of the potential offered by the world's largest social media service as a marketing platform, but many still fail to get Facebook marketing right.
Just like search engine optimisation and content marketing, social media is often abused by impatient marketers hoping to get a quick boost in search engine rankings and traffic to their websites.
Additionally, many fail to understand how social marketing works and how it is very different to traditional forms of advertising.
Success with social media relies on inspiring trust, building up brand recognition and creating a community that people actually want to become a part of.
However, in this list, we'll take a look at five of the common mistakes that your marketing team should avoid at all costs.
1 – Not Completing Your Brand Page
This mistake should be an obvious one, but surprisingly, many businesses fail to complete their brand page in its entirety.
You should fill out all of the fields available to provide important details about your business, such as its contact information, Web address, and in the case of bricks-and-mortar businesses, its location and opening hours.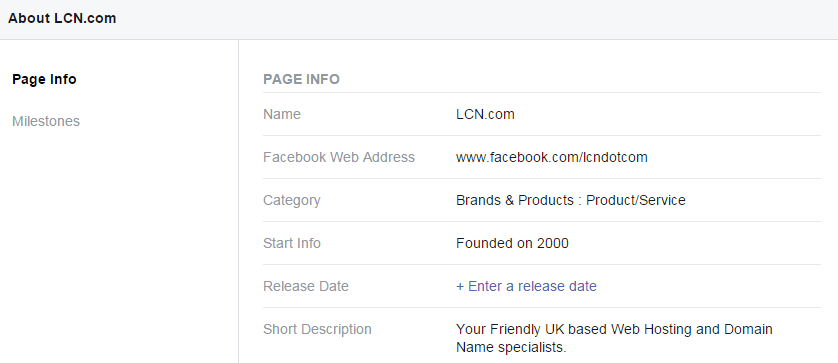 Always fill in the "about" section in full.
Additionally, no Facebook Business Page is complete without a suitable profile and cover image.
These images should represent your business and be consistent with the ones you use on any other online profiles so that people will come to recognise and remember you.
2 – Breaking the Rules
Since social media marketing is more about forging valuable relationships than trying to get a sales pitch across, Facebook has some fairly strict rules and guidelines that you'll need to follow if you want to keep your page live and your reputation clean.
For example, cover images can not be in any deceptive or misleading, nor should they ever infringe on anyone else's copyright. Encouraging fans to use your own branded cover photo is also against Facebook terms.
Choose something that helps to capture the essence of your company; for example, a restaurant might use a close-up, high quality image of their flagship menu item.
Find a full list of Facebook page terms here.
3 – Excessive Posting
Posting too much is just as likely to turn your fans away as posting too infrequently.
What is far more important than the quantity of your posts is the quality, and you should always ask yourself before posting something whether or not your fans are likely to be interested in what you have to say.
As a general rule, it's a good idea to get into the habit of posting no more than once every couple of days when you're just starting out, but as your online presence grows and new content is available to you, experiment a little to find out what works for your demographic.
Don't forget that you can keep your Facebook page active even if you are not post regularly checking it regularly to respond to comments and participate in conversations.
Use Facebook Insights to find out when the majority of your audience is online – this will invariably be the best time to post.
4 – Begging for Likes
In the world of Facebook marketing, there's no doubt that likes are important, but focussing on them too much can significantly detract from the bigger picture. You want the right kind of 'likes'.
Worse still, is begging for likes in order to increase the size of your fan base in as short a time as possible.
While the number of likes may help reflect the number of people that your brand page is reaching, someone liking your page, or even just an individual post or comment, is just one in a series of steps.
The second step is to make sure that you're reaching out to the right audience and keeping them interested enough to come back to your page on a regular basis.
Your goals should be to get solid engagement in all respects, and this involves getting likes, comments and shares.
Remember, a 'like' is good, but ultimately your goal on Facebook is to reach new customers and offer your current customers value.
5 – Not Listening
Don't forget that social media marketing is mostly about the social part, and marketing using Facebook is no exception.
If you don't help to create and inspire a community atmosphere around your business page, then you will likely not get very far.
Listening is just as important as talking, and you should save your upfront sales pitches for more traditional advertising methods and paid programs such as Facebook's own pay-per-click advertising platform.
However, the bulk of your Facebook marketing will take place on your business page, as it is a platform designed for socialising, inspiring and educating your audience rather than attempting to drive sales directly.
Show your audience that you are listening to them by way of likes, replying to comments and participating in conversations.
Conclusion
Facebook marketing needn't take up much of your time, and you don't have to spend any money either unless you also plan to make use of the Facebook ads service as well.
With just a few minutes per day and a sound strategy in place, you will be able to start reaching out to your audience in no time, provided that you avoid the aforementioned mistakes.
For a more indepth look at Facebook marketing for business, check out our complete Beginners Guide to Facebook Marketing.

Your Say
What mistakes you have come across when looking at a Facebook brand page? As a Facebook fan, what annoys you about poorly run Facebook pages?
Drop us a comment below!