Whether it is for an eCommerce site or a traditional sales letter, optimising your site for maximum conversions will be vital.
Small changes to a product page can give conversions a bump, but the checkout page is equally important and is often overlooked.
[Tweet "Reduce your checkout page bounce rate, and drive down those abandoned carts…"]
Many people are surprised when they first see how many potential customers bounce on the checkout page, but even small details can make a person reluctant to enter their card details.
While each site is different, there are certain strategies that usually prove to increase conversions and promote trust in your service.
Security Seals and Credit Card Logos
Security seals are essential for a checkout page to have legitimacy and credibility. Many people are still uncomfortable giving their credit details online, so you need to make them feel as secure as possible.
Credit card symbols can also provide this security as people tend to recognise and trust familiar symbols.

Familiar credit card logos and security seals can help instil faith in your eCommerce site
Of course, these security seals should accurately represent the security measures you have taken to protect your customers.
SSL certification
Having an SSL certificate installed on your e-commerce website is absolutely vital – you'll rarely see an online shop without one, and I certainly wouldn't recommend shopping on a site that doesn't have one.
It's easy to tell if a site has an SSL certificate – just look to the left of the address bar in your web browser. If you see a green padlock, the site is SSL secured.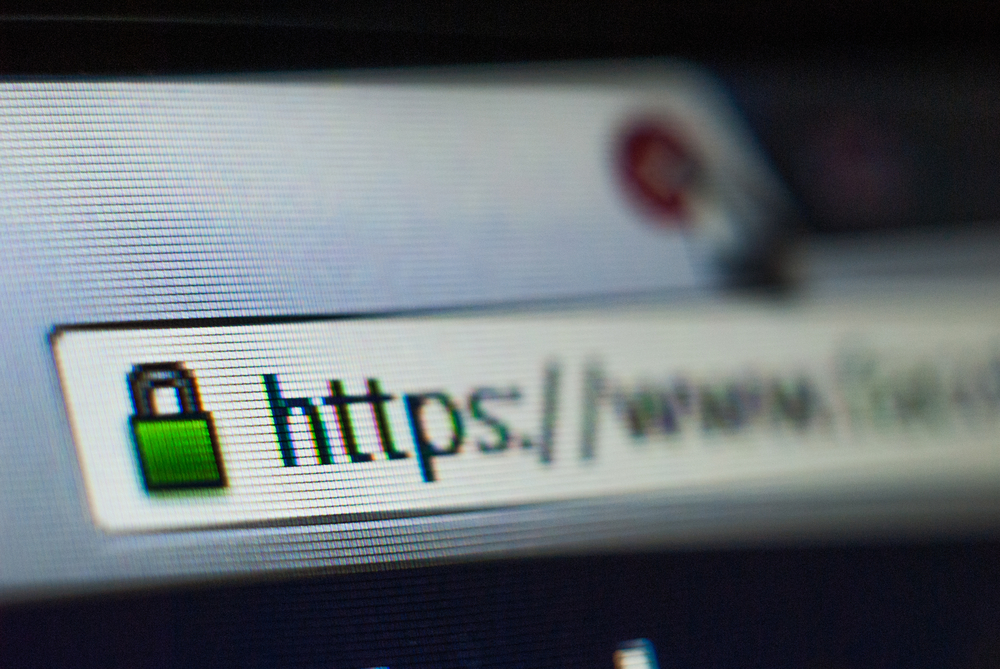 There are many reasons to include an SSL cert on your ecommerce site…
It encrypts pageviews meaning your valuable customer data is secure
SSL is used as a positive ranking factor by Google
SSL often offers a warranty which covers your customer in the event of money lost during a transaction
Give customers peace of mind
Without an SSL certificate it's safe to say you're going to see a lot of abandoned baskets when customers realise their web session is not protected.
Take a look at our SSL certificates and secure your website today.
Clear Links to Refund and Returns Policy
Probably the most common questions you will receive will be related to refunds and returns.
If visitors have to search for these policies you will likely increase frustration and cart abandonment.
Add some prominent links to these policies, opening them in a new tab or as a pop-up, so the checkout page remains open if the visitor gets distracted.
Aim to make these policy pages as short and clear as possible, while still containing all the relevant information, so that you don't drive the potential customer away.
Add Testimonials
Testimonials and reviews are more commonly placed on a sales or product page, but adding them to your checkout page can often help with conversions.
An unobtrusive sidebar of positive reviews can provide some social proof without being overly distracting.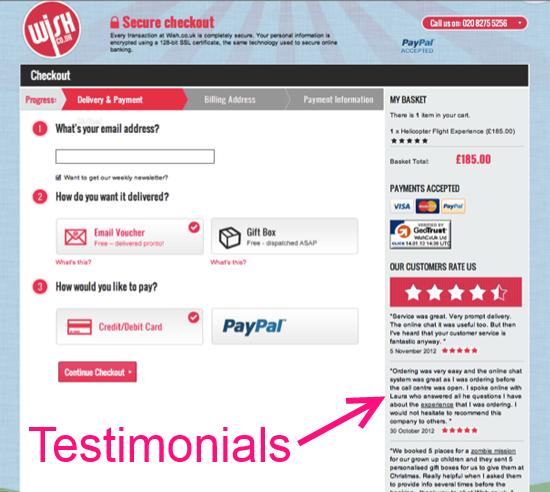 Checkout page at wish.co.uk complete with testimonials
If the reviews are based on a positive buying and customer service experience, rather than related to any particular product, you can proactively deal with any purchasing reservations.
We also use social proof across our product pages on LCN – we've made the effort to build up well over a positive thousand off-site reviews, so it'd be mad not to use them.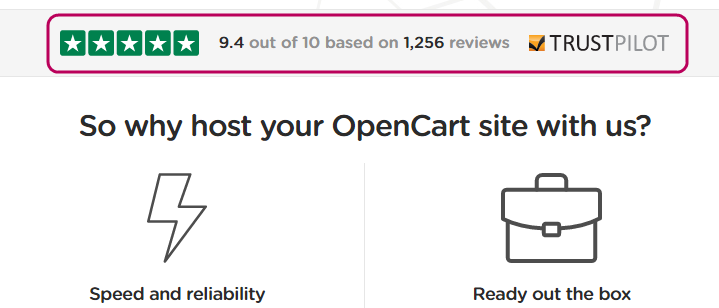 Social proof detailing our reviews on our OpenCart hosting page
Save Shopping Cart Items
When visitors leave the checkout page they may be intending to search for more items. If you can provide your visitors with options to save items, the chance of them returning to purchase is higher.
Setting a cookie, without a requirement to set up an account, can save items, but you can also create an option for a wish list.
If customers leave your site and return later, the checkout should indicate there are items waiting in their cart.
Include All Relevant Information
You might assume that customers know what items they have chosen, but people will often doubt themselves or want some clarification.
Try to provide as much information as you can without completely overwhelming the page. Include details like the total price including shipping, the item sizes, product quantity, and if the items are in stock.
This clear information reduces the chances that people will leave the checkout to double-check the individual product pages.
Too many clicks away from the checkout page will usually harm your overall conversion rate.
Highlight Any Discounts
Discounts can be effective on a sales page, but don't forget to include them on the checkout page too.
When people are on the checkout page they are often still contemplating making the final purchase.
Including the original price can be enough to convince a potential customer that they should choose the final step, particularly if the discount is of a limited nature.
All discounts should be realistic, though, and not based on an inflated original price.
Expected Delivery Date
While shopping online keeps growing in popularity, there are still many people who like to walk into a store and pick up an item on the spot.
Most people don't enjoy waiting for items, but they are willing to do so if they are fully informed about their order.
Including an expected delivery date can provide some clarity and certainty to people who are eager to receive their product.
Problems can also arise when there is nobody at home to receive an order, so effective communication can overcome any confusion.
Recommend Similar Items
There is no way to ensure everyone who gets to the checkout page ends up buying, but you can increase overall revenue by recommending similar items to people who are intent on purchasing.
These recommendations can be particularly effective when you have a site with a large inventory, and it can actually be helpful to buyers who don't have time to search through the entire site.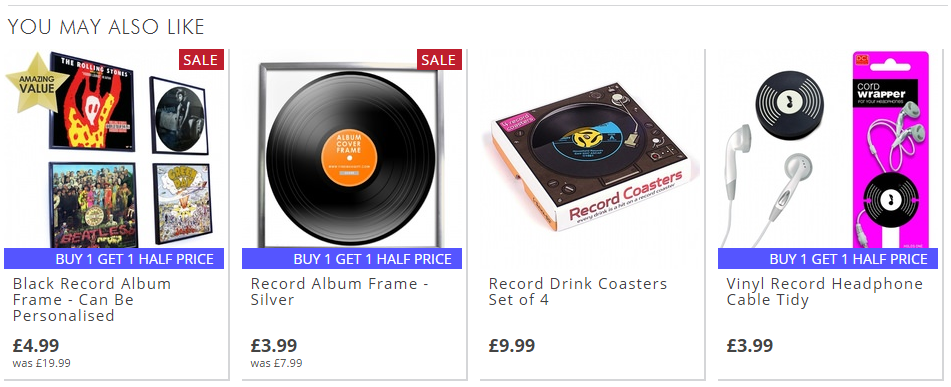 Related products section – findmeagift.co.uk
If other customers have made the same additional purchases, there is a good chance these products will convert well with a good proportion of your customer base.
Visual Progress Graphics
In certain cases, the checkout process will involve multiple pages with a customer needing to input an address, shipping details, and credit card information.
Visual progress graphics help to avoid cart abandonment as they make the process clear.

Progress bar at haggar.com
Completing the checkout is an inconvenient necessity, but making it transparent can reduce the frustration people naturally feel.
Add Social Elements
Adding social elements could appear to be a distraction for a checkout page, but it can sometimes help with conversions and additional sales.
If customers let their social media followers know about the products that interest them there is an obvious viral benefit, but it can also help to remind them if they do decide to leave before buying.
If social media buttons appear out of place on your order page, instead try adding them to the purchase confirmation / thank you page instead.
Conclusion
By implementing these ten techniques there is a good chance you should see a higher conversion rate with fewer cart abandonments, but there is no guarantee that this will always be the case.
If there was only one successful method there would be no need for all the various checkout page designs you can find on the web.
This uncertainty emphasises the need to carefully track and test all the various changes you make.
Try to get into the habit of isolating these individual techniques for testing, while implementing regular tests and experiments.
Over time, your checkout page should be optimised for the best results.
Your Say!
What techniques do you employ to try and reduce shopping cart abandonment at any stage? We'd love to hear your suggestions.