Recently, Google confirmed a data-sharing deal with Twitter, whereby certain tweets will be fully integrated with Google's search results, bringing social media and search engine optimisation even closer together.
As many marketers will remember, something similar happened before, with a similar deal taking place between the two companies between 2009 and 2011, whereby Google's archive search function was used to power Twitter's own on-site search function.
Although both Google and Twitter have stated that the changes are imminent, no specific date has so far been given, although it is expected to occur sometime this summer.
iOS and OSX Integration Also on the Horizon?
Twitter's CEO, Dick Costolo, also stated that the social media giant is working with Apple to add Twitter content to searches conducted on devices running iOS or OSX, although no further details were initially made available.
Currently you can only search hashtags using Spotlight search.
How Will Twitter Integration Work?
Once the changes come into effect, Google will have full, direct access to all public tweets, allowing them to integrate these tweets into relevant search results.
As far as Twitter is concerned, their goal is to greatly increase the reach of public tweets to the extent that users do not even need to log in or visit the Twitter homepage itself to view the most recent tweets from a branded search result.
Google also benefits by providing a fuller search experience in line with the increasingly close relationship between social and search.
Currently, only a small number of tweets are indexed by Google, but when full integration comes into effect, all publically visible tweets should be properly indexed and displayed alongside relevant search results.
Digital Marketing firm iProspect recently discovered a live example of Google/Twitter integration to show us how it is expected to work when it comes into effect over the next few weeks.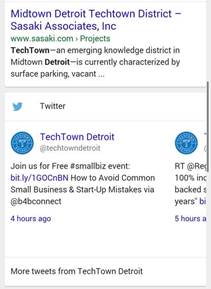 Could this be how it looks? iProspect recently found this live example of a Google / Twitter integration test via mobile search
According to their findings, brand-specific search queries (i.e.: those that are for company names) will be accompanied by a list of the most recent tweets from that company's Twitter account.
The tweets will be displayed in the form of rich snippets, similarly to things like review scores and product information that currently appear with certain search results.
What Twitter/Google Integration Means to Digital Marketers
The upcoming changes will no doubt place a significant emphasis on the importance of Twitter marketing, which while already an important area of social media marketing, will likely become even more crucial to businesses of all types and sizes.
In other words, there will be increasing pressure on companies to further align their social media and search engine marketing strategies as such that they both complement each other.
No doubt, Google will continue to roll out further refinements and features to the extent that social media and search will finally become inseparably intertwined.
Looking further into the future, and given that Twitter has recently been trying to fend off takeover bids, there have even been rumours that Google may ultimately be aiming to buy Twitter.
After all, the search engine giant has had varying success with its own Google+ social media service to the extent that they have scaled back the platform, perhaps with the intention of capitalising on the success of a major, well-established social network such as Twitter.
So, what could this mean for marketers?
You'll Have to Optimise Your Tweets?
An increased emphasis on user intent-based search optimisation further pushes keyword-based SEO towards obsolescence.
With Google being highly reliant on content, digital marketers will need to pay close attention to the way they optimise their tweets so that they appear correctly in the search engine results.
Tweets Will Be More Visible Than Ever?
Twitter will likely have a far greater organic reach thanks to Google integration, whereas it has long been seen as a more app- and mobile-orientated platform.
As far as brands are concerned, the integration of tweets into the search results effectively mean that public tweets will act more as advertisements featuring calls to action.
Old Tweets Will Be Resurrected?
The partnership may also give old tweets a new lease of life, whereas before, they were buried to the extent that they would rarely be seen again.
Given that public branded tweets will likely be visible for a much longer time once the partnership comes into effect, the emphasis on publishing quality, relevant content will be even greater than ever.
Conclusion
As you can see from the above points, the Twitter/Google partnership reinforces the view that social and search have an increasingly symbiotic relationship, and the upcoming changes certainly look like Google's latest attempt to integrate social with search as it attempted with the Google+ platform.
Related: Twitter guide for beginners 
Your Say!
Do you think Google/Twitter integration is a positive idea? More visibility for your busy social networks is only a good thing, right?
Or is it a step too far and Google should only display data they have found on regular websites? After all, what if they display negative tweets about your brand?