Who can benefit from using WordPress?
WordPress is a versatile and flexible Content Management System (CMS). Simply put, it can be used to design and create websites easily, without needing to know how to code. If you're a business owner, sole trader, freelancer, or hobbyist that's just starting out, you need a simple website to showcase your services. WordPress hosting could be for you. With plenty of pre-made templates and plugins, you'll be able to create a professional-looking website in no time.
Even if you already have a website, switching to WordPress can help you take your online presence to the next level. Its customisation options, Search Engine Optimisation (SEO) features, and security enhancements can help you optimise your website for search engines. It can also boost your online visibility and protect your site from common security threats.
No matter what industry you're in, whether it's healthcare, finance, hospitality, or any other sector, WordPress can be customised to meet your specific needs. It's flexible, scalable and can grow with your business, making it an ideal choice for those looking for a reliable and cost-effective website solution.
It's easy to use
If you're thinking about creating a website for your business, it's understandable that you might be feeling overwhelmed by all the technicalities involved. However, with WordPress, you can put your worries aside. One of the biggest advantages of using WordPress is its user-friendly interface. Even if you're not tech-savvy, you'll find it incredibly easy to use.
There are a range of pre-made templates for you to choose from. They'll save you time and effort compared with designing your website from scratch. It also hosts an extensive library of plugins that can help you enhance your site's functionality. Whether you need to add a contact form, create an online shop, or integrate social media links, there will be a plugin available to meet your needs.
The best part? You don't need to have any coding experience to customise your website. All you need to do is drag and drop elements, edit text, and upload images. It's that simple! By using WordPress, you can save time and focus on other aspects of your business.
If you're looking to create your perfect website and not sure where to start, you can download our free "WordPress for Beginners" e-book and hit the ground running with building web pages, creating content, searching for plugins, and publishing your website.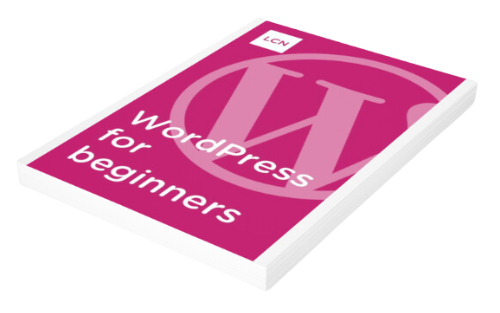 It's highly customisable
Creating a website that really represents your brand and meets your business's unique needs means you need the ability to change things up. With WordPress, customisation is made easy thanks to the platform's vast library of plugins and themes. Whether you're new to web design or have dabbled with building a site before, you can create a website that is tailored to your specific needs.
Adding new features and functionalities to your website is quick and easy. There are thousands of plugins available, that cover everything from helping with SEO, linking your social media accounts, adding the ability to sell online, and even security features to protect your website from cyber threats. We've already mentioned that you don't need to be a coding expert or a web developer to customise your website on WordPress and it's true. You can easily add new pages, customise menus, and update content without any technical knowledge. If you do get stuck, or you can't find the right plugin for what you need to do, there are thousands of helpful tutorials and how-to resources available online to help you through.
When it comes to changing the design of your site, there's a huge selection of available themes that can help you change the overall look and feel of your website. WordPress offers thousands of free and paid themes that cater to various business types and industries. It doesn't matter if you're looking for a sleek, minimalist design or a more vibrant and colourful layout, there's a WordPress theme to suit.
It's SEO friendly
SEO can be a daunting concept for many website owners, but it doesn't have to be. WordPress is known for its SEO-friendly features, making it easier for you to optimise your website for the keywords your customers are searching for.
WordPress makes SEO easier through its use of customisable permalinks. Permalinks are the links to your site that are used to access your pages and posts. Customising your permalinks to include relevant keywords is straightforward and makes it easier for search engines to understand what your content is about.
WordPress also generates automatic sitemaps, which help search engines crawl and index your site more efficiently. This means that your site's content will be more easily discovered by search engines like Google and Bing, which can lead to improved search rankings and more organic traffic (people finding your site when they search online). If you want more advanced options and control over your sitemap, there are plenty of plugins that make it possible.
There are also popular SEO plugins like Yoast SEO, which can help you optimise your content for specific keywords and analyse your site's performance. It will even provide suggestions for improvement. With these tools at your disposal, you can ensure that your website is fully optimised for search engines, helping to improve your online visibility and drive more traffic to your site.
It's secure
Security should be a major consideration of any website, especially for business owners who rely on their site to attract and retain customers. Fortunately, WordPress takes security very seriously, and there are several measures in place to protect your website from potential threats.
One of the most significant advantages of using WordPress is that it receives regular updates to fix security vulnerabilities and improve performance. Additionally, the platform has a dedicated team of developers working to ensure overall security.
Another way WordPress helps keep your website secure is yes, you've guessed it, with the use of plugins. There are many security plugins available, which can help prevent common attacks like brute force attacks and malware infections. Some popular security plugins for WordPress include Wordfence and iThemes Security.
There are things you can do and several best practices you can follow to further enhance the security of your WordPress website. For example, choosing a strong password, keeping your plugins and themes up-to-date, and using a secure hosting provider can all help prevent potential security breaches.
At LCN, our advanced security systems will automatically scan your website files for viruses, block malicious traffic and keep your website running during a DDoS attack. We also provide you with a free SSL certificate, to protect your customers' data, keep Google happy and highlight your business' approach to online security by displaying the secure padlock icon in the browser.
Overall, with WordPress, you'll feel confident that your website is secure and protected against potential threats. By taking advantage of the platform's built-in security features and utilising additional security plugins, you will help ensure the safety of your website and your customers' information.
It's cost-effective
As a business owner, you know that every penny counts. Luckily, WordPress is an incredibly cost-effective solution that can help you create a professional-looking website without breaking the bank.
One of the main reasons why WordPress is so affordable is the availability of free and low-cost options for themes and plugins. With thousands of themes and plugins on hand, you can find a solution that fits your budget and needs. Whether you're looking to add e-commerce functionality or a simple contact form, a free or low-cost plugin is likely available to help you achieve your goals.
In addition, WordPress hosting is often more affordable than traditional web hosting. Many hosting providers offer plans tailored specifically for WordPress users. These will often have features like automatic updates and backups included in the price. This will save you both time and money, as you won't have to worry about managing these tasks yourself or hiring someone else to do them for you.
Save time with WordPress Hosting from LCN
With WordPress Hosting from LCN, you are responsible for managing your website, including updates, backups, and security. This option gives you complete freedom to customise your website with any theme or plugin you want.
On the other hand, our Managed WordPress packages are perfect for those who want to save time and have someone else take care of their website. With Managed WordPress, you don't have to worry about updates, backups, or security as everything is taken care of for you. This option is ideal for business owners who want to focus on growing their business instead of managing their website. Plus, it's currently the same price as our regular WordPress hosting.
If you love tinkering with your website and want complete control over it, then WordPress Hosting is the way to go. But if you would love to free up time to focus on running your business, then Managed WordPress is the perfect choice.
You can see the different options and time-saving features offered with our WordPress Hosting and Managed WordPress Hosting packages here.
Whichever package you decide to go with, by choosing WordPress for your website hosting you can rest assured that you're getting a cost-effective solution to creating a professional-looking website. With the availability of free and low-cost options for themes and plugins, as well as affordable hosting plans, WordPress is a great choice for those looking to get the most value for their money.
To sum it up
As a business owner or someone wanting to showcase their products or services, you'll know that having a strong online presence is crucial for success. WordPress provides a simple and cost-effective solution for creating a professional-looking website. With its user-friendly interface and highly customisable options, you can easily create a website that is tailored to your business's unique needs. Additionally, WordPress is built with SEO in mind and offers a range of security features to keep your website safe from potential threats.
So, if you're looking to enhance your online presence, consider using WordPress as your website solution.
If you're ready to get started, check out the range of WordPress Hosting packages available with us here at LCN
Already using WordPress or want more insight on how you can get started? Download our free "WordPress for Beginners" e-book and discover how easy it is to create your website using one of the world's most popular website management platforms.