How's this for some amazing news?
We're giving you the keys to your very own exclusive voucher vault, stuffed to the brim with the latest offers and deals. All the services and products you love, discounted and grouped together in a single central hub.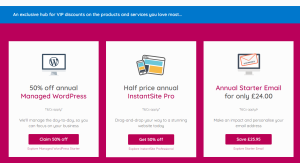 As a special treat to our loyal customers, the link to The Voucher Vault only appears within your online Account, so these deals can't be seen by anyone just looking at our website.
These special offers get rotated regularly, so you can be sure that you're always viewing the best possible discounts. On the date of this blog post, you can claim 50% off InstantSite Pro and Managed WordPress, 25% off a Domain Validated SSL certificate and much more!
How can I access The Voucher Vault?
The link is in your online Account. Once you've logged in with your account email address, click on the Services drop-down menu and choose the Domains & Services option.
You should see then see the link to The Voucher Vault appearing in the left menu.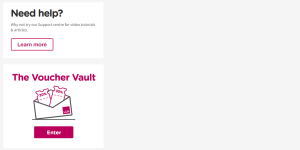 Whenever you next log in, why not take a look at The Voucher Vault as you never know what might attract your eye. Whether you're planning to create a new website, set up a new email address or embark on that ambitious online project you've been planning for ages, The Voucher Vault will help you bring your ambitions to life…and it won't break the bank either!