In today's modern world no business can flourish without having some sort of online presence. Whereas a website used to be something that was "nice to have", it is now an absolute necessity for anyone looking to promote themselves or their services.
Fortunately, there is no longer any need to find a professional web designer to create the website for you, as there are a wealth of possible DIY choices available. In this article we'll take a look at two of them: InstantSite and WordPress. Each has their own specific advantages, so we'll examine them in more detail and discover which type of situation or website they are best suited for.
InstantSite
InstantSite is a drag-and-drop website builder that allows for easy creation of websites, without requiring any existing technical experience.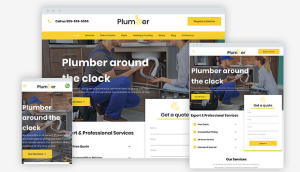 It has a number of hand-picked professional templates that you can use to insert your own content, or you could start from a blank slate if you wanted. A widgets menu down the left displays all the various components you can add to the website, such as an image gallery or a contact form, and you simply drag them across and drop them on whichever part of the page you'd like them to appear.
Another great feature is that InstantSite is fully mobile responsive. More and more people surf the Internet on their phones these days, so you'll want to ensure they're not put off by a poor user experience. If they can't use your website properly then you could be losing sales! That's why any website you create with InstantSite will work seamlessly, regardless of whether the visitor is using a desktop computer, laptop, mobile or tablet. 
What are the advantages of InstantSite?
Create a website quickly and easily: As it's so user-friendly and intuitive, with no weighty manual to read first, you'll find that you can create an attractive website in hardly any time at all.
Ideal for technical novices: Don't worry if you've got no experience with website design. InstantSite doesn't expect you to have any existing technical knowledge; nor does it bombard you with jargon. If this is your first website then just dive straight in and get started!
Website works on all mobile devices: Create a website fit for the 21st Century, one that provides a perfect impression to everyone. No more awkward side scrolling or zooming in on tiny text.
WordPress
WordPress is an extremely powerful website design platform, with literally thousands of themes or plugins that can be used to create your perfect website, no matter what the requirements.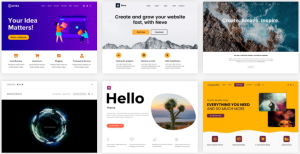 If you're the creative or hands-on type then you'll be in your element, as the amount of customisation options is truly staggering. Whatever feature you're looking for on your website, chances are that there's a plugin for it!
For the more technical users, you'll appreciate the "behind the scenes" options available to you – such as access control, firewall filtering, user management and much more.
For your convenience, we offer WordPress in two different packages:
WordPress Hosting, which is great if you want to do everything yourself. You'll have full access to the WordPress Dashboard, leaving you free to bring your vision to life however you like.
Managed WordPress Hosting, in which we'll look after the tedious administration tasks such as updating software. We all lead increasingly busy lives these days, so you might appreciate having some extra time to spend on taking care of your day to day duties.
What are the advantages of WordPress?
Suitable for all types of website: It doesn't matter whether you just want a simple website to advertise a community event, or an all-singing all-dancing online shop. WordPress is so flexible that you can use it to build a website perfectly suited to your exact needs.
SEO optimised: The higher your website appears in Google then the easier it will be for your customers to find you. WordPress helps you out by letting search engines know whenever you publish a new page, as well as generating relevant titles and descriptions so that people can see what the page is about before they visit it.
A box of toys for technical users: If you like to tweak and fine-tune everything, getting really involved in the nitty-gritty side of things, then you'll appreciate all the bells and whistles that WordPress offers you. 
Summary
InstantSite and WordPress are each fantastic website builders, with their own specific advantages. Neither of them trumps the other really – it all comes down to what exactly you're looking for and the type of website you'd like to create.
If you have any further queries feel free to give us a call on 0345 363 3637 or create a ticket through your Online Account.