We've all done it; visited a holiday destination, tried a new restaurant, or bought something outside your normal shopping list – all on the word of a friend. That's the power of word-of-mouth marketing, and there's no better endorsement for your business than that of a customer recommending your brand to a friend.
Brand loyalty and brand advocacy are a big part of this phenomenon, but how can you help nurture and encourage this for your business? This is where fostering a community around your brand can pay dividends!
One of the best methods of helping build a community of brand advocates is to get your customers engaged with both your business and each other, with a community forum.
Why build a community forum?
Building a forum, especially from scratch, can be a big-time investment, and the work doesn't stop after you've gone live. So beyond the obvious positives of creating an army of brand advocates, let's take a look at the benefits of creating a successful community forum for your business.
User-generated content
Every business and marketing team understands that getting a regular supply of fresh, quality content is no mean feat. To do it right it's going to cost both time and money – not to mention perhaps the most important factor; consistency. You also need to be absolutely sure what type of content your customers are interested in before you make that investment.

Who wouldn't want a team of happy customers regularly contributing great content to your website?
It sounds too good to be true, but a busy forum goes some way to solving all these problems. Who wouldn't want a team of happy customers regularly contributing great content to your website? Content you know other customers will find engaging. For free! Well, almost free – if you really want to keep your customers happy contributing their time you're going to need to give them an incentive (we'll get to that later).
SEO and brand awareness
Search engine optimisation and brand awareness go hand-in-hand. The better your search rankings in search engines such as Google, Bing and Baidu, the more users are going to find you in organic search results. So how does a forum help with that?
To put it simply, to get found in Google for a particular search query, you need content, and a busy forum will generate plenty of it. Manually creating and investing in huge volumes of content probably isn't the best SEO strategy in terms of ROI, but if it's user-generated, it can have a big effect.
A big website creates a big footprint in the search engine results pages, and this means you're more likely to generate organic traffic due to the sheer numbers of searches (keywords) you will appear in.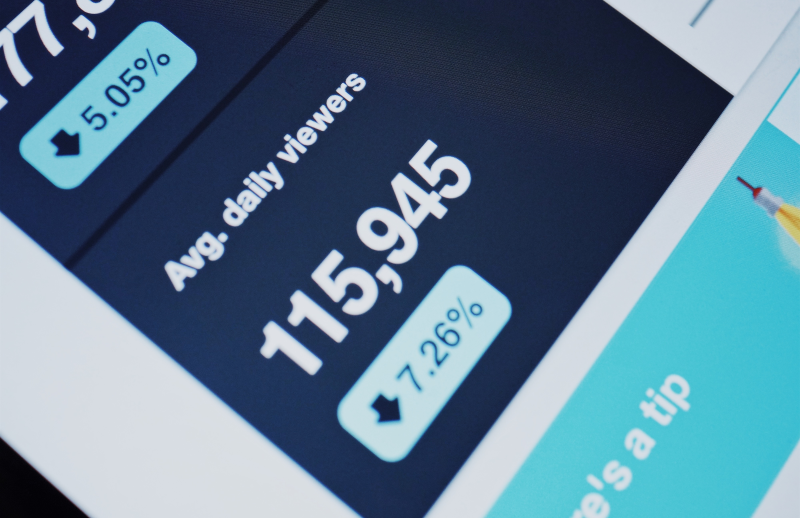 Not only that, valuable forum posts containing tips, tricks and guides, that are relevant to people not using your product, are likely to be linked to by other websites. This remains a very strong and fundamental ranking factor for when the Google algorithm determines how to rank your web pages.
Better understand your customers
Email, phone calls and surveys might bring back valuable customer feedback, but they're perhaps not the most transparent of feedback loops. Nothing keeps you honest like customer comments on a public forum.
Engaging your users on a regular basis, in various stages of the customer life-cycle as they use your product can provide invaluable insight. What are you doing well? What could you be doing better? What do your customers want? Your customers won't be shy to share this information – so act on it.
Superuser knowledge sharing
Brand communities will always attract your most engaged users, and your most engaged users are quite often your most knowledgeable. These users will no doubt share their knowledge, tips, guides and tricks on how to get the most out of your products and services.
So not only is this very useful user-generated content, but these highly valuable customers help on-board and educate new users. Look after these guys, they're your greatest allies!
Secondary support channel
Of course, you cannot rely on superuser brand-advocates to show your newbie customers the ropes – that responsibility always lies with you.
A community forum makes a great informal support channel… so long as you set expectations accordingly. Your customers should understand that there may be no guarantees in regards to response times and SLAs – a forum will never work in the same way as say, an email ticketing system.
However, where a forum excels is that your replies and fixes to user problems are forever in the public domain. Over time you'll generate a vast user support library of guides, tips and fixes, and you can encourage your customer base to search for these answers before coming to you.
Empowering customers
All of the above, combined, serve to empower your users and make them feel like they are not merely customers, but that they are part of a wider community that can change your brand.
When anyone invests time in something, they are more likely to stick around – the same goes for your business. When customers invest their time and energy into your business, and you not only welcome but action that feedback, you may just find you make a customer for life.
How to get a community brand forum online?
Not all online communities look the same.  The definition of an online community, according to Google, is as follows: "An online community is a virtual community whose members interact with each other primarily via the Internet".
So this includes, but is not limited to…
Forums and message boards
Social media platforms
Chat rooms / instant messengers
As we're looking at forums / message boards for this guide, let's take a look at the options available when it comes to choosing a platform.
What forum / community platform to use?
There's several types of forum and message board solutions out there, include dozens upon dozens of MySQL / PHP-based message boards, alongside Facebook groups and more customer built solutions. Let's take a look at the pros and cons of these types….
phpBB
If you've frequently used forums since the year 2000, there's a good chance you would have used one powered by phpBB.
Calling itself the most widely used open-source bulletin board system in the world, phpBB is free and comes with all the recognisable features you'd expect when looking for the traditional forum setup.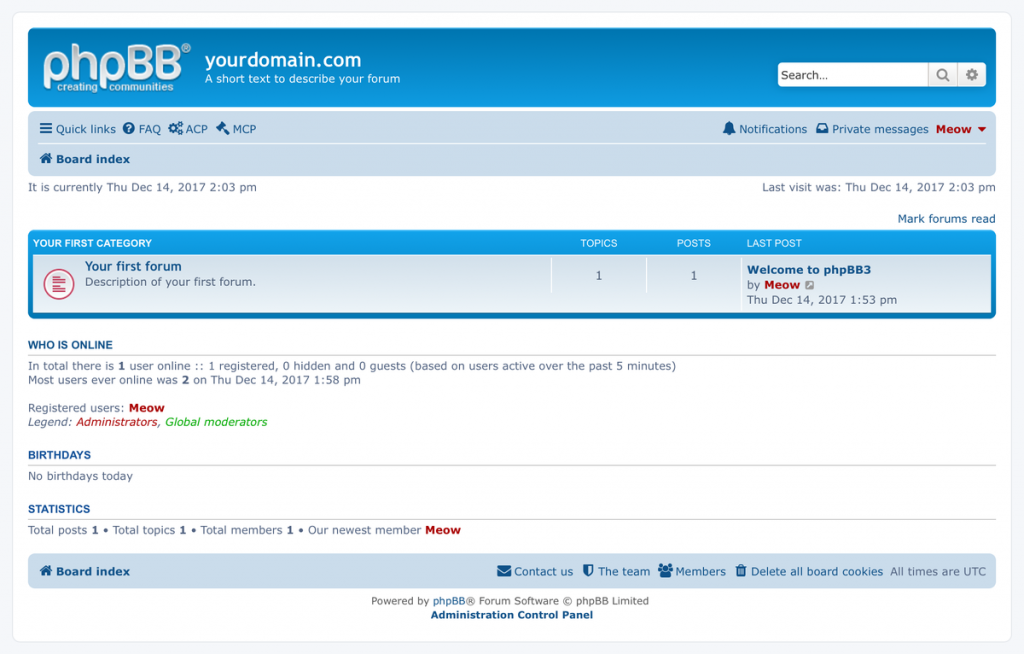 Extremely customisable, coming with various different user-created extensions and styles, you can be sure to find a design that suits your brand.
Pros
Free
Open-source
Highly customisable
Familiar and recognisable layout and UX
Cons
Unmanaged solution
Can be tricky to set up
Advanced customisation may require professional development
Basic forum set up
Other similar alternatives include Simple Machines Forums and MyBB.
Facebook groups
If you've ever used Facebook you're almost certain to have come across groups before. Think of them as a kind of message board, completely within the confines of the Facebook ecosystem.
With no separate sign up required and a huge user-base on Facebook already, these groups can quickly grow like wildfire. With a really simple set-up process and great moderation tools, they're an option worth considering depending on what goals you have in mind for your community.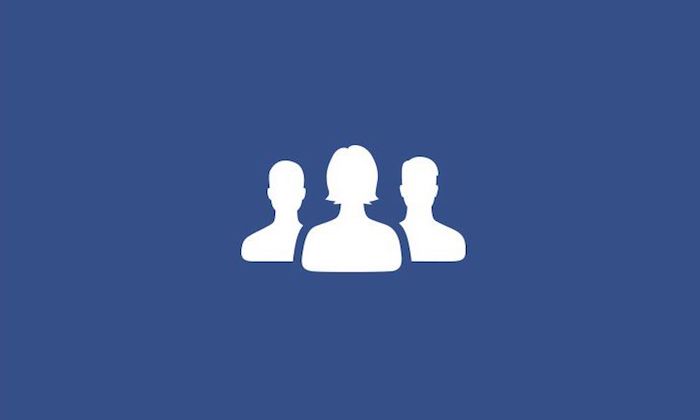 Other than easy set-up and fast growth potential, creating a Facebook group isn't going to cost you a penny. No domain or hosting required!
Pros
Free – no hosting or domain required
Really easy set up
A huge user base already
Potential for fast growth
Excellent moderator tools
Cons
Dependent on Facebook – if Facebook goes down, so does your group
No real SEO benefits as the group are not hosted on your domain. Group content won't appear in search engine results either.
A great amount of data to analyse. Not possible to use Google Analytics.
Discourse
There are a few platforms around and they all claim to be the future in online discussion, Discourse is perhaps the best of them.
Describing itself as a mailing list, discussion forum, long-form chat room – all in one, the platform is designed to make long-form and ongoing threads (discussions) much easier to follow and navigate.
There are quite a few big brands using it effectively to engage their customers such as Western Digital and Code School, with one of my favourite examples being the UK online banking service Monzo.
Taking cues from social media, users can @name each other, reply to threads or quote each other's comments, users are then notified by in-application alerts or email.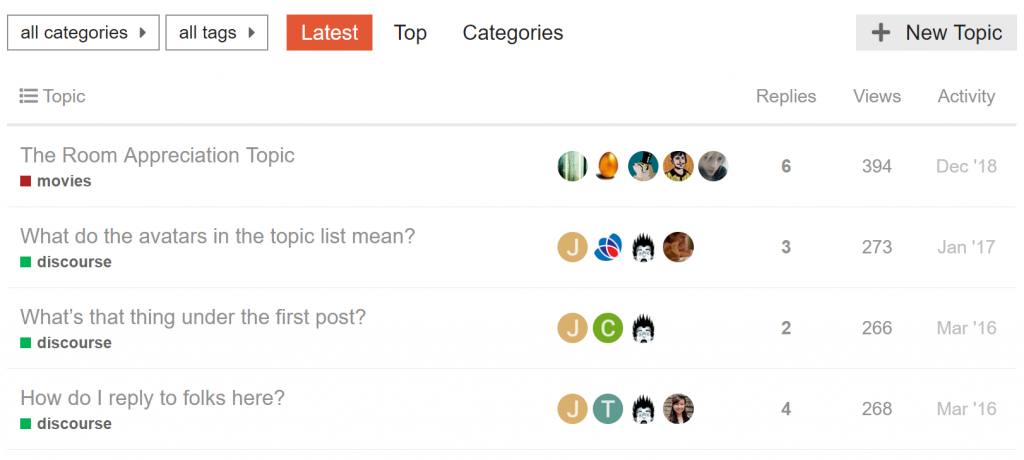 Other features include single sign on: no need for your users to create a separate account just for the community. In-built trust system which gives users more privileges and abilities over time. Advanced anti-spam, anti-troll and moderation capabilities. And native gamification which rewards users for continued involvement in discussions.
This is just the tip of the iceberg really. It's worth checking out the full feature list here:
Pros
The choice of free open source or premium hosted solutions
A huge range of modern features and tools
Optimised for mobile and tablet
Active community support
Good tracking and analytics data available
Cons
Involved and complex installation process – you'll likely need some knowledge of development / servers to get it up and running.
The forum layout may seem a bit daunting to casual internet users
Markdown editor by default (instead of Rich Text editor) may confuse beginners
Other solutions?
Apart from the community platforms mentioned above, there's literally hundreds of similar alternatives out there to choose from. When making your choice it's always worth finding a few active communities using the platform you're looking into – don't invest your time and money on a platform without seeing it in action.
Make sure you check the solution check for the following when making your final decisions…
Regular updates – both UX and functionality updates and security fixes.
Active support community – you don't want to be on your own if you get stuck
Limitations – before you understand all the limitations of the service and how these might affect the ultimate goal of your forum.
Of course there's another solution: build your own community platform from scratch. Obviously not an option for everyone but if you can't find something out there already that exactly matches your requirements, and you have the knowledge or money to invest, it's an option that might be born out of necessity.
Launching your forum
Now you've put in all the work to create and fully test your forum behind the scene – the time to go live is here. What do you need to consider before making your community live?
Consider a beta launch
Before you jump the gun and announcing your new community to the world, it makes sense not only to internally test it!
Every successful brand will have a few trusted, regular customers (brand advocate). Identity these users if you have not done so already and give them exclusive early access to test the forum out.
Your brand advocates will be motivated by getting an early sneak preview of the community, and are more likely to give honest, detailed feedback.
Let your customers know you're live
You'll want to reach every customer you have and beyond when the forum is ready to go. According to Gartner, 70% of online communities end up failing, so it's imperative you gain momentum quickly, and then capitalise on it.
Make sure you make the announcement across every customer touch point:
Customer newsletters
Automated customer emails
Company website

Public facing landing pages

Account / dashboard areas

Social media platforms
In-store / on-location business premises
Online advertising
Events / expos
Engage your community
Letting your customers know your community is live is only half the battle, you'll need to get them engaged and keep them there. Forums often snowball once you have a steady stream of new users generating regular content, but in the early days especially you'll need give get the ball rolling.
Incentives
It isn't enough to just announce the community is live… you need to give customers a reason to keep coming back. Consider a post of the week or month competition, and reward the author – whether the award is a prize or simply recognition.
Gamification – applying gaming and competition elements into non-gaming context – is a great way to further engage users. This can be as simple as awarding virtual "badges" or "trophies" for user actions such as first post, 100 posts, 10 likes on a post, and so on.
These kind of rewards may seem really insignificant, but stats and leader boards can cultivate an almost competitive environment around your community which can breed and engagement and user generated content.
Why gamify your community?
Increased user engagement
Increased user retention
Cost effective and cheap to implement
Positively rereinforces and rewards positive customer activities.
Generates more customer insights and data
Requires very little on-going maintenance
The Discourse community platform has some great native gamification built-in and is a great example of Badges can be used to reward engagement.
Create posts for your users
Don't leave it all up to your customers to get the conversation rolling! Visiting a brand new empty forum is a bit like walking into an almost empty room – it may seem daunting or even pointless to get the dialogue flowing.
Create some posts to get users started. Here are some sure-fire topics to get new users involved…
Welcome to the forum: Outline the purpose of the forum, set some boundaries and rules – keep it light and informal.
Introductions thread: A place for new users to introduce themselves
What do you use company product X for: Useful for both your business and other users to gain insight how your product/services are being used.
Off-topic posts such as: What do outside of work? What films / TV series are you watching? Favourite games / music etc
Useful forum engagement doesn't always have to revolve around your business or industry. Your customers will sometimes just want to shoot the breeze.
Get company staff involved
Any marketer will recognise the occasional groans of other departments when you try to get them involved, but as with most marketing activities your community won't become a success without full buy-in from staff.
Try and get your team to involve themselves in forum activities, replying to customers and creating new topics. How regular and planned this may be is up to you. Try keeping it informal rather than making it feel like a task to tick off, and within time you'll find staff find it a natural part of their working day to check the community and engage with customers.
Set expectations
Unless your community is explicitly for support purposes, you'll want to set expectations to customers early on. Make it crystal clear that there is no kind of SLA for support queries, and urgent issues will need to be raised via the usual means (email tickets, phone, or whatever your company uses).
But of course do look to encourage users to post any non-critical support queries and endeavour to answer them in a timely manager. This kind of post will still make up part of your user-generated content strategy, whilst providing a useful resource of the community as a whole.
Great online community examples
Monzo
The Monzo online bank service is built around its community and have relied on its customers to shape the future of the business since it first launched.

They boast over 14,000 posts a month over at their forum with a total of 40,000 users. Monzo go as far as to even make company decisions based around feedback and polls posted directly to the forum. It goes without saying their users, many of whom have shares in the company, feel empowered.
Fitbit community
Fitbit forums combine both customer support and gamification to create a consistent stream of user engagement and content.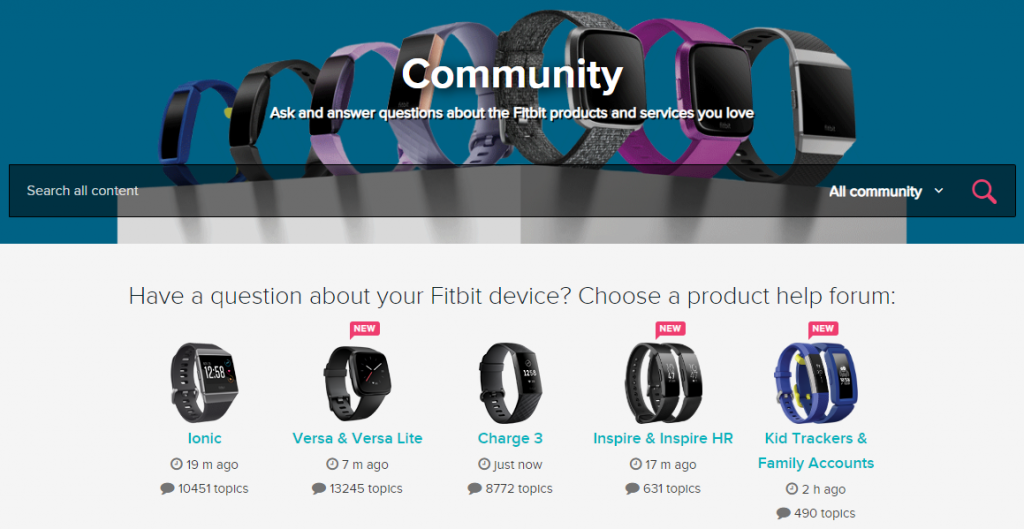 Not only does the forum allow users to compare and exchange fitness tips, regimes and goals, they can ask questions and educate themselves around the various apps and fitness products the company provide. By focussing on a single topic everyone can all relate to (fitness), there's never any shortage of discussion from its many users.
Conclusion
So if you have a relatively large user base, or your product / service has a lot of crossover interest, a community forum is definitely worth considering. So long as you have the time, commitment and consistency to invest! Here's a recap of what an online community do for your business…
Improve SEO
Generate new leads and interest
Community generated content
Users supporting each other
Cultivates brand advocates
Regular and honest feedback from customers
Sounds pretty good right? We'd love to hear from you if you've successfully launched your own community or are thinking about getting started with one.