Organising a conference can be a massive undertaking for a small- or medium-sized business, so it makes sense to try to capitalise on the event as much as possible.
One way of doing this is to make smart use of social media to increase brand awareness and improve your visibility, far beyond the conference hall.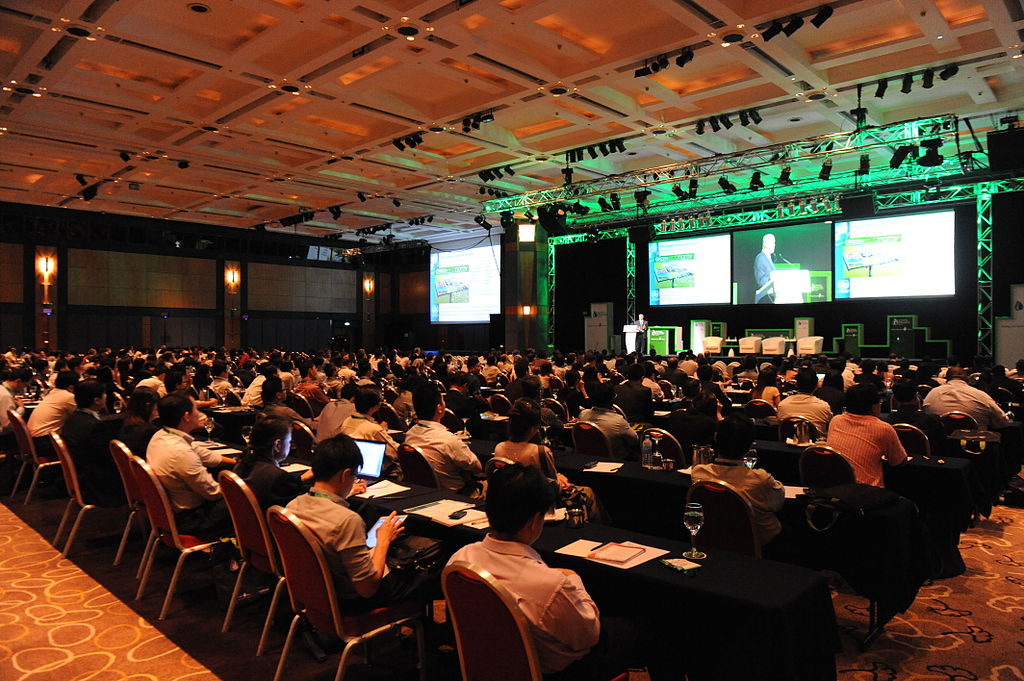 Image credit: Sherc88
Social media at real-life events doesn't only increase your reach, it can also provide you with valuable feedback.
Many conference delegates will tweet along with presentations, giving you genuine insights into which speakers were popular and which fell flat, and which seminars or Q&A sessions were helpful and relevant to your attendees.
All of this can help to inform your future events and allow you to understand what works and what doesn't.

Having an active social media presence during your event will also alert you to any problems or issues your delegates are experiencing.
If you can pick up, via your event's hashtag for instance, that something is wrong, you can react swiftly to ensure that nobody is left feeling disgruntled. Similarly, you can respond to any questions posed by audience members.
So, how can a small business run a conference with a big social presence? Firstly, there are things that can be arranged in advance.
It is vital to create a specific plan for social media at your conference. Leaving it to chance risks an uncoordinated and clumsy approach that yields poor results. Some factors that need to be considered include:
Choosing which social channels to focus on
Establishing a hashtag to promote on the day
Monitoring social media during the event
Identifying what can be pre-prepared, such as scheduled tweets, and what needs to be managed live.
Related: Beginners guide to Twitter
Prioritise
Conferences staged by massive multi-national corporations have many more resources at their disposal than those managed by smaller companies, so it is important to set priorities based on realistic targets.
Choosing an effective hashtag and promoting it can be an economical and highly effective route to a successful social presence.
On the other hand, live-streaming the event on several online channels, while displaying a dynamic hashtag wall on the screen behind the speaker, may not be quite so achievable. Be realistic and plan accordingly.
Prepare
If one of your aims is to drive traffic to your website and social media properties, make sure your own social media profiles are up to date and relevant.
Include details of the event and its hashtag on your Twitter and Facebook profiles to reassure people that they have found the right place, and start promoting the event and its speakers in advance.
Hashtag
Twitter, Facebook, Instagram, Flickr and Google+ all make use of hashtags to allow for searchable, relevant content.
People who cannot attend your event will be able to follow attendees' updates by tracking the hashtag, and you can keep an eye on your audience's responses in real-time.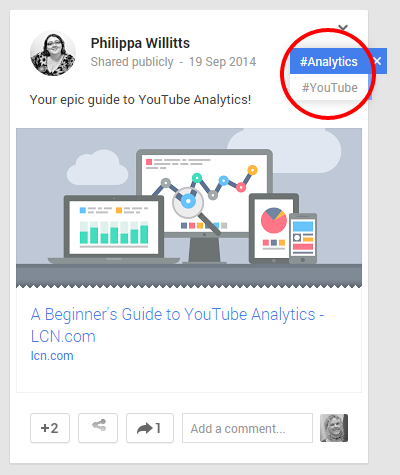 Google+ hashtag
Given the character limit on Twitter, the best hashtags are short but to the point. Ideally, your hashtag will include your brand name or the name of the conference, but don't make it unwieldy.
Social Channels
Each social media platform is designed to cater for particular needs, so don't indiscriminately blast the same content out to Facebook, LinkedIn, Twitter, Google+ and Ello.
While Twitter is ideally suited to posting live updates in quick succession, this is a recipe for disaster on a platform like Facebook.
Plan how many updates will be sent to each channel, how frequently the updates will be posted, and what kind of updates they will be (e.g. photos, text, links or videos).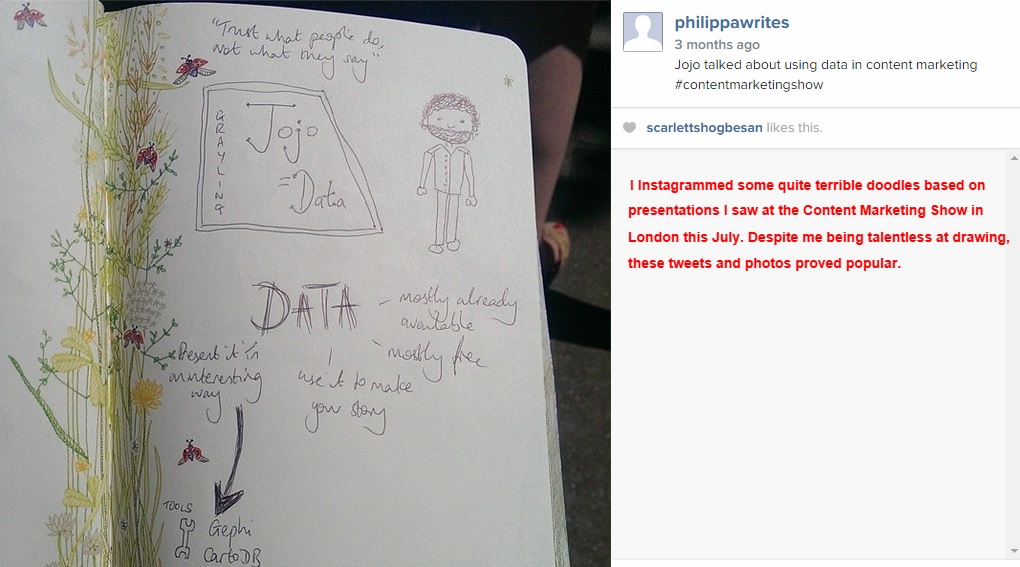 My hand-drawn doodles proved quite popular on social media
The prevalence of camera phones now means it is inevitable that some conference attendees will be sharing photos and even short videos online. This offers even more opportunity for engagement and will spread the word about your event even further.
Related: Beginners guide to Facebook
FourSquare
Create an entry on FourSquare for your event so that you can encourage attendees to check in on the day.
Hashtag visibility
When the day of the conference arrives, make sure the event's hashtag is everywhere. The more visible it is, the more likely people are to engage with it.
If it is unclear, on the other hand, people will create their own hashtags, making it far more tricky to track and monitor feedback.
Advise every speaker to mention the hashtag during their presentations to remind the attendees to make use of it. Promote the hashtag visibly, too. You can highlight it:
On signs around the venue
In conference booklets or brochures
On name badges and freebies
In PowerPoint presentation projections.
Monitor mentions
For tasks like tracking a hashtag, it is advisable to use specialist software rather than the Twitter website. TweetDeck and Hootsuite are both free tools that make light work of monitoring replies and hashtag streams.
Here, in TweetDeck, a column has been set up to track mentions of the #mozinar hashtag, and replies, retweets, favourites and new mentions are all visible in another column.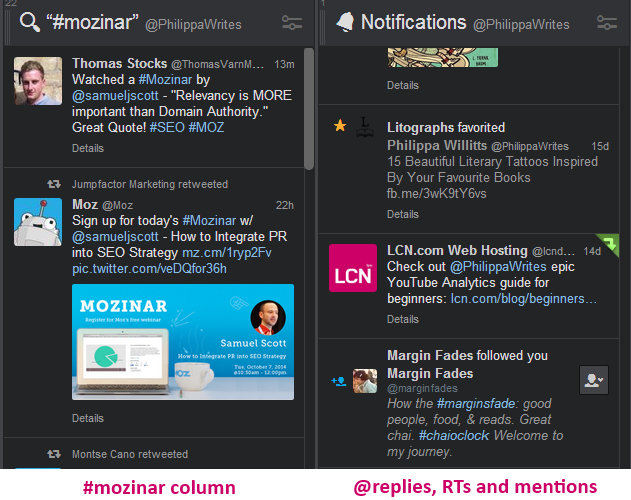 Facebook, Google+ and Instagram allow users to search by clicking on a hashtag, so mentions on these platforms can also be tracked and analysed.
Related: Finding industry influencers on social media
Schedule… to a degree
Scheduling social media content can take some of the pressure off a conference organiser on a busy and stressful day, but such scheduling needs to be paired with good judgement.
Generic reminders and promotions can be arranged to post throughout the day using tools like Buffer, TweetDeck or Hootsuite.
However, timings may change and speakers can overrun or be replaced; don't embarrass yourself by scheduling a tweet that says "Wasn't Rishi a brilliant speaker?!" when, in fact, Rishi was replaced by Sandra at the last minute.
Use incentives
Consider offering small prizes to conference attendees who post photos of your event on Instagram or who live tweet a presentation using your hashtag.
Alternatively, get more creative than that; one stand at this year's Content Marketing Show offered free pick 'n' mix to conference delegates in exchange for their Twitter IDs. It was by far the most popular stand in the hall!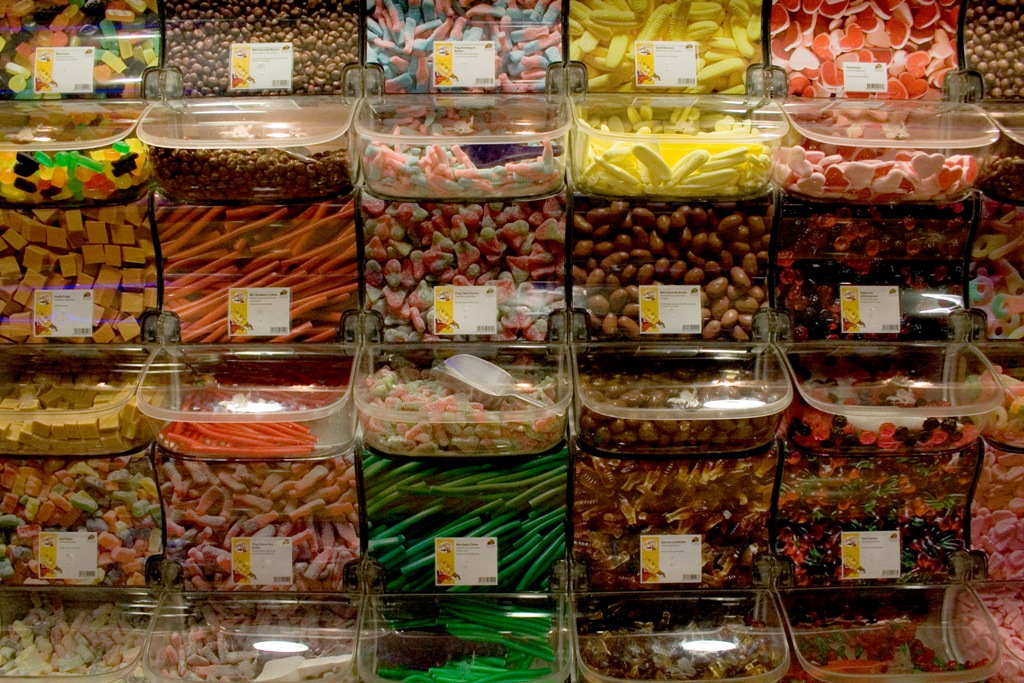 Image credit: Julian Burgess
Capitalise on this success for future gain
Even once an event is over, your company can still benefit from the social mentions you gained on the day. Some top tips:
Create a public Twitter List of people who tweeted using the conference hashtag and network with these contacts after the event

Storify tweets that included your conference's hashtag or mentioned your company account. When your post is published, users you quoted will be notified

Publish speaker presentations on SlideShare or videos of keynote speeches on YouTube

Quote the most effusive social media updates about the event whenever you discuss it. Whether you are posting a casual Facebook update or writing a formal report for the Board of Directors, other people's excitement and enthusiasm is a very convincing way of proving effectiveness and success.
Any small business, even those with minimal budgets for social media marketing, can implement this advice.
With some careful planning and a dedication to making a real-life conference a truly social event, you can achieve unprecedented exposure and valuable feedback.
Your Say!
So, consider which of the steps above you want to try, and let us know your plans in the comments below!