With more than a quarter of the world's population already tuning into their favourite social networks every day, social media is growing every year.
Brands also face a number of new challenges, including the necessity to diversify their social marketing strategies over a greater variety of platforms and turn towards paid advertising to increase the reach of their content.
According to the 2014 Social Media Marketing Industry Report published by Social Media Examiner in May, 2014, some 92% of digital marketers claimed that social media was essential to their businesses: this was a 6% rise over the previous year, and social media marketing is quickly becoming ubiquitous across the board.
Additionally, the average amount of spending on social media is approaching 10% of the entire marketing budget.
This guide takes a look at some of the key trends to look out for during this year and beyond, taking into account recent changes to the social media scene such as Facebook's latest algorithm update and the rise of new social platforms.
1 – Increased Spending on Paid Social Ads
In January, 2015, Facebook introduced a number of changes to its algorithm that decreases the visibility of promotional posts from company fan pages in users' news feeds.
As a result, the reach of corporate Facebook posts has decreased significantly, and as Facebook is the leading social network quite likely that others will follow suit over the next year.

Facebook Ads offers a number of objectives
While company pages remain an important part of any social media strategy, the latest changes to the algorithm will also encourage more businesses to invest in paid social advertising programs such as Facebook's Boosted Posts and Twitter's Promoted Tweets.
2 – Less Unpaid Promotional Content
Partly is a result of Facebook's algorithm changes, marketers are focussing less on promotionally oriented posts on the social networking giant, though the same is true of many other major networks too.
In the last two years, the growth of marketing content on Facebook and Twitter has actually been slowing down, and this is also a result of the fact that engagement rates with company page posts are extremely low.
However, the opposite holds true for the more image-oriented social networks, particularly the fast-growing Instagram, where consumers are far more likely to engage with the content posted.
3 – Mobile Comes First
Mobile is now well and truly established as the dominant medium for social networking and online activities in general.
Nearly 50% of the UK have active social media account, with 32 million accessing these accounts through a mobile device on a regular basis. 
Additionally, Facebook stated in July, 2014 that almost a third of their users accessed the network exclusively from a mobile device.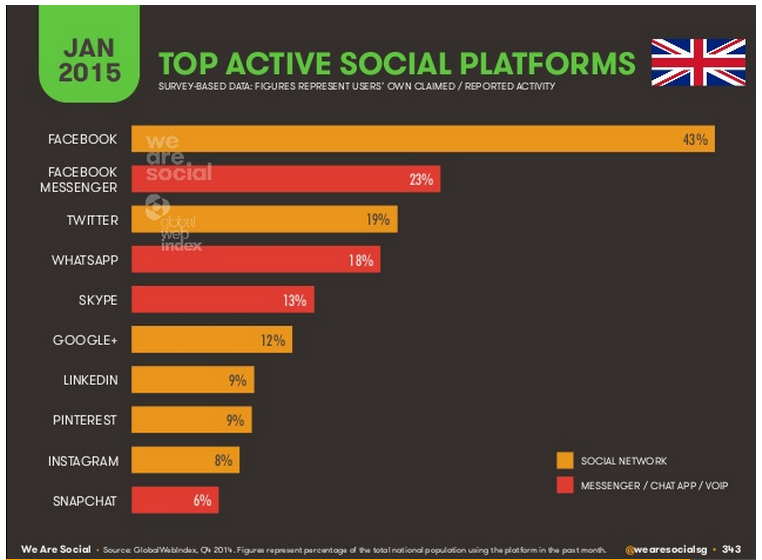 Top active social platforms – via Social Media London
While the desktop will always continue to satisfy a niche, marketers will need to prioritise the mobile experience if they want to maximise their reach.
4 – Rise of Social Video Marketing
As Internet speeds get faster and consumers become more and more likely to engage with visual media, video marketing has become an essential part of the digital marketing mix.
However, Facebook is already becoming one of the biggest video-sharing websites in the world, challenging YouTube with more than one billion global video views every day, around two-thirds of which are from mobile devices.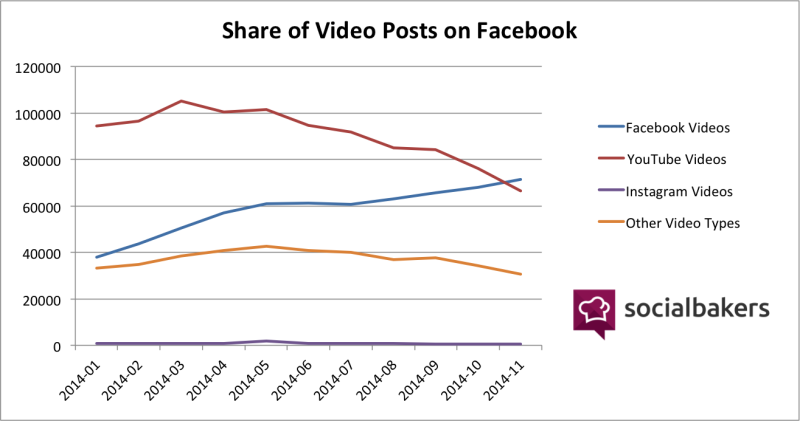 Videos uploaded directly to Facebook have now surpassed YouTube videos as the most shared video type on Facebook – via Social Bakers
Short, information-packed videos that are not particularly promotional tend to do best, with the most sharable ones being those that are either very insightful, informative or entertaining.
5 – Expanding Beyond Facebook and Twitter
Facebook, Twitter, LinkedIn, and Google+ might still dominate the world of social media, but this will probably not always be the case.
As the social media scene diversifies, particularly with regards to the way it makes use of different mediums such as image and video content, marketers need to keep an eye on the steadily growing and up-and-coming networks.
Almost half of the digital marketers are already including Pinterest or Instagram in their digital marketing mix, and these networks are only becoming more popular.
One of the biggest challenges facing marketers is the necessity to diversify and customise their content for each individual network.
Conclusion
As social media becomes more deeply incorporated into the everyday lives of consumers, and the emphasis on quality, value-adding content gets ever greater, marketers need to adopt a more sophisticated social approach than ever before in order to formulate a sustainable long-term marketing strategy.
Your Say!
What do you think are the social media trends to watch for in 2015? What is the next big social network? Will Facebook continue its rise in video sharing? We'd love to hear your thoughts.