A link outreach strategy is one way of getting relevant traffic to your site. Outreach is a great opportunity to engage with other people in your industry or niche.
It takes time contacting people and building relationships but it's worth it… when it works. You can often feel like you're sending a dozen emails and only getting one response.
So, why are people not responding to your carefully written emails? How do you fix it?
Here are 5 reasons your link outreach is not providing responses (and how to fix it).
Your emails are not personalised
You can usually tell when you've received an email that has been sent to thousands of other people. The content is generic and it's obvious the sender doesn't know much about you.
Even the first line of the email says "Hi there," instead of saying your name.
Sending generic emails says to the recipient that you did not spend much effort writing the email or creating a personalised proposal.
So, if you didn't make an effort, why should they make the effort to send you a response?
[Tweet "Don't expect a reply if you don't personalise your outreach emails…"]
People appreciate when you've spent time getting to know them. Before you contact someone, explore their website to get to know them better.
When you write an email to them, show you're happy to make the effort.
Include their name
Talk about their site: what did you like?
Share some information about yourself
Generic emails look like spam. Usually, people don't read spam or even open emails that look spammy. Show you're a genuine person by personalising your emails.
Subject line is not encouraging
So often people don't think about the subject line before they click send. However, this is what the recipient sees first before they open the email.
If you leave the subject line blank, there is no encouragement to click. But if you put something that looks generic, there is a high chance it will be perceived as spam.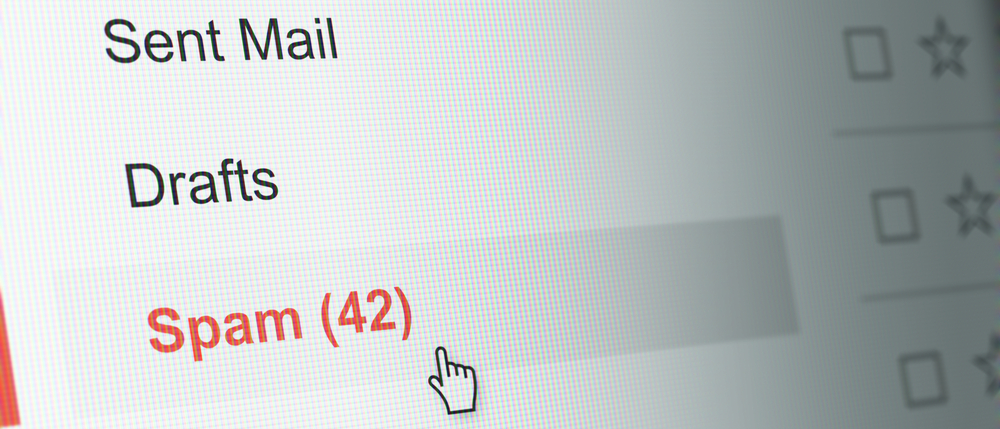 Make sure your email doesn't end up straight in the spam folder
Examples of generic subject lines:
GET YOUR FREE GIFT
Urgent email for your attention
60% off our premium app
Having capitalised subject headings can be considered as spam so avoid capitalising. Use unique phrases to help your email stand out and show the recipient you're genuine.
You need to show in your subject line that you've spent time researching their website.
Make a comment about something you like on their site or if you want to write an article specific to one of their blog categories.
Email name doesn't inspire trust
What email are you using to contact prospects? Your email address can have a major influence on whether the recipient will open the email.
43% of recipients will mark an email as spam based on the email address.
If you're still using an email address you created when you were in high school, it might not be very professional to keep using it. Especially if it's jeff_is_ace@emailaddress.com.
For some recipients, they don't like getting emails from free email accounts services (like Yahoo!, Gmail, etc).
Receiving emails from business email accounts inspires more trust and shows you're from a credible business. 
You don't have a relevant or appealing idea
Data shows 51% of recipients delete their emails within 2 seconds of opening it. That doesn't give you a lot of time to make an impression.
If you're not getting responses, then have a look at the idea you're trying to sell to them. It's possible people are opening your emails but they aren't interested in working with you.
For example: If you're writing a guest post, the person who will be publishing your post will be sharing it with their audience so your post needs to be relevant to their readership. Otherwise they won't want it on their site.
Your idea must be relevant and appealing for their audience.
It's clear your knowledge about their niche is lacking
To be successful in your link outreach strategy, you need to show your knowledge about the industry.
When you're contacting people in niche industries, they will be able to tell if your knowledge on the subject is limited.
Before you start implementing your outreach strategy, book some time to do your research.
[Tweet "Don't use a scattergun approach to outreach. Target the right niche…"]
Improve your understanding by reading other websites and blogs (this will help you find other people to contact for your outreach).
The emails you write to outreach prospects must contain the correct terminology for their niche.
Remember, the person you're writing to will be accustomed to talking to other people in their industry. They will be able to tell if they're dealing with a newbie or a professional.
Improve your outreach success
To have a successful link outreach strategy, you need to use your time effectively to understand the people you're contacting.
Preparatory research will improve your emails and make them more engaging for the reader.
If you're contacting a blogger, reading their blogs will help you determine what tone of voice you should use in your email.
In inbound marketing, understanding your target audience is key to creating a personalised marketing strategy.
Related: How to find and engage industry influencers
Conclusion
Outreach is all about building relationships with other people in the industry. Before you can start a conversation, you need to know the person you'll be talking to and show them you're a person who is worth talking to.