Following on from last week's Beginners Guide to A/B Testing post; this week we're talking specific tests!
Using A/B split testing is essential if you want to get the best return on investment for your business.
Even the most experienced of marketers might not expect their first attempt at a landing page to be the best, but they know that small tweaks can make all the difference.
[Tweet "These 5 A/B split tests could boost your conversion rates…"]
While it is common for marketers to test things like the price and an eye-catching headline, there are plenty of alternative tests you should not ignore.
Experiment with Social Media
Almost everyone understands the importance of social media to their business, but your landing page and sales funnel may not be the place to integrate it.
There is a tendency to add multiple social media buttons and apps to your site, and it can certainly be helpful in growing a loyal tribe of followers, or for some campaigns even necessary to create a social media buzz to gain traction online. However, you need to test if this is accurate for your own business.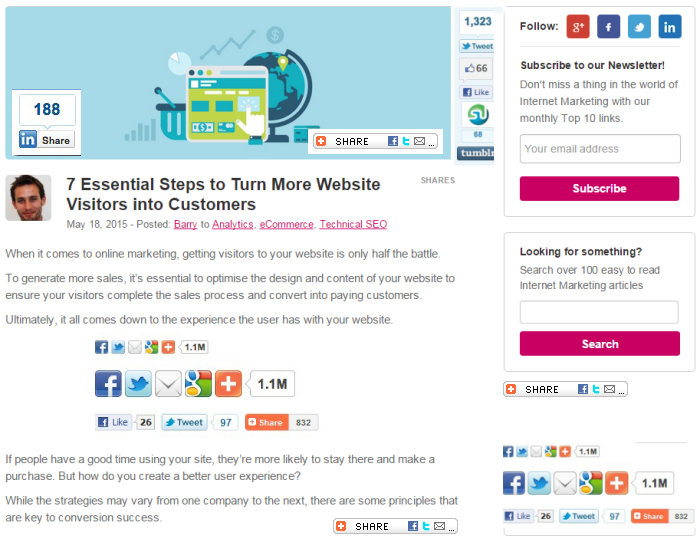 Too many social share buttons and prompts might have a negative effect on visitor conversion rates. As demonstrated by my expert mockup
Some people are not looking to shout about their product choices, and even the presence of social media on a landing page can have a negative impact.
Remember, I'm not explicitly saying adding social media share buttons and links is wrong, but it's worth testing! A/B testing is all about trial and error, and measuring the results!
Landing Page Leaks
Ideally, when a visitor enters your landing page you want to limit their options so you can more effectively direct them to the next stage of your goal (eg: subscribe to a newsletter or go to checkout).
If you have a page with lots of distractions, including adverts, a navigation bar, recent articles, and social media widgets, you can struggle to keep the focus on your offer.
Landing page leaks allow the visitor to exit the page – however, this is not always a bad thing.
By split testing your page, you could find that the absence of navigation and policy pages reduces the trust level of a visitor, giving the impression that they are being trapped on the page.
Your data can help you find the right balance between limiting options, but still providing a good user experience. 
Keep things simple, and don't let your customer be confused as to what action they are supposed to take.
Call-to-Action Buttons
Call-to-action buttons are a vital part of a landing page, but the obvious choices might not always work as you expect.
Many pages try to make them as noticeable as possible, often using oversized buttons, even with arrows pointing at them.
While it may seem self-evident that you want your visitors to notice the button, split testing may produce some unexpected results.
Subtlety can sometimes be a better option, providing the offer you are making is of sufficient quality, as visitors may react negatively to being overtly sold to.
You can test a variety of factors, including the button size, colour, position, and surrounding elements.
Find out more on how CTA's can affect your website with our guide.
Use Multiple Pages in Your Funnel
A landing page sales funnel does not have to be limited to a single page. Clearly, the page they land on is vitally important, but it can be beneficial to lead visitors through multiple pages on the way to the ultimate call-to-action.
In some cases, the act of clicking through multiple pages, perhaps through the use of clever storytelling, can increase engagement in your overall message.
It may be that the extra pages reduce your click-through rate, however, you may end up with some eager prospects and buyers.
Add Different Types of Media
Different types of media, such as images, videos, and audio, can have a dramatic impact on your split test results.
A simple test could match an image of a person against a product image. Your visitors will react differently to these images, often depending on the industry you are working in.
Video is popular these days, but that does not necessarily mean a video will get you and your brand the best results.
Video testimonials could be a great way to instill confidence in your business
Audio welcome messages may appear outdated if you have been online for many years, but podcasts are as popular as ever and the use of audio might actually give you a bump in conversions.
There are lots of different media options to test, so add this to your list of split tests experiments.
Conclusion
If performed consistently, the art of split testing could really boost your business and landing page effectiveness.
Old websites, previously thought to be dead, can be reinvigorated, existing campaigns can be refined, and sales funnels can be revitalised.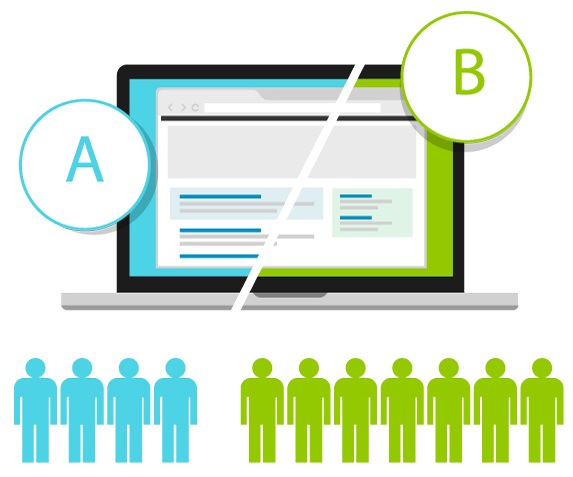 Landing pages are one of the main places to focus your split testing efforts, with the ability to constantly refine and upgrade your existing designs.
Perhaps most importantly, do not get afraid of getting anything wrong! That's the whole point of split testing. As I said early, it is very much trial and error and a process of elimination.
You can't know what works if you don't test!
Your Say!
Do you already split-test? What would you recommend as being perfect split tests to run for beginners? What are the quick tests you perform to get some quick results? Leave us a comment.