Firstly, in order to remove bad links on your website, which may be potentially harmful and negatively impacting your website in major search engines, you should understand the concept of 'links' or 'backlinks', as they are commonly known.
Therefore, what exactly is a link? A backlink is defined as an incoming hyperlink from one web page to another website.
[Tweet "3 simple tips for spotting and removing bad links…"]
Your website may have picked up backlinks from an unreliable or harmful source, therefore, you will have to take a closer look and analyse your backlink profile in finer detail.
When analysing the quality of a link there are a few things which you should be looking out for. Factors such as trust flow, citation flow (both Majestic SEO metrics) and domain authority (a Moz metric) can help you to understand the quality of a link.
Related:
The best way to remove problematic links is to closely analyse each one individually. This will allow you to see where they are situated. This is, admittedly, a laborious task, but one well worth doing.
Generally, most of these bad links come from:
Spam sites and sites that are created only for the purposes of link-building, and are part of link farms / networks
Sites with a virus or malware issues.
Non genuine blog comments with links to your site
Sites that are completely irrelevant and unrelated to your own
Let's discuss this idea in more detail and look at tips which can help you remove these bad links from your website.
Get in touch with the website owner
You should create an email template requesting a link removal which you will send to the owner of the site that you found the bad link on (the webmaster), identifying and explaining exactly where these low-quality links can be found.
Politely explain you are performing a backlink audit and have found the offending link to be irrelevant to your own website, and ask to have it removed.
Ensure to list the URLs where the links can be found, the URL on your site the links point to, and the link text description (commonly referred to as anchor text).
Overall, all of the information needed to quickly find the link you're asking to be removed should be included in your communication.
Use industry standard tools to identify harmful links
It's a good idea to use tools to analyse your website's backlink profile and to gain a deeper understanding of the quality of these links.
This backlink analysis tool allows you to identify any website's backlink history and profile. This software will also give you information regarding perceived trust of the links in question.
WHOIS database
WHOIS is the publicly available database that shows the owner details of the majority of the top level domain names online.
There are a few places you can access WHOIS online. A quick way is just to just use our own domain search tool at the LCN.com domain names page.
Just search the domain you need to contact in our domain search bar, and then click "VIEW DETAILS".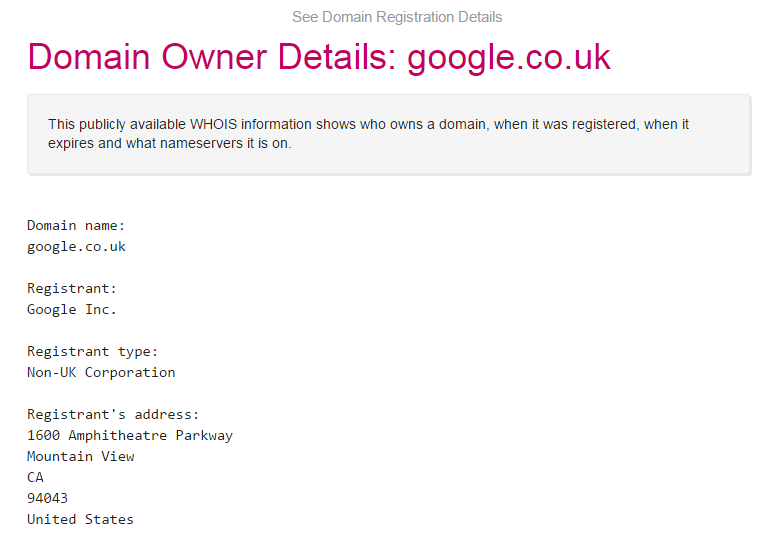 Use WHOIS to find publicly available data about a domain name, this can help you find the right person to contact to remove your link
This provides you with the opportunity to source names, email addresses and even companies associated with URL. This can be then used to contact the website owner.
Open Site Explorer by Moz is a premium tool that can easily identify your backlinks. You can search links, arrange by key metrics such as page and domain authority, social media data, and IP data.

Moz Open Site Explorer
This can then be exported via excel so you can further analyse. Highly recommended!
For more information, check out our in-depth guide to finding all your backlinks.
Use Google's Disavow Tool
There are situations, and always will be, where webmasters will refuse to comply with your link removal request or simply don't respond, in which case you'll need to use your last resort; Google's Disavow Tool to tell Google to ignore the bad links
Once you have collected and analysed all of the data, using the above tools and tips, you will then be in a position to make a decision whether you wish to remove the links using Google's Disavow Tool.
This is a two-step process. Firstly, you'll need to download a list of links to your website.
Next, you'll create a file containing only the links you want to disavow, and upload this to Google.
This is an advanced feature and should only be used with caution. If used incorrectly, this feature can potentially harm your site's performance in Google's search results.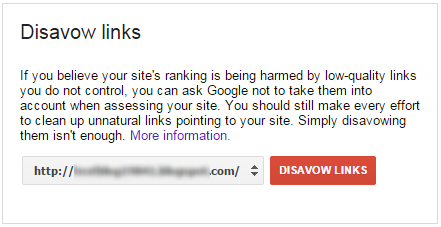 Google's warning before disavowing
Google's Disavow Tool guidelines state: "Only disavow backlinks only if you believe you have a considerable number of spammy, artificial, or low-quality links pointing to your site, and if you are confident that the links are causing issues for you."
Generally, Google can easily evaluate which links to trust without additional guidance, so the majority of normal or typical sites will not need to use this tool.
Should you use the disavow tool, use with caution. Check out this excellent guide to disavowing your links.
It may take some time to remove bad links, potentially months. Matt Cutts, Head of Spam at Google, highlighted "there's a time delay for data to be baked into the index. Then there can also be the time delay after that for data to be refreshed in various algorithms".
Your Say!
How do you analyse your backlink profile? What tools do you use? We'd love to hear your comments with regards to your opinion on how to analyse and remove potentially harmful links on your website.