ICANN's registrant change process
ICANN are the governing body responsible for generic Top-Level Domains (gTLDs), and the following guide will cover how LCN follow their policy for changing a domain's owner details.
Following ICANN's policy means whenever an LCN customer changes the registrant name, organisation or email address for one of their domain names, we must send emails to both the old and new registrant confirming the new details.
Whilst this might seem like extra work at first, rest assured that we've worked hard to make this process as straight-forward as possible for our customers.
When changing the name, organisation or email address on any gTLD, you'll be presented with both the Current Domain Owner Details and the New Domain Owner Details.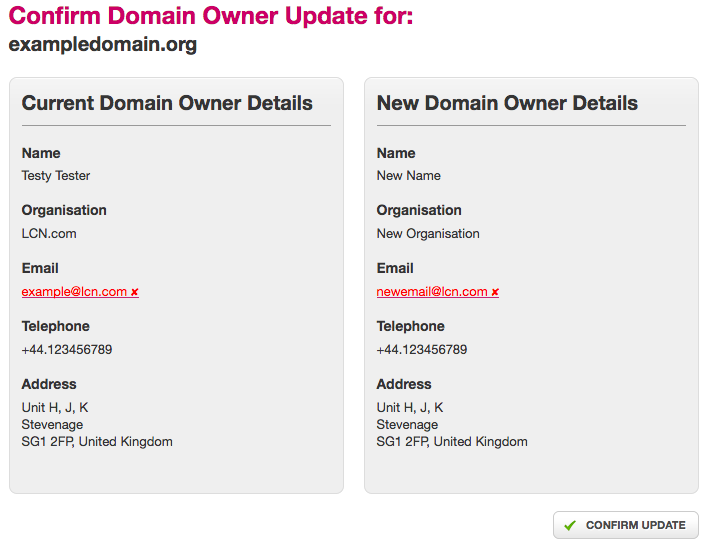 Once you've confirmed that you want to go ahead with the change, both the current domain owner and the new domain owner will receive an email (to the email supplied in the previous / new contact details) asking them to authorise the change. Both parties have seven days to confirm the change. If the email isn't received, you can resend this from the 'Manage Domain' section in your LCN account by clicking either:
Resend New Registrant Authorisation Mail
Resend Current Registrant Authorisation Mail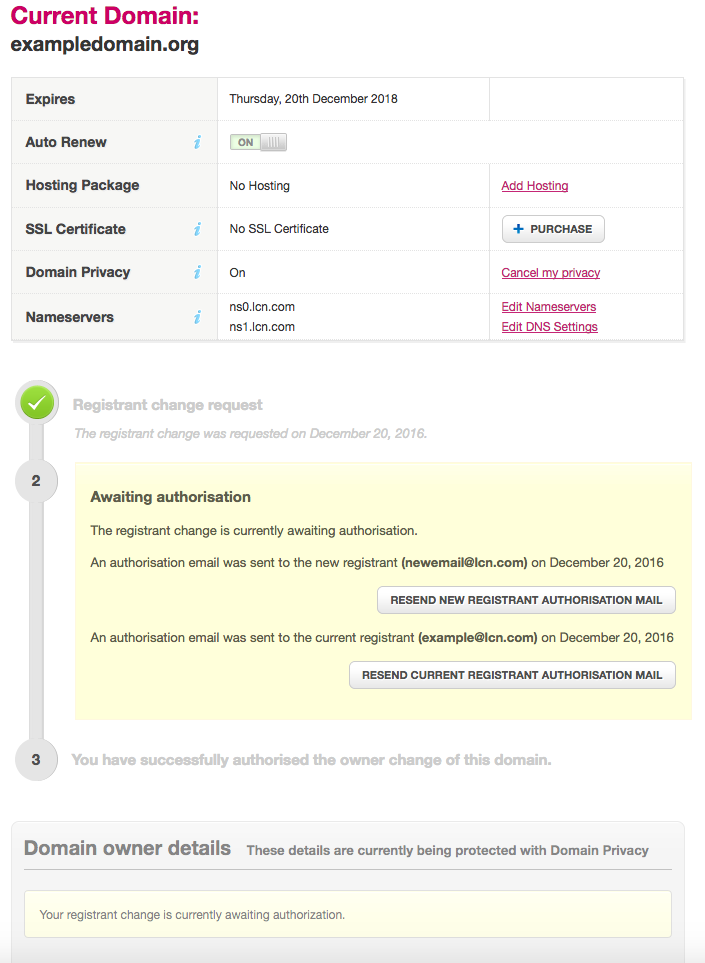 What do I need to do when I receive the email?
Once you've received the confirmation email, you need to agree to the LCN terms and conditions at the bottom of the form. There are also two further options to consider:
The 60-day registrar change lock
One of the major changes enforced by ICANN is that a domain will be locked to its current registrar for 60 days following a change of registrant. This lock means the domain cannot be transferred to another provider. The good news is that you opt out of this lock by ticking the appropriate box on the authorisation email. As a completely transparent company, we'd strongly recommend doing this so you aren't restricted to keeping your domain with us.
Allowing LCN to be your designated agent
To simplify this process in the future you can allow LCN to be your designated agent. By doing so, LCN can confirm any future registrant changes on your behalf. So, next time you want to make a change to one of your domain's registrant details, only the new domain owner will have to confirm the change.
Please Note: If the new domain owner has also allowed LCN to be their designated agent no confirmation emails will be sent.
Once the change of details has been confirmed by both parties, the information should take around 15 minutes to update.
What if I'm the new or existing domain owner and I can't access the email address?
There are a few scenarios where you'll be unable to make the relevant changes above from your LCN account e.g.:
If you have a typo in your current email address
If you don't have access to your current email address
In these situations, you will need to contact us so we can help you change any incorrect information.
For more info about ICANN's registrant transfer process, you can see ICANN's documentation here.