WordPress hosting pre-installed plugins
Using your Pre-installed WordPress plugins
When you setup your WordPress hosting with LCN, you'll find that there are already a few plugins pre-installed.
In total there are six different plugins – all handpicked by us for a very particular purpose.
Combining all these plugins together means your site should be well optimised for search engines, be like a virtual Fort Knox to hackers, and run nice and fast for your site visitors.
Of course you can add any other plugins your need yourself, but we'd recommend trying to keep the amount of plugins to as few as possible.
Unfortunately spam comments are a real problem in the world of WordPress. Spammers and automated bots trawl the web looking for unsecured comments sections of WordPress sites, so they can leave adverts and links to irrelevant websites.
Akismet checks every comment you receive on your WordPress posts to see if they look like spam – and it's hugely effective at doing so.
To get Akismet up and running on your site you'll need create and activate an Akismet account.
When logging into your WordPress dashboard you'll see this message at the top of almost every page.

Just follow the link and you'll be asked to sign up to Akismet to get an API key – this is required to get Akismet to work. Don't worry about the technical terminology, just follow the simple steps and you'll be set up in minutes.
Just sign up to the free "Basic" Akismet plan to get started. However, you may need to consider one of their other plans if you're using Akismet for commercial purposes.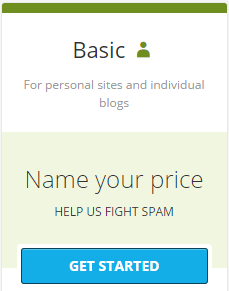 Once signed-up, you'll be given an API key (a long code). Then return to the Akismet page on your WordPress dashboard ("Settings" >> "Akismet") and enter the API key.
That's it. Akismet is now active and will protect your site against spam comments.
All comments can be found in the "Comments" section of your WordPress dashboard.
By hovering over an individual comment and clicking "history", you'll be able to see if Akismet has either cleared or marked that particular comment as spam.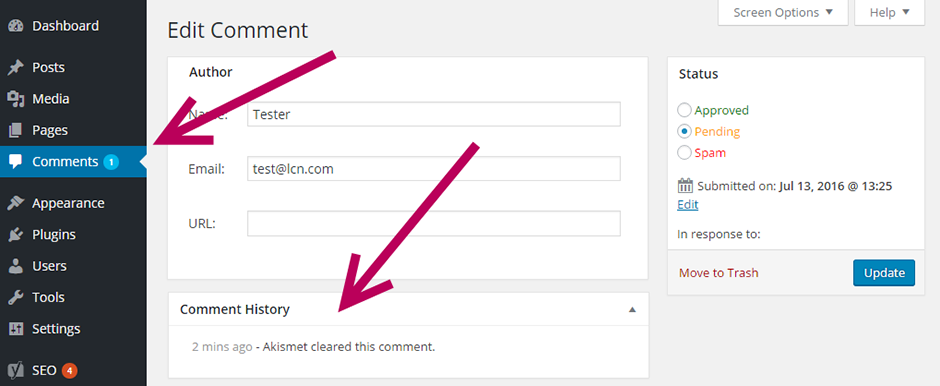 To learn more about this plugin, check out the Akismet site for detailed guides.
---
Yoast SEO
Yoast SEO plugin is a complete one-stop-shop for optimising your entire website and its individual posts and pages.
To get started we'd recommend taking the Introduction Tour. This can be found by clicking on the "SEO" link within your WordPress dashboard, and hitting the "General" tab within the plugin.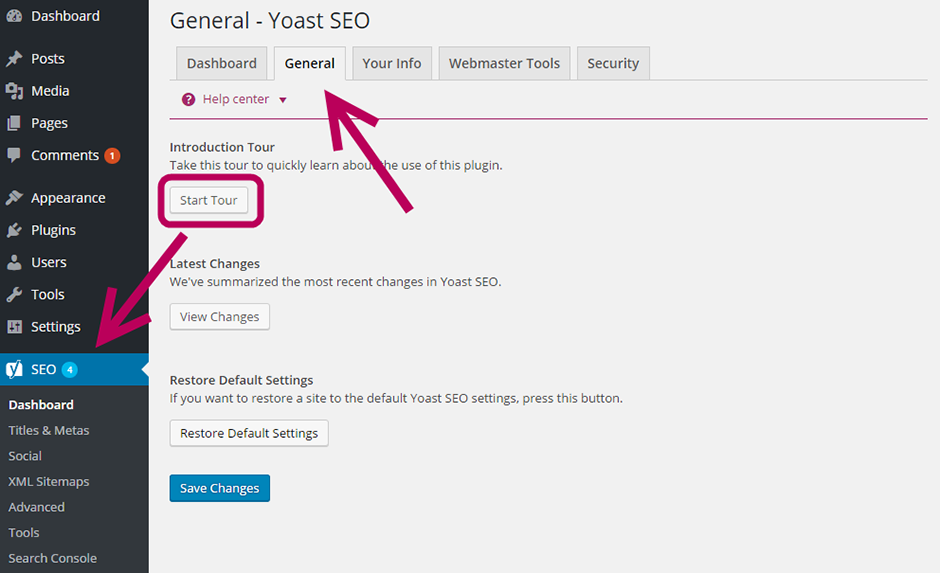 The tour will take you through some of the main sections of Yoast and the key actions you should complete first.
The dashboard will also give you a list of problems and recommended improvements which you can make. Anything critical can usually be found here, alongside tips on how to resolve these issues.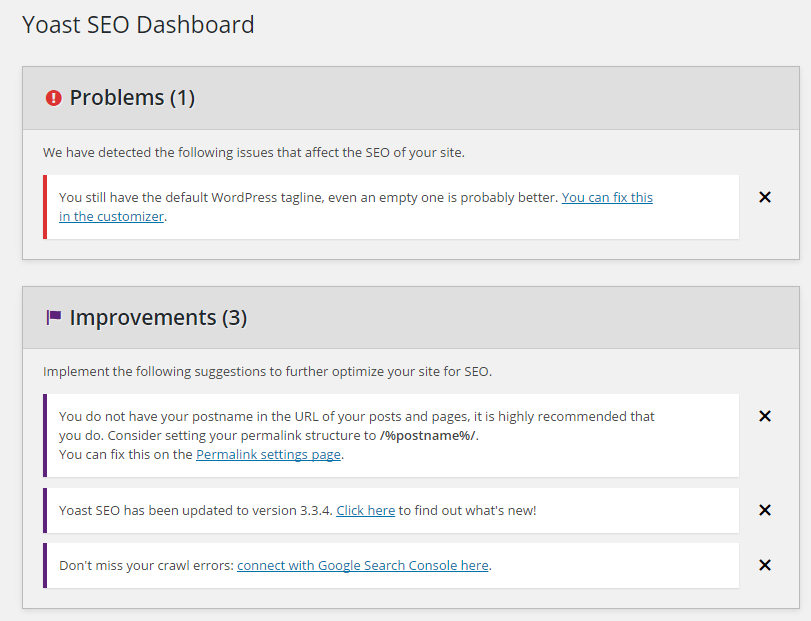 Yoast will also appear when you create posts and pages, usually below the rich text editor. From this panel you can use the "Snippet editor" where you can edit your SEO title, meta description, as well as previewing what it will look like when displayed in Google.
Check out our Guide to Title Tags and Meta Descriptions over at our blog.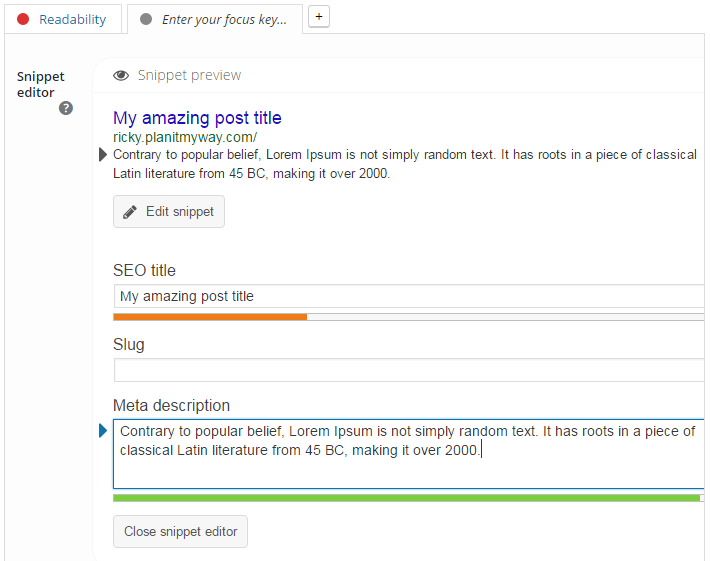 You'll also get scores on the post/page readability, and a keyword analysis. All this takes the guesswork out of optimising your content.
Yoast can look fairly complex at first view, but understanding the basics of SEO will give you a much greater appreciation for what it can do for your site.
As Yoast is universally popular, it comes with a feast of support guides readily available. When you're ready to get into the nitty gritty of what Yoast can do, check out the Knowledge Base.
---
Wordfence
WordPress in many ways is a victim of its own popularity, and this is partly why it gets hacked so often.
So much so in fact, using WordPress and various plugins without considering security is a sure fire way to get your site hacked – not today, maybe not tomorrow, but eventually the chances are you'll be targeted.
So best be prepared right? This is why we have bundled Wordfence in with our WordPress hosting.
Wordfence is one of the most popular security plugins around.
You can find Wordfence on the left hand side of your WordPress dashboard, and again we'd recommend taking the tour to help you understand all the different areas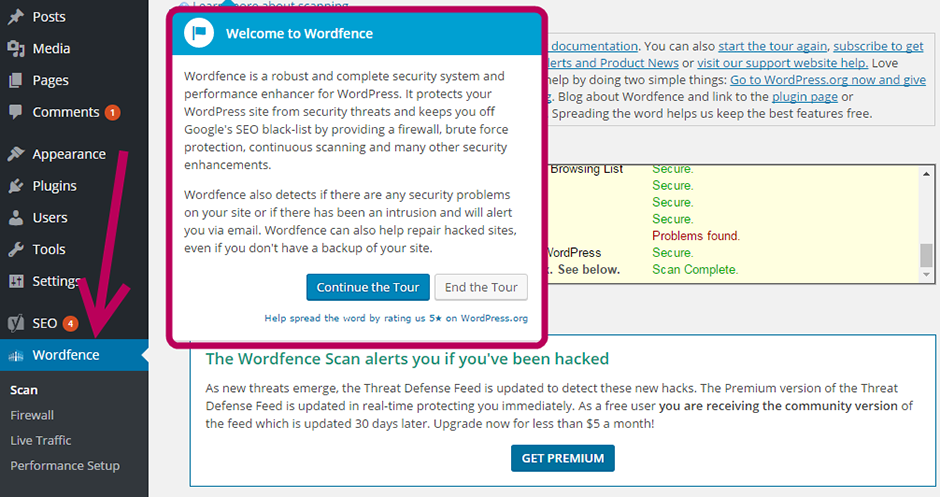 As the tour suggests, it's best to start with a scan. The scan will take a few minutes to run (depending on your site), and it'll check the entire WordPress install for any malicious files or viruses, as well as any vulnerabilities that need attention.
Some things will be fixed automatically, and some will need your intervention.
Anything that needs action will be showing in the "New Issues" panel further down the page.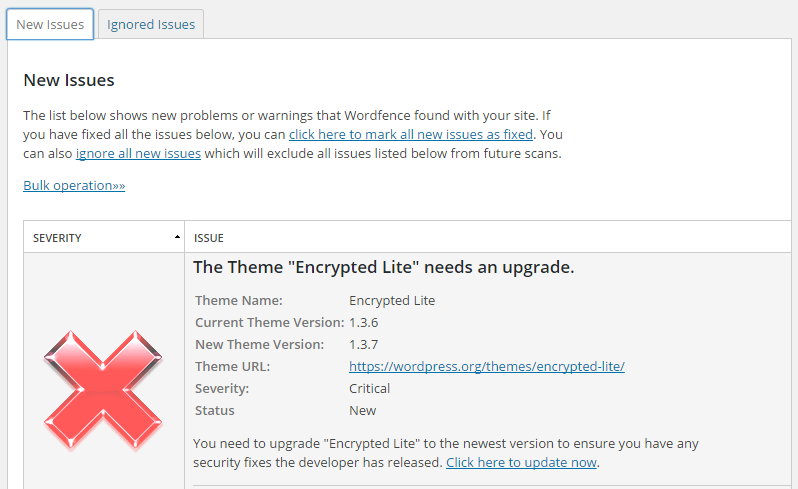 As well as a detailed description of what the problem is, you'll usually be given instructions to fix it (often with just a few clicks of your mouse).
Making sure you have an extremely secure password, running the scan, and fixing any subsequent issues will go a very long way to ensuring you are never hacked.
For the most part Wordfence will run happily in the background without the need for constant tweaking. However, Wordfence goes a lot deeper and offers a wealth of different options too.
Find out what else Wordfence can do with these two official resources…
---
WP Smush
One of the most common reasons for slow-loading pages is massive image sizes.
Digital cameras and camera phones produce extremely high-quality photos which are great for print, but completely over-the-top for web use.
WP Smush simply optimises and compresses every image you upload to your WordPress site to ensure it's suitable for the web.
It strips any hidden bulky information included in your image file, as well as compressing the image, to create a much smaller file size.
WP Smush is automatically installed in your WordPress and there's no set up required. Just upload images to your posts and pages as you go, and WP Smush will automatically optimise them.
---
WP Maintenance Mode
This plugin allows you to quickly create a holding page ("under construction") to inform any potential site visitors that your new website is coming soon.
WP Maintenance Mode allows you to easy add text, logos, background images, as well add embed email forms, social media icons and a countdown timer.
Maintenance Mode can be found in the "Settings" section of your WordPress dashboard.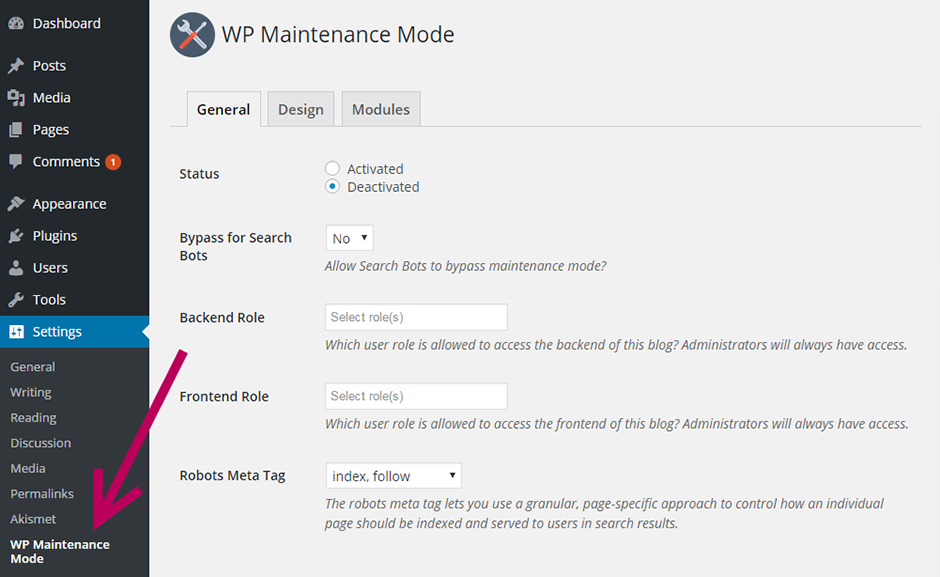 When done creating your holding page, make sure you select the "Activated" status and hit "Save settings".
It's important to note that only visitors to your site who are not logged into the WordPress dashboard will see your holding page.
So if you're logged in making changes, you won't see the holding page. You'll see your pages and posts as they normally look – which is perfect for when you are mid-design.
Here's one we made in just a couple of minutes…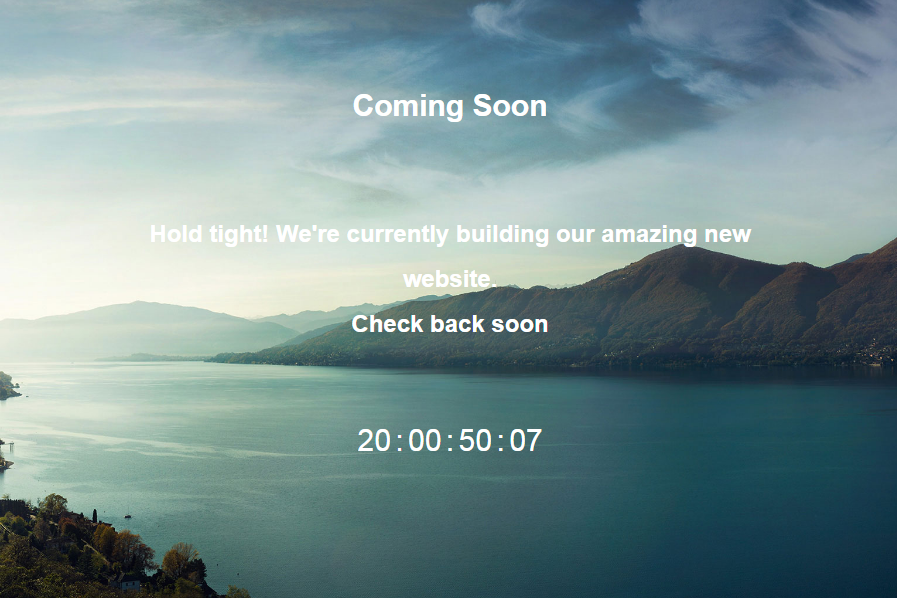 ---
UpdraftPlus Backup
Backing up any kind of data is always a smart move – even more so if it's a business critical website.
WordPress makes it pretty easy to back up your entire site with a variety of different plugins, and UpdraftPlus is our pick of the bunch.
Updraft will safely zip all your data (files, images, database, etc.) and back it up to a location of your choice.
Your WordPress hosting is set up to send UpdraftPlus backups to a backup slot on our own servers, however you can also choose to backup to Dropbox, Google Drive, Email, and any other server using FTP.
You can find UpdraftPlus in the "Settings" section of your WordPress dashboard.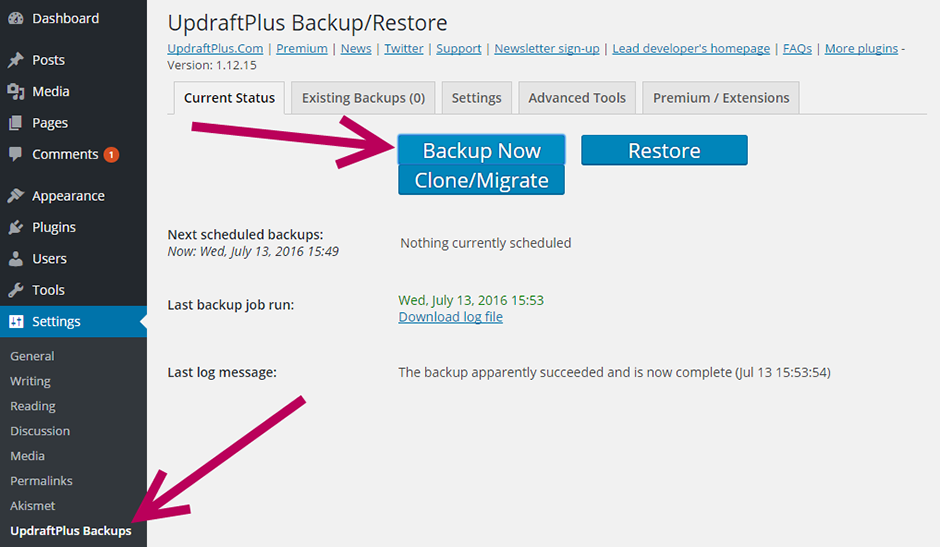 Backing up is as simple as it looks; just hit the big blue "Backup Now" button.
And if you ever need to restore… you can probably work out how ☺
A great feature of UpdraftPlus is the ability to run scheduled backups. Under the "Settings" tab of the UpdraftPlus dashboard you'll find the scheduled backup tool.

From here you can select how often you want to create a scheduled backup, and how many of these backups you should retain at any one time. We recommend retaining no more than five backups – if your site is quite large, more than five backup might cause your backup location to run out of space pretty fast!
Remember to configure scheduled backups for both your files and your database (as shown above).
To learn more about UpdraftPlus; these are the links you'll need…